'Marsha' Trends After GOP Senator Blackburn Questions Vindman's Patriotism, Admits to Reading Book During Impeachment Trial
"Marsha" began trending on Twitter across America on Thursday afternoon after Republican Senator Marsha Blackburn of Tennessee questioned Lt. Col. Alexander Vindman's patriotism and said she's reading a book during the third day of the Senate impeachment trial of President Donald Trump.
As Democrats made their case for why Trump should be removed from office today, Washington Post conservative columnist, Jennifer Rubin, took to Twitter to call Blackburn "shameful." Her remarks came after an MSNBC correspondent shared a tweet noting that Republican Senator Richard Burr of North Carolina "has a fidget spinner," Sen. Rand Paul (R-Ky.) "had quite the sketch of the Capitol going" and Blackburn is "reading a book" during the trial.
Blackburn quickly responded to Rubin's remarks by confirming that she is not paying attention to the impeachment proceedings, which Trump and some Republicans have claimed is a "sham." "First – I'm reading Resistance (At All Costs) by Kim Strassel. Read the chapter on obstruction. It provides good insights into today's proceedings," the senator wrote. "Second – busy mamas are the best at multi-tasking. Try it."
Later, Blackburn, again, took to Twitter to criticize Democratic Congressman Adam Schiff for "hailing Alexander Vindman as an American patriot." The senator unleashed the remarks after Schiff, the House Intelligence Committee chairman, quoted the Director for European Affairs for the United States National Security Council during his impeachment statement.
"How patriotic is it to badmouth and ridicule our great nation in front of Russia, America's greatest enemy?," Blackburn added.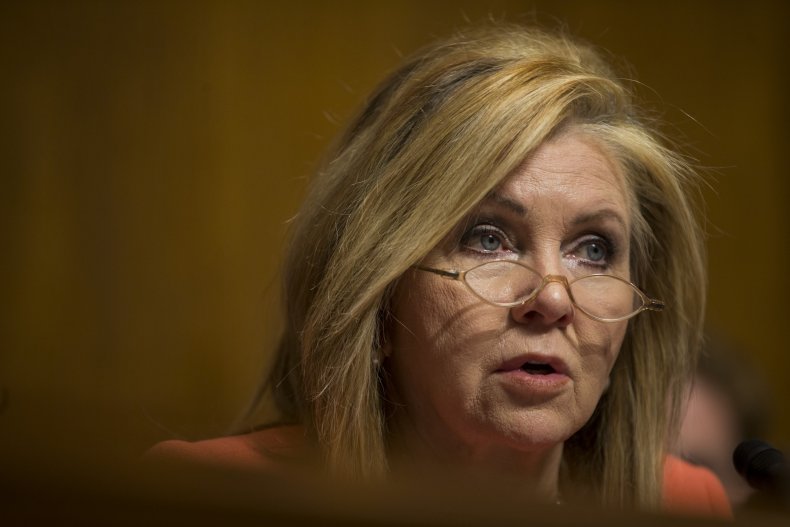 Tens of thousands of Americans took to Twitter to weigh in on Blackburn's attitude towards the impeachment proceedings, with some users calling her a "coward," "garbage" and "just truly awful." Others came to Vindman's defense. As of Thursday evening, "Marsha" rose to the third most-trending topic on the social media platform in the United States. At the time of publication, the topic had garnered almost 50,000 tweets.
"Alexander Vindman is a career Army infantry officer who received the Purple Heart after being wounded from an IED in Iraq in 2004. Both his brothers are Army officers, too. They emigrated here from the former USSR because their father loved America," Human Rights Campaign's Charlotte Clymer tweeted. "Marsha Blackburn is a coward."
"One of @MarshaBlackburn's *current* staffers told me that Marsha is known as the biggest liar in the entire United States Congress," Time and Fox News contributor Christopher J. Hale tweeted. "She's proving that tonight."
"Marsha Blackburn is a disgrace to the United States Senate. If she believes this then she doesn't deserve to represent the thousands of veterans who call Tennessee home. They took an oath to the Constitution just like LTC Vindman (and you, Senator), and they upheld it," Will Goodwin, a military and veteran adviser for the Senate, tweeted.
"After seeing a flurry of ignorant tweets from Sen. Marsha Blackburn, people are asking, 'Can this birther, climate-change-denier, fool who nominated Trump for a Nobel prize, really be so vacuous or is it an act?'" Twitter user @BettyBowers wrote. "Answer: Meryl can't act that convincingly."
"Marsha Blackburn, just as truly awful as we knew she would be. Earning a Purple Heart does indeed make Lieutenant Colonel Vindman a national hero. It's the definition of American Patriotism," Twitter user @BeautyBind wrote.
"So Sen. Marsha Blackburn admits to reading a book during the House Manager impeachment trial presentations - a dereliction of duty. Most employers would fire an employer for reading a book instead of working. I trust her constituents are watching," The View co-host Sunny Hostin tweeted.
"'Senator' Marsha Blackburn took time out from her very important book-reading-during-impeachment trial to shit all over Lt. Col. Alexander Vindman, unquestioned patriot and recipient of the Purple Heart," Twitter user @mmpadellan wrote. "The GOP is trash."
"Marsha Blackburn is 100% supporting a president who gives Russia access to our national security secrets. But she draws the line at real patriots using their free speech," PoliticusUSA's Sarah Reese Jones tweeted.