No, 'Marshall Law' Isn't Eminem's New Album, Here's Why It's Trending
Coronavirus is taking a toll on more than just the health of Americans, but, apparently, their spelling too.
States like New York, California, Massachusetts, Ohio and Illinois announced restrictions on many typical social pleasures like dining out, ordering restaurants and bars to discontinue seated service. Schools have also been shut down in light of the growing concerns over coronavirus while some companies have ordered employees to work from home. President Donald Trump's administration is considering issuing a curfew in some cities, forcing some businesses to close at a certain time each night in an effort to prevent further spread of the coronavirus.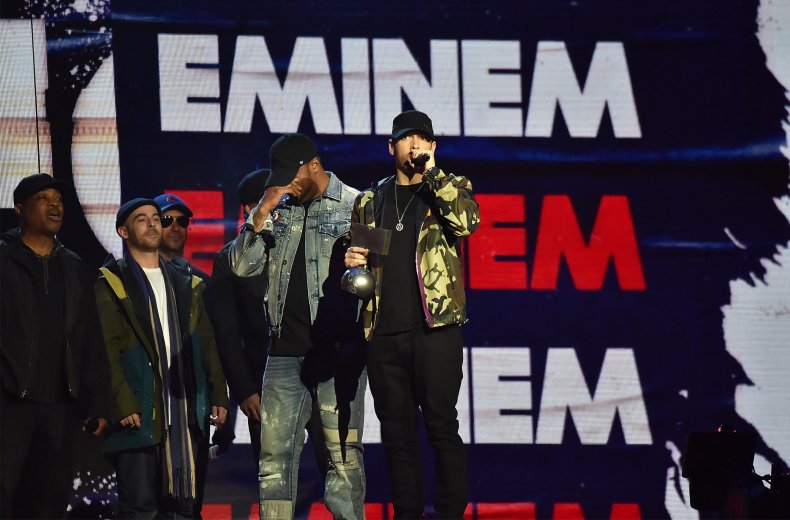 As the government grows more and more concerned by the threat of the coronavirus pandemic, fears of state and city officials initiating martial law have escalated. The only problem is, some folks apparently aren't aware of how to properly spell "martial law," including some politicians.
The term "Marshall law" began trending on Twitter on Monday after Florida representative Marco Rubio took to social media to advise individuals against spreading rumors about the possible enacting of martial law, in which a military government would be used to control the general public while ordinary laws are suspended, in response to the rapidly spreading coronavirus. Except he spelled martial law incorrectly.
"Please stop spreading stupid rumors about marshall law. COMPLETELY FALSE," Rubio wrote. "We will continue to see closings & restrictions on hours of non-essential businesses in certain cities & states. But that is NOT marshall law."
Dozens of people replied to the tweet and pointed out the fact that the Republican Senator spelled the word "martial" wrong, but as the influx of responses and retweets of Rubio's comment rolled in, there were some who thought maybe the "Marshall Law" phrase was news of a new Eminem album.
"When I heard Marshall Law I thought it was @Eminem new album," one Twitter user wrote on Monday.
"I saw #MarshallLaw and thought Eminem had another new album. I think these people are looking for #MartialLaw," another person wrote.
In all fairness, the Detroit rapper's birth name is Marshall Mathers, and he has a penchant for naming records after himself including some of his most celebrated albums like 2000's The Marshall Mathers LP and 2013's The Marshall Mathers LP 2.
But alas, Eminem has not actually released a new album and the rapper hasn't announced plans to drop anything new anytime soon. His latest project, Music To Be Murdered To, debuted in January 2020.
See a few more responses about Eminem's fake new album release below.