The Marshawn Chronicles: Lynch Speaks! Tells Media to Go Away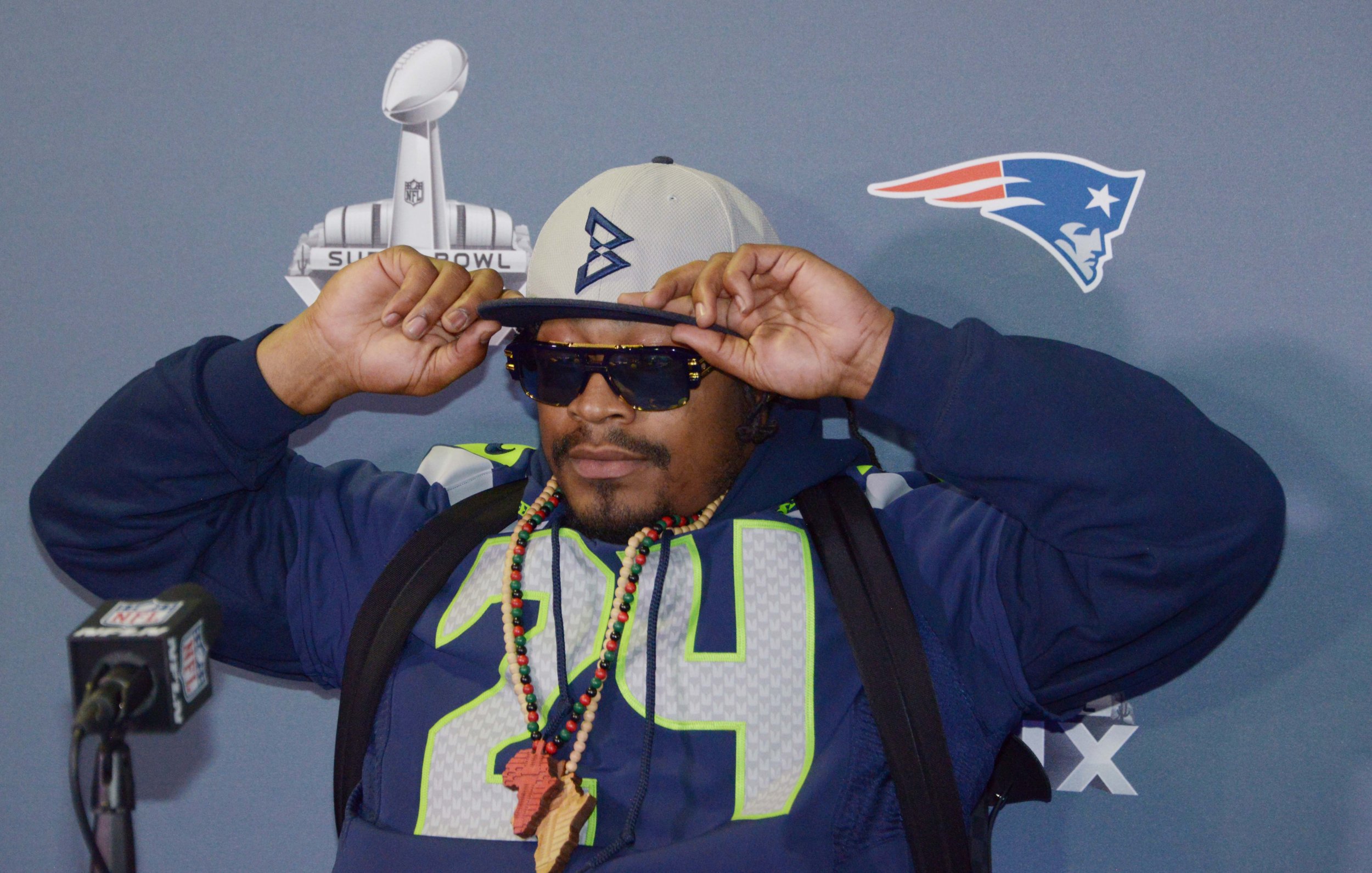 Marshawn Lynch, running back for the Seattle Seahawks, has really had enough of the media. He sat down for his obligatory five minute pre-Super Bowl press conference today and spent the first two minutes lecturing reporters, a deviation from his last several months of media interaction.
Usually, Lynch just repeats one word or sentence over and over, such as "Yeah," "Nope," or "I'm just here so I won't get fined." And he really is there not to be fined—for skipping out on two press events in the past two seasons, Lynch had to pay $100,000. To avoid that, he now fulfills his bare minimum five minutes with reporters during the season.
During today's press conference, Lynch started off with a solid lecture to reporters, asking them to go away. As transcribed by Sporting News, here's what Lynch had to say:
Hey look, I mean all week, I done told y'all what's up and for some reason, y'all continue to come back and do the same thing that y'all did. I don't know what story y'all trying to get out of me. I don't know what image y'all trying to portray of me.

But it don't matter what y'all think, what y'all say about me; cause when I go home at night, the same people that I look in the face, my family, that I love, that's all that matter to me. So y'all can go and make up whatever y'all wanna make up cause I don't say enough for y'all to go and put anything out on me.

I'll come to y'all event, y'all shove cameras and microphones down my throat. But when I'm at home, in my environment, I don't see y'all. But y'all mad at me, and if y'all ain't mad at me, then what y'all here for? I ain't got nothing for y'all, though, I told y'all that, so ya'll should know that, but y'all will sit here like right now and continue to do the same thing.

I'm here preparing for a game, and y'all wanna ask me all these questions, which is understandable, I can get down down with that. But I told y'all, I'm not about to say nothing. So for the remainder of my three minutes, because I'm here, I'm available for y'all. I'm here, I'm available for ya'll. I done talked. All of my requirements are fulfilled. So now, for the next three minutes, I'll just be looking at y'all the way y'all looking at me. Thank you.
Listen for yourself here:
There were about three minutes remaining when that was over, and Lynch did take some questions. His line of the day was "Shout out to… " He gave shout outs to Oakland, California, his teammates and "real Africans out there."
There was one question he did actually answer. When asked where his Beast Mode hat could be purchased, he referred the reporter to "beastmodeonline.com." Beast Mode is Lynch's nickname, and he created an apparel brand to match it, the hat may have Lynch in a bit of hot water, as he wore to an official Super Bowl media event and the hat may be considered "unauthorized" gear. One reporter asked him to discuss an inner-city charity Lynch donates to and Lynch told him if he actually wanted to learn about the charity, he could come find him in the inner city to talk about it.
"I'm [gonna] sit here with my mouth closed and look at you," the defending champion concluded.