Marta: Brazil's Pint-Size Football Star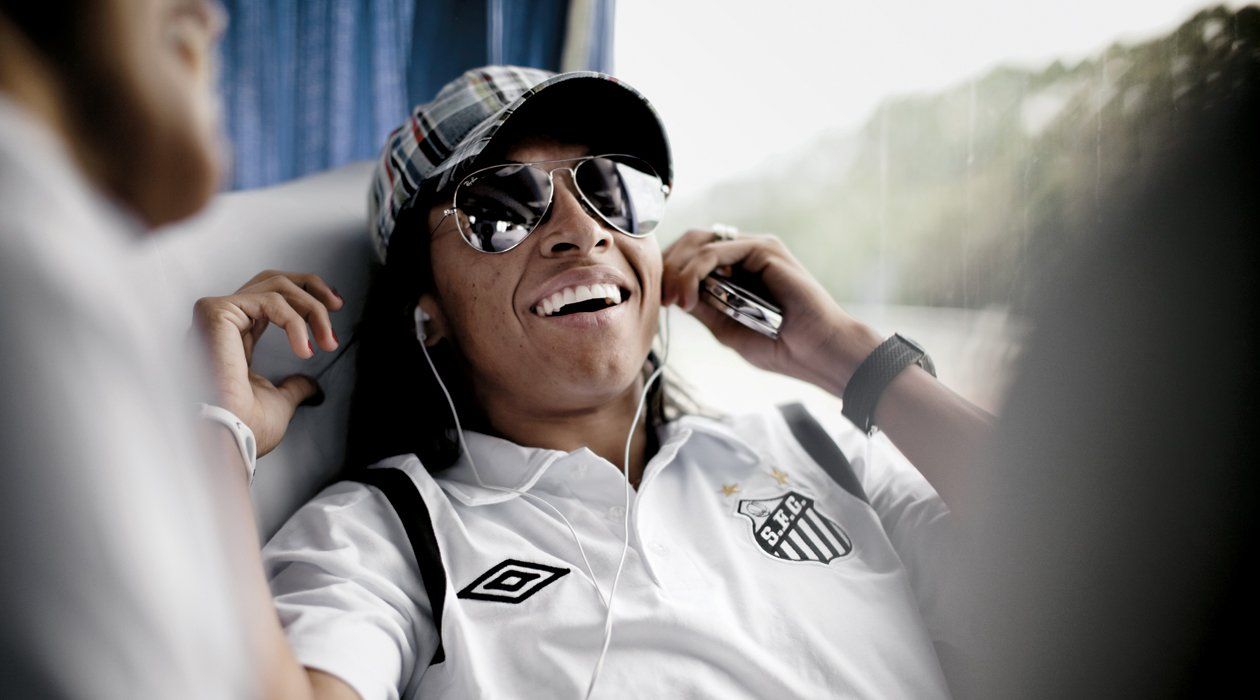 When Marta Vieira da Silva was 10, a skinny tomboy in Dois Riachos, her hometown in the Brazilian dust bowl in the northeastern state of Alagoas, her team coach gave her a new pair of football boots. They were three sizes too big. "I can take them back," he offered. "No! They're perfect," she shot back. It was her first pair of cleats, and she wasn't about to let them go. Besides, as the only girl in a boys' club—in the whole league, in fact—Marta had to prove herself in every match. "I wadded some paper, stuffed it in the toes and just played," she recalls. In time, she wore out those boots—and the skeptics as well. She's been doing the same ever since.
Forget for the moment the rococo dribbles, the dead-angle baseline shots, or the odd trick kick, where she toes the ball just over her defender's head to fetch it on the other side and then breaks for daylight, leaving a pitch strewn with fallen opponents. Sure, Marta does all this—and, with an ease and grace that seem tailored for the instant replay, racking up goals, besides. This is part of what earned her yet another Ballon d'Or from FIFA last month, becoming the only pro player—male or female—to win the international football federation's highest honor five years running. But what makes her stand out is something else, less photogenic perhaps but every bit as compelling.
Call it heart or grit or fome de bola—ball hunger—as the Brazilians put it. Whatever the name, the sheer determination to play and prevail against ridiculous odds lifted her from kick-abouts with the boys on a patch of Brazilian nowhere to the commanding heights of professional football. "No one wants to win as much as Marta," says Alberto Montoya, who coached her for the San Francisco Gold Pride, the team she led to a Women's Professional Soccer (WPS) league championship in 2010. "She's the most passionate player I have ever seen."
It's no surprise that football fans are agog about yet another Brazilian. This is the land that turned a 19th-century English pastime into ballet on grass. Ronaldinho's pirouettes, Kaká's high-stepping through the enemy, Robinho's glissades along the pitch as though on a pillow of air: it's all part of what Brazilians call futebol arte (art-football). "I prefer to play beautifully and lose than to win with a dull game," Telê Santana, a storied national-team coach, once put it. The world has come to expect no less. And at a time when the men's side is struggling—Brazil flamed out in the last two World Cups and has never won an Olympic gold medal—Marta has become the most eye-catching embodiment of Brazil's "beautiful game."
Pint-size and wiry, the 25-year-old striker seems anything but a powerhouse, least of all on the pitch in Europe or the U.S., where strapping defenders often tower over her. Yet Marta has learned to run with Amazons. "She might look fragile, but when players collide with her on field, it's like running into a wall," says Montoya. Standing 5'2" (1.6 meters) and weighing just 128 lbs (58 kilos), she might be—measure for measure—the most complete player in the game today, sprinting, spinning, defending, and scoring with a dexterity and sleight of foot that appear at times to defy physics.
Consider her goal in Brazil's 4–0 drubbing of the U.S. during the 2007 World Cup semifinals, in China. In the 78th minute, Marta flicked a pass over her left shoulder, then wheeled right around her flummoxed opponent, gathered the ball on the other side, and then stutter-stepped past a second defender before pushing a shot by the prostrate goalkeeper. Germany went on to beat Brazil in the final, but that seven-second sequence (view it at http://bit.ly/gREGpt) went seriously viral on YouTube.
Marta's game is not just flash and samba. She is at her best as a field marshal, sizing up the defense, plotting her moves three plays downfield, and then streaking for the kill. Last month she led her Brazilian team, Santos, to a 5–1 romp over Juventus. It was just an off-season friendly, but to Marta it could have been a World Cup final. Late in the game, she stole a ball near midfield and—as though channeling Pelé and Maradona together—slalomed through four defenders, tacked sharply at the penalty box, and sent the goalkeeper to her knees and the ball tenderly into the mesh. All in 11 seconds. "There's no other player in the world that can change direction and pace and then blow by you the way she does," says Montoya.
But Marta's greatest play was escaping home. Thanks to a roaring economy, the lot of even the poorest Brazilians has vastly improved in Marta's lifetime. Yet Dois Riachos looks like a place the new Brazil left behind. Poor and parched, this town lies in the maw of the sertão, a harsh stretch of back country known for dust devils, religious processions, and funerals. Some 12,000 people live in Dois Riachos, half of them in extreme poverty.
Girls in Dois Riachos played with dolls, not footballs. Most married young and often pregnant. Those who wanted a profession taught school. Not Marta. "Ever since I can remember I wanted to play football," she said in a recent interview. Her mother, Teresa, wasn't thrilled, but because she worked long hours as a superintendent at the town hall to keep her four children fed and clothed, Marta pretty much looked after herself. More than once she cut class to join a pickup game. Any barren lot or dried-up riverbed would do. "My mother heard the neighbors' comments and warned me to forget about football. But she was too busy to stop me."
The boys of Dois Riachos were even less help. Brazil may be the country of futebol, but back then—and even now—the game that mattered was for guys. "I remember having to fight just to play," she says. "Some of my teammates thought it was shameful to play with girls." Marta shrugged off the hostile looks and comments and ran rings around most of her peers, bringing home medals and tournament titles, along with the bruises. But playing in an all-male league also forced her to excel, playing fast and hard and matching her skills and strength, elbow for elbow.
Her break came when a family friend living in Rio de Janeiro persuaded her to try her luck in the big city. She took the bus to Rio and landed a tryout with Vasco da Gama, one of the few clubs with a women's squad. She was 14 and had just one day to prove herself. "There was no way I was going back to Dois Riachos," she says. Marta made the cut and played two years with Vasco before moving on to another Brazilian club. By 2004, at the age of 18, she was learning Swedish and playing midfield for Umeå Idrottsklubb (colloquially known as Umeå IK). She stayed in Sweden for five years, scoring 111 goals in 103 games, and went on to capture her first three best-player trophies.
By then, Marta was quickly becoming women's football's biggest brand, and the logical place to go was the U.S.—the Brazil of women's football. Playing for the Los Angeles Sol and then the Gold Pride—earning a reported $500,000 a year—she led the Bay Area club to a league championship and became a celebrity. For every road game she played, game attendance jumped 15 to 20 percent, and the five best-selling games in the WPS all had Marta in them. "Even fans that don't know about soccer knew they were seeing something special and rare when Marta was on the field," says WPS CEO Anne-Marie Eileraas. "More than just a player, she's a force in creating fans."
And yet Marta's struggle for daylight is far from over. The two U.S. teams she played for folded after the sponsors pulled the plug. Even in the U.S., where soccer is booming in high schools and colleges—the sport has grown 225 percent among college students in the past two decades—women's pro football is still in a precarious state. Now Marta will try her luck with the Western New York Flash, a franchise in Buffalo.
For all her star power, Marta alone cannot change the fragile math of women's sports. But back home, things have already begun to turn. Although, like her, the best female players have to leave Brazil to earn a living, a quiet revolution is sweeping the back country. "The only sport that girls used to play was handball," she says. "Now they all play football." The beautiful game may soon find its next Marta.