Martha McSally Trails Democratic Challenger By Seven Points: Poll
U.S. Senator Martha McSally is trailing Democratic challenger Mark Kelly by seven points with a little under four months to go until the November elections, new polling data shows.
The latest battleground poll from SPRY Strategies, conducted for the conservative-leaning American Principles Project, found that 48 percent of Arizonans intended to vote for Kelly in the state's Senate race.
Forty-one percent told pollsters that they would back McSally as things stand, putting her outside the survey's margin of error.
A further 5.8 percent of Arizona voters said they would back another candidate, while 4.6 percent said they were still undecided on who to vote for in November.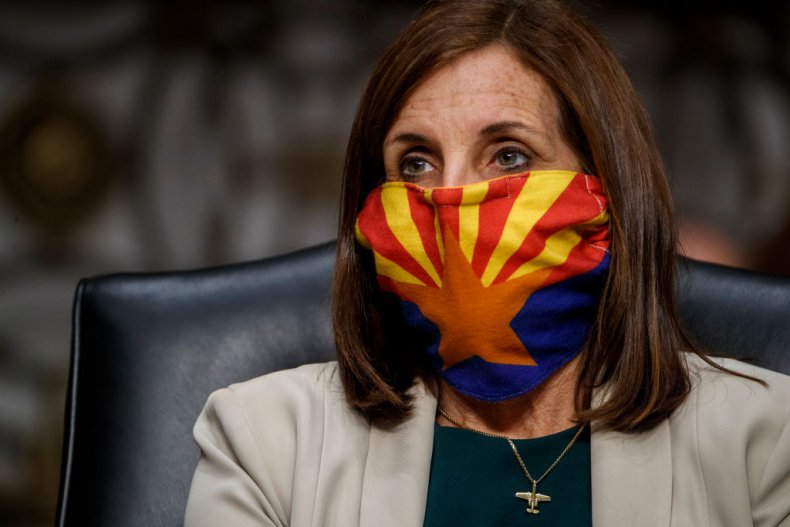 Asked for their views on McSally's record in office thus far, a majority of Arizonans (56 percent) strongly or somewhat disapproved of the Republican's record. By comparison, 44 percent of state voters backed her performance on Capitol Hill.
SPRY Strategies surveyed 700 likely Arizona voters between July 11 and July 16 for its latest state poll, which has a 3.7 percentage point margin of error.
FiveThirtyEight has given the pollster's battleground survey a "B/C" rating on its survey aggregator.
The American Principles Project released the fresh polling data from Arizona a little more than a week after Change Research pollsters published another poll showing Kelly with a 7-point lead over McSally in the state.
Fifty-two percent of Arizonans backed Kelly in the Change Research survey, while 45 percent said they backed the GOP incumbent.
According to Real Clear Politics' polling tracker, Kelly had an average lead of five points over McSally in surveys published between June 8 and July 12 this year.
The former astronaut has also been outstripping McSally's fundraising efforts, with AZ Central reporting at the end of April that Kelly had raised almost double the amount raked in by the Republican's campaign.
Last week, the Democrat's campaign claimed to have bagged almost $13 million in donations during the second quarter of this year, adding that their coffers were nearing the $24 million mark.
Federal Election Commission data shows Kelly's campaign has $23.9 million on hand after his second-quarter haul, while the latest data for McSally puts her cash reserves at $10.9 million.
Analysts at The Cook Political Report rate the Arizona Senate race a "toss-up" election for the Republican incumbent, and one of several that could see the GOP lose control of the upper chamber.