Martha McSally Trails In Three Polls Less Than Two Weeks Until Election
Arizona Senator Martha McSally trailed her Democratic rival Mark Kelly in three new polls released on Wednesday as the battleground race for her seat in the upper chamber neared its final week.
The three polls, published by Ipsos, Rasmussen Reports and RMG Research, all found Kelly leading McSally by slimmer margins than several previous polls that have given the former astronaut double-digit leads over the Republican incumbent.
However, two of the polls showed McSally was behind her challenger by as much as 7 or 8 percentage points, with less than two weeks to turn the deficit around.
Ipsos' latest survey of Arizona likely voters found that a little more than half (51 percent) intended to vote for Kelly on November 3, while 43 percent said they would back McSally for another term in the Senate. A further 3 percent said they would vote for "some other" candidate and the remaining 2 percent told pollsters they were still undecided.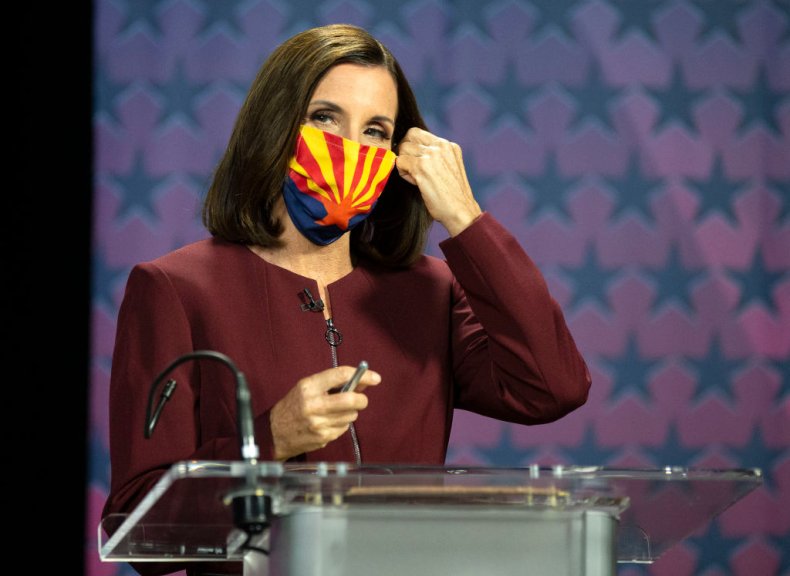 The RMG Research poll conducted by Scott Rasmussen found a similar gap between the Republican senator and her Democratic rival. Forty-six percent of likely voters in Arizona told the pollster they would vote for Kelly, and 39 percent opted for McSally—putting the ex-astronaut 7 points in the lead.
But the third battleground survey from Rasmussen Reports found the key Senate race was much closer than other polls indicated.
Its telephone and online survey 800 likely voters in Arizona between October 18 and October 19 discovered that just 2 points separated Sen. McSally and Kelly, putting the pair at a statistical tie within the poll's 3.5-point margin of error.
Forty-six percent of those surveyed told Rasmussen Reports that they intended to back Kelly on polling day as 44 percent went for their GOP incumbent. Five percent supported a third-party candidate, and a further 5 percent said they were unsure who they would be voting for.
Ipsos surveyed 658 likely voters in Arizona between October 14 and October 21 for its latest poll, which has a 4.4-point margin of error. RMG Research polled 800 voters in the state between October 14 and October 19. Its margin of error stands at 3.5 percentage points.
The new poll results were released a week after a Monmouth University poll showed McSally 10 points behind Kelly, with 52 percent of state voters telling pollsters they backed the Democratic candidate.
McSally's seat is one of several being targeted by Democrats who hope to flip the Republican Party's 53-47 majority in the Senate in a little less than two weeks' time.
According to Cook Political Report analysts, the GOP seat in Arizona is leaning Democrat, making it one of the two seats most at risk of being flipped on November 3.