Martha Stewart Is Going to Start Selling CBD and Snoop Would Definitely Approve
Snoop Dogg would totally approve of Martha Stewart's latest business venture. On Thursday, the businesswoman extraordinaire announced that she and Marquee Brands are partnering with Canopy Growth Corporation to create Martha Stewart CBD.
The new line will feature CBD wellness products for both people and pets, such as gourmet-flavored gummies (inspired by Stewart's profile of recipes), along with oil drops and soft gels. These products are naturally flavored, and are made in the United States.
"I've found that CBD supplements are a simple way to enhance my own health and wellness, especially when it comes to managing the stresses of daily life," Stewart said in a press release. "I set out to create the most delicious CBD products on the market, drawing inspiration from some of my favorite recipes and flavor profiles from my greenhouse and gardens."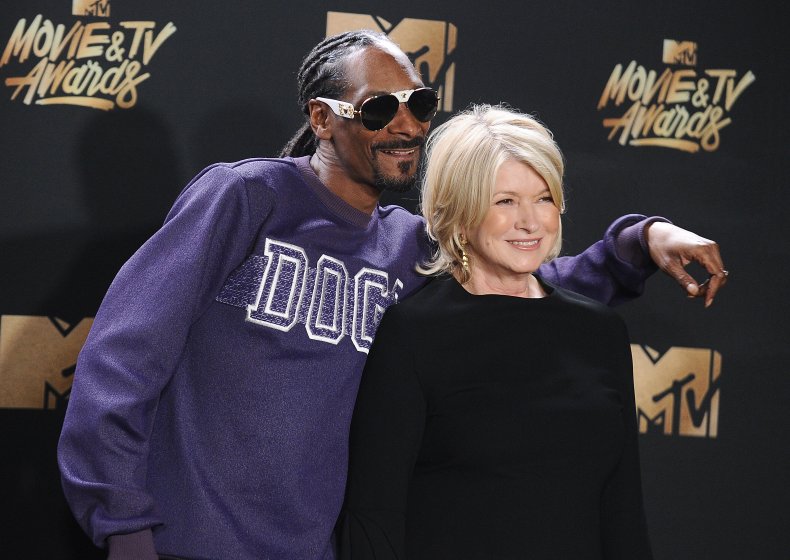 "My wellness gummies closely resemble the French confections, pâte de fruits, rather than the sticky, overly sweet versions you might find elsewhere," the press release continued. "Created in collaboration with the top researchers and scientists at Canopy Growth, I am very proud of the end result: wellness gummies, oil drops and soft gels that taste as wonderful as they make you feel."
Cannabis has been part of Snoop's rapper persona since the mid 1990s. He also has his own cannabis company called Leafs by Snoop, launched in 2015, so it's safe to assume that Snoop would be thrilled about Stewart's new products, which are available for purchase.
Their famous friendship began in 2008 when Snoop was a guest on Stewart's namesake program, The Martha Stewart Show. The duo made mashed potatoes during his appearance, and the rest was history. "Martha kind of, like, pioneered this," Snoop told NBC's Harry Smith of their meeting. "As far as letting rappers become a part of daytime television."
Snoop returned in 2009 to make brownies with Stewart, and joked that even though the recipe called for baking the treats at 350 degrees, they should crank it up to 420.
"I've never met anyone like Martha Stewart," Snoop later said in a 2016 Rolling Stone interview. "When we come together, it's a natural combination of love, peace and harmony."
Most recently, Stewart and Snoop teamed up for VH1 Martha & Snoop's Potluck Dinner Party cooking show, which was a critical success and even garnered an Emmy nomination. Their celebrity guests on the show included Seth Rogen, Patti LaBelle, Matthew McConaughey, RuPaul, Usher, Wiz Khalifa, and Ashley Graham.
Newsweek did not receive comment from Snoop Dogg at the time of publication.