Martha's Vineyard Diary: Events in Ferguson Overtake Obama's Vacation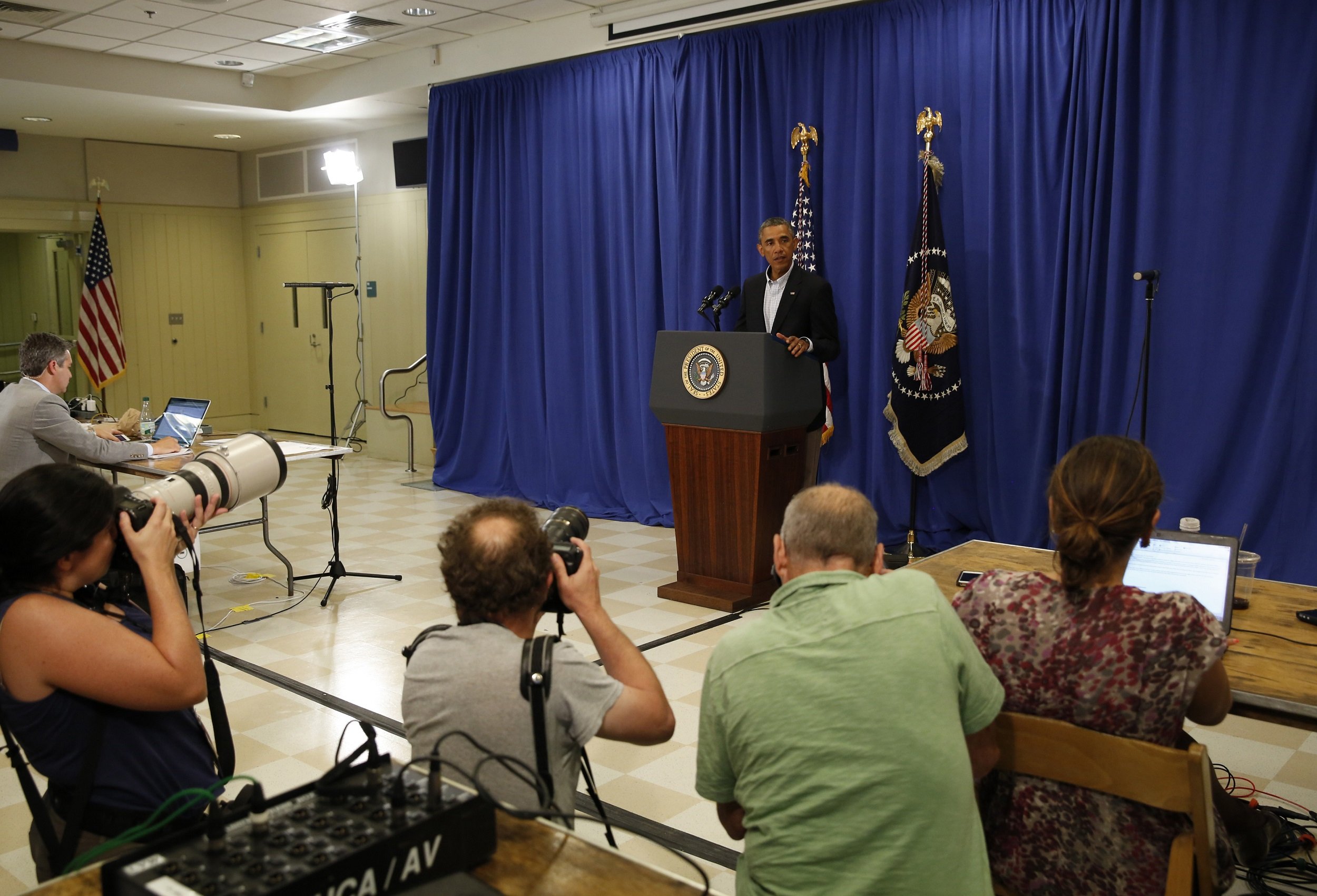 Martha's Vineyard — Reporters and politicos I spoke with today weren't surprised by President Obama's remarks on the troubling situation in Ferguson, Missouri, or by the staging of his announcement. He went directly to camera from the Edgartown School and called for calm, said he was being apprised, defended the press, and so on.
Nothing shocking in his statement, they thought, and most thought his blazer and relaxed shirt not only signaled authority but also, "Hey, I'm still on vacation and this isn't so huge that I have to put on a suit and leave for DC."
One thing that did strike them: Obama standing by Missouri Governor Jay Nixon, who's been lambasted on social media for being detached from the Ferguson mess at least until Wednesday night when he announced he was going to the scene.
For what it's worth, Missouri is a blue turned red state. It went for Clinton twice, George W. Bush twice and for both McCain and Romney. Nixon, the Democratic governor, has been mentioned as a possible 2016 presidential candidate. That seems less likely now.
Understanding Obama?
Martha's Vineyard has long been a gathering spot for African-Americans — and that's no exception this year. Prominent names on the island this summer include not only the president and his family but also Henry Louis Gates, Jr., the prominent Harvard scholar, PBS broadcaster Gwen Ifill, Harvard Law Professor Charles Ogletree, a former professor of Obama's.
He's speaking on Thursday night in a lecture entitled, "Understanding Obama." He'll have plenty to discuss.
Sands of Time
There's always a lot of concern about climate change on Martha's Vineyard. It's an eco-minded island where disposing of one's trash at the town dump can be like going through TSA security at an airport. You mix plastic with trash at your peril.
With some prominent beach erosion on some of the island's most beloved beaches, including Lucy Vincent beach, which is open to residents of the island town of Chilmark. It has seen considerable changes over the last few years, with cliffs falling away and, in one spot, a Stonehenge-like pillar emerging.
It happens that a 2013 study of the Island's exposure to climate change prepared for the Vineyard Conservation Society estimated that rising sea levels around the Vineyard—perhaps a foot by 2050—would contribute to even more beach erosion. In other words, if there's a President Malia Obama, her vacation here might look very different from the one she is currently enjoying.
BACK STAGE
The island is always awash in interesting entertainment: films, music, festivals and theatre. This year there's intriguing indie like one play co-authored by Hallie Pfeiffer, daughter of the famed cartoonist Jules Feiffer. It's title? "A Funny Thing Happened on the Way to the Gynecologic Oncology Unit at Memorial Sloan-Kettering Cancer Center of New York City." There are plenty of African-American themed performances as well including "Satchel Paige and the Kansas City Swing" about the famed baseball player set just at the time Jackie Robinson joined the Brooklyn Dodgers. The play is written by Trey Ellis who wrote "The Inkwell," a film set on the Vineyard and named after a beach in Oak Bluffs that's popular with African Americans. Everything, it seems, comes back to Martha's Vineyard.