Martha's Vineyard Diary: Let Obama Have His Vacation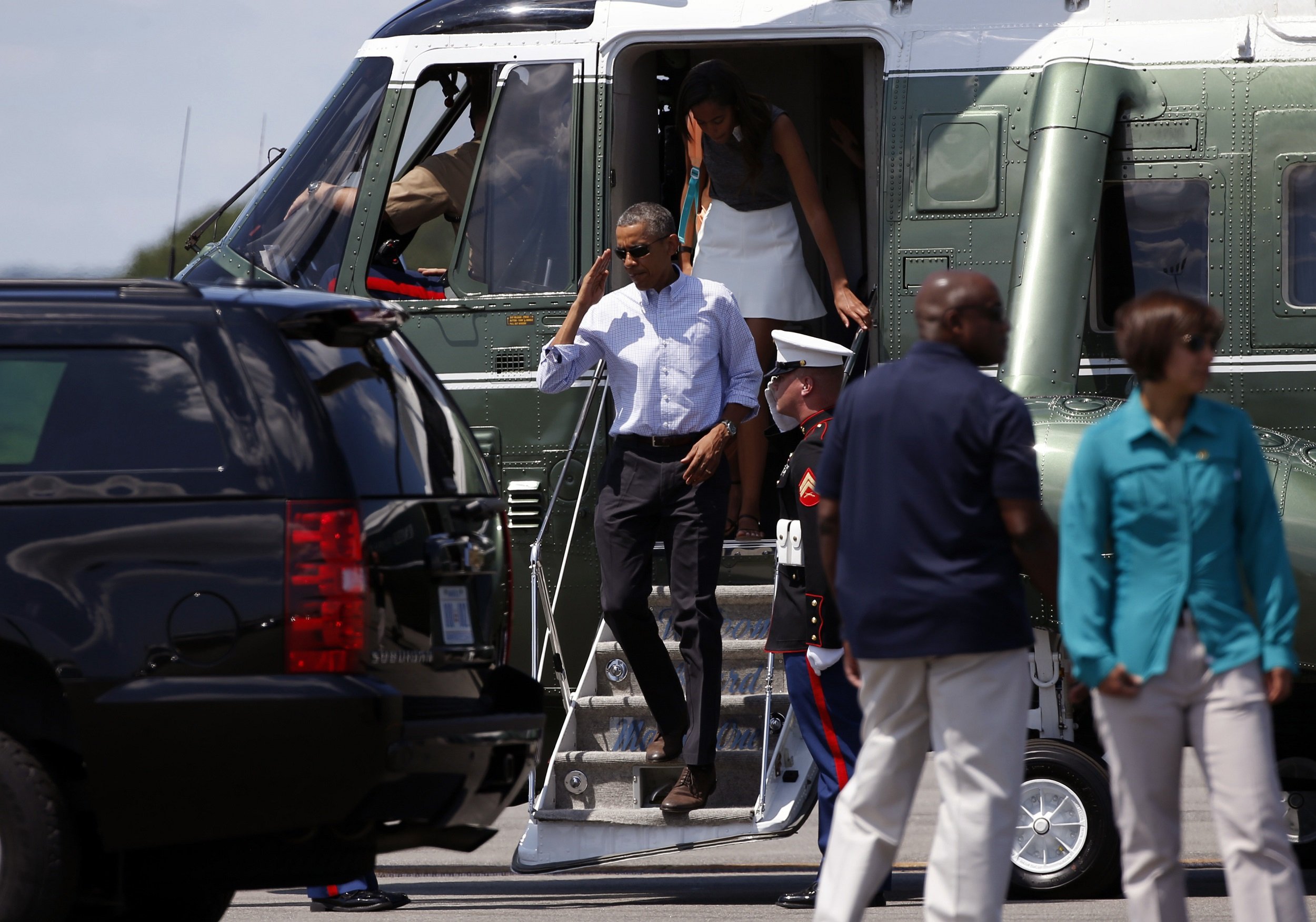 Menemsha, Mass.—The president's Republican critics have been making fun of his vacation on Martha's Vineyard while the world burns. Here's Fox broadcaster Sean Hannity: "Mr. President, it's time for you to stand up. It is time for you to lead. It's time to skip for once your lavish million dollar Martha's Vineyard vacation….You need to be in the Situation Room. You may be surprised to learn what has actually happened in the six years since you have become the leader of the free world."
Former vice president Dick Cheney and his wife Liz have written: "Terrorists take control of more territory and resources than ever before in history, and he goes golfing." But really is there anything wrong with a president taking time off? It was just as absurd when Democrats blasted President George W. Bush for spending extended time at his Texas ranch.
First, presidents work on vacation. They get intelligence briefings. They make calls. They make decisions. Franklin Roosevelt's time at Warm Springs, Georgia didn't stop him from leading World War II any more than Obama's time on golf course will stop him from making choices, wise or foolish.
Critics of Obama have a special burden since many of them have dubbed him tyrannical, a king who is ignoring the constitution. Assume that's true. Can he really be both ruthless and lazy? Stalin and Mao and Hitler unleashed the 20th century's worst horrors. Could they have been slackers at the same time? Either you're a despot or you're a slouch -- but it's pretty hard to be both.
Many times charges of racism are used to deflect legitimate criticism. But in this case the slur on Obama comes perilously close to racial stereotypes. No one has called Obama shiftless, but it's easy to infer that from the criticisms. This is as ugly an accusation as it is untrue. No one gets to be president by being a slacker. No one in office can be one.
Finally, we kind of have to trust the president to run his own schedule, unless we want to amend the Constitution to say that the president gets two weeks off and federal holidays, except Columbus Day (because, hey, few of us really get to take off that day). We need to accept his or her judgment about how much rest and leisure they take.
Of all of the decisions that they can screw up--and Obama's had his share, including his declaring and then ignoring a "red line" for the use of chemical weapons in Syria--the decision to play more golf is the one that should worry us the least.
At some level, the criticism of Obama is not only partisan but psychological. Few things are more infuriating in life than seeing someone who is more successful than you and having more fun than you. This is why a billionaire on a yacht is more irksome than a billionaire in his office. At some deep level it applies to Obama, too.
Even the Jordan River
Vernon Jordan, the Washington power lawyer turned New York financier, is hosting a party tomorrow night for his wife, Ann Dibble Jordan, who is turning 80. Hillary Clinton will be there and that seems appropriate, since Jordan is close to the Clintons and the Obamas, although more so the Clintons.
No one on Martha's Vineyard is a better liked or a more coveted dinner guest than Jordan. He is a veteran of the civil rights movement and was shot in 1980 when he was head of the National Urban League. If there's hard feelings between Obama and Hillary Clinton, who used a recent interview in The Atlantic to vent disagreements over foreign policy with the president, Jordan is probably best suited to heal the rift.
Grab a Lobster Roll, Mr. President
If the president wants to build his base with religious voters, he might want to swing by one of the island's many churches. And if he wants to do it without sitting through a service, grabbing a lobster roll may be the way.
Tourists and locals alike line up for lobster rolls being served at Grace Episcopal Church in Vineyard Haven, which has been selling them for 27 years to raise money. Famously plump, with the right amount of mayo, they've been a huge hit, often voted #1 on the island.
Other Martha's Vineyard churches and nonprofits are doing it, too. There's one on Tuesday night near the president in Chilmark, at the Chilmark Community Church, which is United Methodist. So is American Legion Post 257 in Vineyard Haven, if he wants two.