'They Have to Move'—Reaction to Migrants in Martha's Vineyard Goes Viral
A video of an interview with Lisa Belcastro, the coordinator for Martha's Vineyard homeless shelter Harbor Homes, has gone viral after she said immigrants cannot stay there.
Two planes carrying undocumented migrants arrived at Martha's Vineyard, Massachusetts, on Wednesday as part of Florida's plans to send migrants to a "sanctuary destination."
Florida Governor Ron DeSantis has said he would follow the lead of Texas, which has bused migrants to Washington, D.C., in a public rejection of the immigration policies of President Joe Biden.
A clip of Belcastro only showed a snippet of her statement on the situation but has so far been viewed more than 2.8 million times.
"The most difficult challenges are, at some point in time they have to move to somewhere else," she said.
"We don't have the services to take care of 50 immigrants and we certainly don't have housing, we are in a housing crisis as we are on this island.
"We can't house everyone here who lives and works here, we don't have housing for 50 more people."
This clip of Belcastro has been shared throughout social media with many remarking that the locals in Martha's Vineyard are being hypocritical for not being able to deal with the immigrants.
However, in the full interview with the homeless coordinator, she highlights how the immigrants have not asked for handouts and have been requesting work.
She also noted that the local community has come together to support them in any way they can.
"We literally have everything we need. I mean we need for all of our guests to get the help they need to be in this country and safe and housing," she said.
"That's not something that we can do here at the shelter, right? We're a stop gap. This is an emergency shelter. We are not long-term care.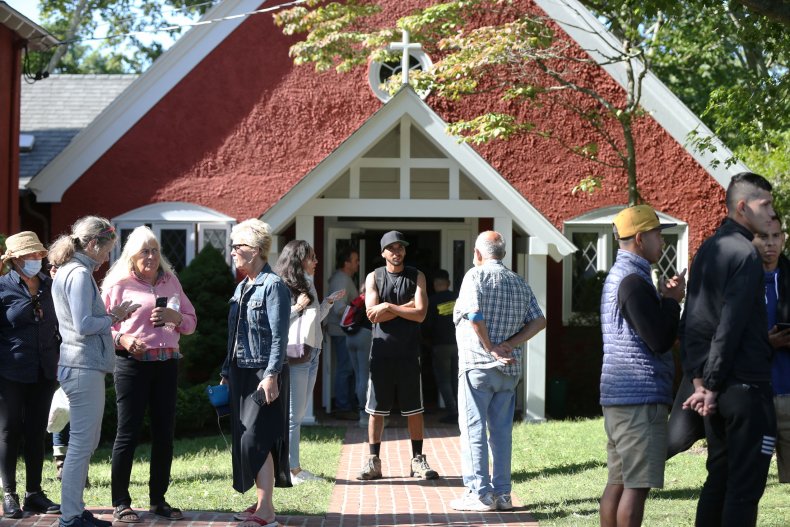 "Everyone is meeting about this, there are multiple wheels that are turning and departments that are working together and it really is a community effort.
"That community is from here to Boston, probably to the White House."
She went on to say: "We have this emergency shelter set up and its working wonderfully.
"Every single person that has been here, every single person has come up and said, 'I want a job.'
"They are not looking for a handout. Not one person has asked for a handout.
"Every single person is like,'I need to work'. Every single one of them wants a job, they are not here saying give me money or give me clothing or give me this, they want to take care of their families.
"We just want to help them do that but there is a legal process. You know this is a political game and shame on everyone involved."
She went on to criticize DeSantis and said he was using the immigrants as political pawns.
Newsweek has contacted Ron DeSantis for comment.