What Is Martial Law? Ukraine to Make Declaration as Threat of Russia War Looms
Ukraine's government is expected to impose martial law for several months after the Russian military opened fire on Ukrainian ships on Sunday, elevating the possibility of a full-fledged war between the two countries.
Martial law allows the country's military to take over the normal responsibilities of a civilian government. It is generally invoked in a moment of national emergencies, such as war or invasion.
Russia and Ukraine have been in conflict ever since a pro-Western social movement ousted the pro-Russian president Viktor Yanukovych in 2014. Since then, Russia has annexed Ukraine's Crimean Peninsula and supported armed pro-Russian separatists in the eastern part of the country known as Donbass.
Kiev had so far resisted imposing martial law. But experts say that Moscow seized on a moment when many in the West were distracted with Thanksgiving celebrations and Brexit negotiations to provoke Ukraine and escalate the conflict significantly. Now it is likely that martial law will be imposed for at least 90 days.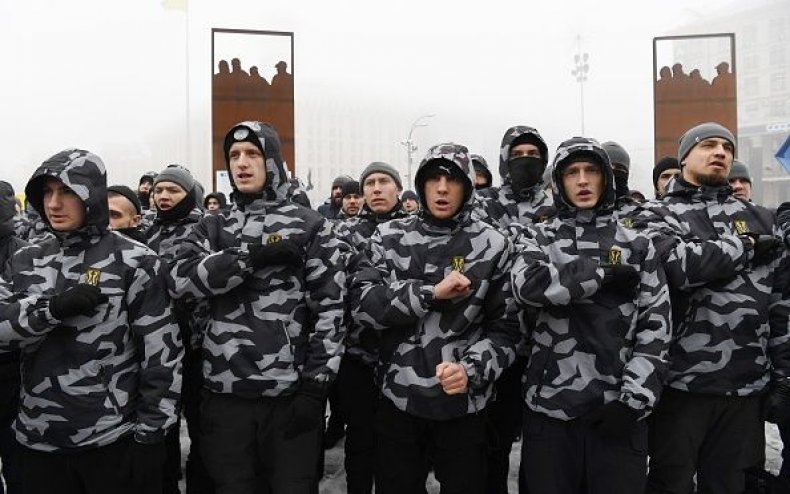 Some experts are concerned that the emergency move could result in the postponement of elections scheduled for March 2019, and could be used to bolster the dwindling support for Petro Poroshenko, Ukraine's current president.
"For a country under attack for nearly five years by a much stronger neighbor with a deep reach into the country, martial law is not unthinkable. Some politicians have criticized Poroshenko for years for not declaring martial law," John Herbst, U.S. ambassador to Ukraine from 2003 to 2006, told Newsweek.
"A declaration of martial law now, after an open Russian attack on Ukrainian forces, can rightly be explained without reference to political motives. It is hard to say whether or not political motives are also in play...A measure that enables the government to move quickly to escalating Russian aggression is entirely reasonable. A measure that was to cancel or postpone elections, much less so," Herbst continued.
Many pro-democracy activists in the West are calling on their government to protect Ukraine from Russian aggression. Intelligence and military analysts said that Moscow had long supported covert operations against Ukraine but that Sunday's action was one of the first overt military attacks by Russia against Ukrainian forces. At least six Ukrainian soldiers were wounded on Sunday when Russia attacked their navy vessels and seized several of the ships.
Moscow claimed that the Ukrainian ships had illegally entered Russian territorial waters. The three ships had been attempting to pass from the Black Sea into the Sea of Azov through the Kerch Strait when the Russian forces attacked. Video of the incident released by Ukraine shows a Russian ship deliberately ramming into a Ukrainian tugboat.
Moscow has increased its naval presence in the area around Crimea over the last year to assert its dominance in the waters. Analysts said Moscow was now trying to spark a conflict in order to show Ukraine's leadership that it could act with impunity.
"The episode in the Black Sea and Sea of Azov, and the feeble Western reaction, suggests that the aggressor will feel empowered. Russia is hungry for a 'small victorious war,' like taking all of southern Ukraine to the Moldovan border," Ariel Cohen, a senior fellow at the Washington D.C.-based think tank Atlantic Council, told Newsweek.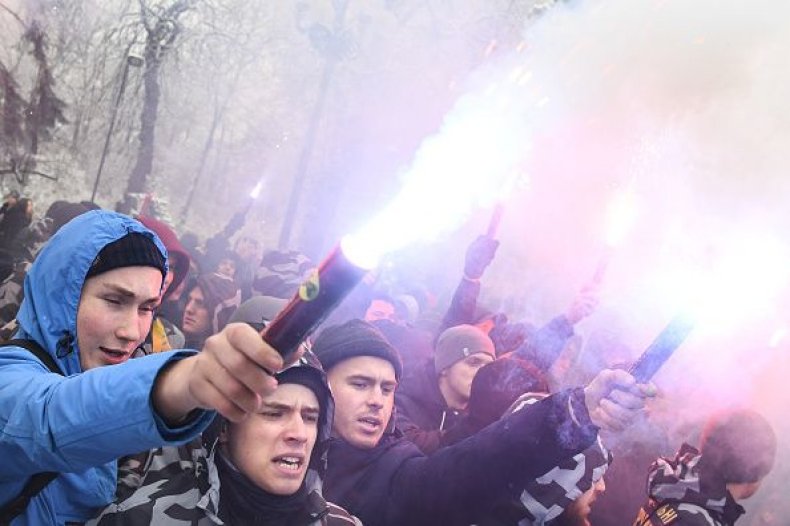 It is unclear how the West will respond to the incident, but an emergency session of the United Nations Security Council will be held on Monday. Meanwhile, protesters gathered around the Russian embassy in Ukraine on Sunday evening.