'The Martian VR Experience' Lets You Channel Your Inner Astronaut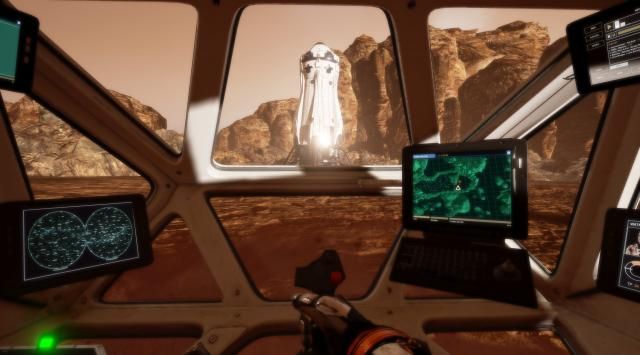 You're trapped on Mars, with only a slim chance of getting home from the red planet before you run out of food and oxygen. Using your wits, your rover, and scavenged resources, you craft a plan for your survival, travel to key locations to find the resources you need, and—well, if I say more, I'll be entering serious spoiler territory. Because "your" experience on Mars—as imagined in The Martian VR Experience—is designed to mirror that of Mark Watney, Matt Damon's character in the hit movie The Martian, and if I share too much information about the game, I may just ruin the movie for those of you who haven't seen it. But, yes, there are potatoes.
The Martian VR Experience, which debuted at CES this week, provides the kind of environment and activities one would expect in a modern, well-produced VR game, including the ability to explore your world in every direction, missions that require you to use your virtual limbs with some dexterity, and a steadily escalating level of difficulty as the game progresses (though it never gets too hard). It makes good use of the Oculus Rift's Touch controllers, with lots of opportunities to pick up and throw things, turn switches on and off and drive vehicles. It's not perfect: At about 20 minutes, it's far shorter than a fully immersive experience should be, and the periodic appearance of scenes from the movie, which float by on virtual screens, takes you out of the game for no real reason other than to remind you that you're in a virtual space based on a movie, something that would seem antithetical to the idea of a VR experience.
One plus, at least in its CES iteration, is the use of motion-simulator chairs, which sync up well with the headset-based world; when you hit a rock in your rover, you feel it, something you don't get in most VR environments—and something home users of The Martian VR Experience won't be able to experience when it's released later this year (it will be available for the Oculus Rift, HTC Vive and Sony Playstation VR as those platforms become available to the public).
While The Martian VR Experience may not impress hardcore gamers or VR enthusiasts who want a more open-ended, challenging or longer experience (or just want to shoot something every now and then), it may represent something of a watershed moment in the brief history of fully immersive consumer VR. For the first time, a major studio has put its weight behind a VR version of one of its marquee offerings, and director Robert Stromberg, who made the 2014 movie Maleficent, brings both high-end Hollywood production values and an understanding of what will excite VR users, to the table.
Newsweek subscription offers >
Stromberg, an Oscar-winning visual-effects designer, whose credits include James Cameron's Avatar and Tim Burton's Alice in Wonderland, had his directorial debut with Maleficent, which brought in $760 million for Disney. And before Maleficent was even released, he walked away from the mainstream movie business to start his own company solely based on VR.
"About two years ago, I was in post-production on Maleficent, and I read an article about this company Oculus being bought by Facebook," he said at CES. "My ears went up, and I called Oculus, and they invited me over to see what they were doing. I immediately started my own virtual reality company that same day."
Stromberg's new venture, the Virtual Reality Company, has signed up an A-list of advisors from the entertainment and tech worlds, including Steven Spielberg, composer James Newton Howard, former Georgia Tech president G. Wayne Clough, and VR pioneer Laurent Scallie.
The director, who created The Martian VR Experience with Fox's Innovation Lab, admits that these are "early days" when it comes to VR projects, and says that the production "evolved as we were going. We said, 'we should know what we're doing by the time we finish this thing.'"
Newsweek subscription offers >
"Everyone knows this is going to be a multi-billion dollar business," the director says. "I see so much potential. I see a headset in every home."
'The Martian VR Experience' Lets You Channel Your Inner Astronaut | Tech & Science