Nevada Martin Wildfire, Largest in U.S., Spreads to Nearly 400,000 Acres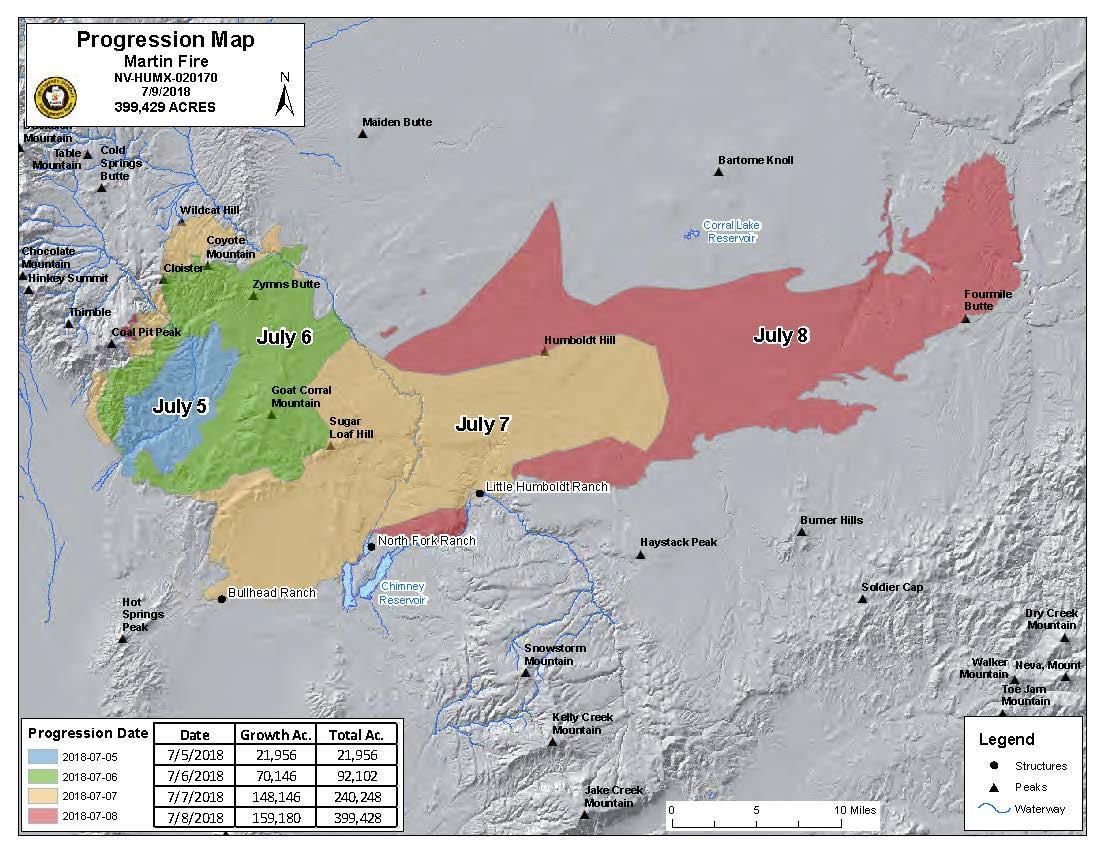 Hot and dry conditions across much of the United States have created a perfect storm for wildfires in several states. The largest of those fires was burning over nearly 400,000 acres of land in Nevada on Monday after just a few days.
The Martin fire started July 5 near Paradise Valley, Nevada. In the days following, it spread to 399,429 acres, according to the incident information system on Monday. Grass, brush and some small pieces of timber fueled the fire, spreading it across the county. There was also a persistent wind that helped grow the fire from where it was already burning.
The fire, burning in Humboldt County, was the largest burning anywhere in the entire country, according to NASA. The space agency captured the fire and the residual smoke on one of its satellites. The flames were reaching heights of 45 feet, and the fire was spreading quickly.
The cause of the fire is unknown. The Humboldt County Sheriff's Office and Bureau of Land Management were asking those in the area Wednesday and Thursday to help identify anyone who might be responsible for starting the fire.
The fire was only 8 percent contained as of mid-Monday, but it was estimated that the fire could be contained by the weekend, or July 15. The fire is extremely active, and the plan is to focus on its northeastern flank, where it's spreading quickest and where there is the least containment, said the InciWeb notice. On Monday, the fire was heading in the direction of Elko County. It was unclear whether any structures were damaged.
Other fires were raging in Nevada's neighboring states California and Utah, but none of those fires matched the Martin fire in size. There are more than 500 people working to contain the fire. "Crews and equipment are making excellent progress building containment lines along the southeast flank of the fire," said an InciWeb update.
The people battling the flames are using a new technique. First, they put down a line of water, followed by a flame retardant. This tactic helped make the conditions safe for the crews fighting the fire to dig a containment line, according to the update.