Meet Martin Lee, Hong Kong's Defiant Democrat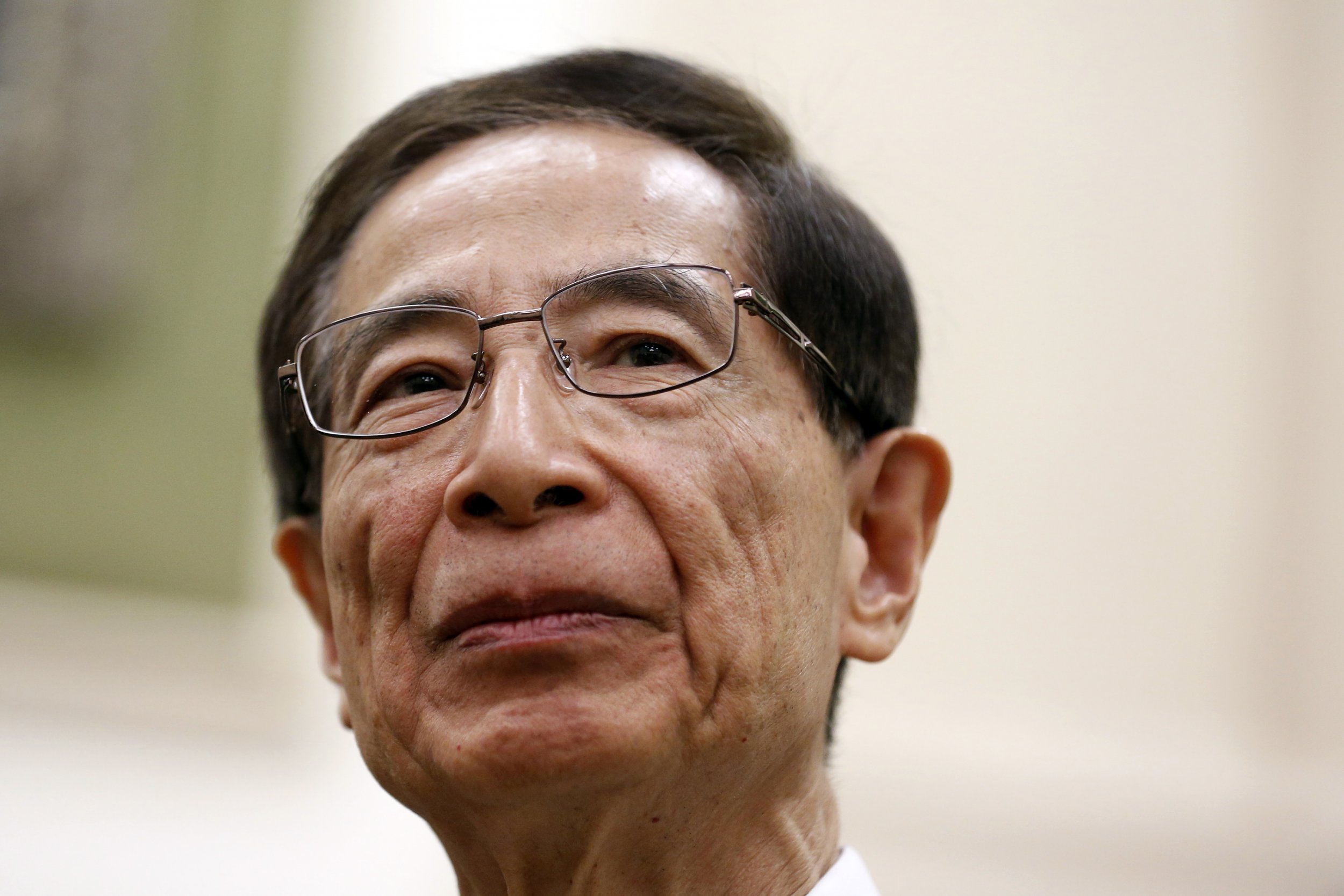 When pro-democratic lawmakers in Hong Kong rejected China's plans for electoral reforms last week, perhaps no one seemed more pleased than 77-year-old Martin Lee. Beijing insisted it was being generous, in offering Hong Kong citizens the chance to vote for their leader in 2017, for the first time in the city's history. But Lee—the former chairman of the Hong Kong Democratic Party—and other pro-democratic activists said the proposal, which would have permitted citizens to choose from two or three Beijing-approved candidates, was nothing more than "fake universal suffrage."
So, Hong Kong's next chief executive will again be chosen by a 1,200-member Beijing-backed selection committee. And Chinese media warned that the city could face "chaos"—both political and economic—if politicians and activists continued to defy Beijing. Yet for Lee and Hong Kong's democrats, the rejection of the proposals is a vindication of their determination to stick together in the face of intense lobbying, and pressure, from both the Hong Kong and Chinese governments. Their determination to stand up for their ideals in the face of seemingly insurmountable odds has been striking. And though the city's new generation of student leaders, like teenage activist Joshua Wong, made headlines during last year's Umbrella Movement protests against China's proposals, Lee, a veteran democracy activist, surprised many with his dynamism both during the demonstrations and in the lead-up to the vote.
A soft-spoken lawyer, Lee was appointed to the Beijing-sponsored drafting committee for Hong Kong's post-handover constitution in the 1980s, before being expelled from it after the Tiananmen crackdown in 1989. As a founding chairman of the Democratic Party and a longtime elected legislator, he was one of the leading advocates for greater democracy in the last years of British rule and afterward.
But when he stepped down as a legislator in 2008, many assumed he would fade into a graceful retirement. They were wrong. Last fall, Lee was on the front lines wearing a gas mask and goggles, showing solidarity with young protesters after police fired tear gas and pepper spray at them. And when the authorities finally cleared the protest camp that sprang up outside government headquarters, Lee was among those who refused to leave the site until police carried them away.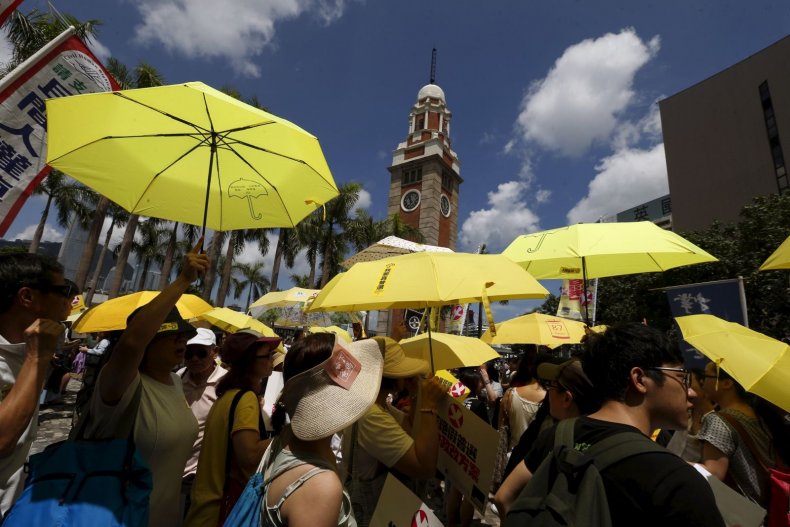 Friends say the protests re-energized the septuagenarian former lawmaker, who was impressed by how the demonstrators kept their cool despite initial police aggression, and provocations by Triad thugs. It was "beautiful, so peaceful…something I never thought possible," Lee says in his distinctive blend of clipped British vowels and lilting Cantonese tones. "Yes, the police attacked us with tear gas, but quite a number of police vehicles were abandoned, completely surrounded by the people. Anywhere else in the world you'd expect them to be overturned, if not burnt, but here they were hardly touched."
After the protests ended in December, Lee continued to speak out against Beijing's proposals. When he was invited to speak to the Canadian parliament in March, China's ambassador demanded the event be canceled. It went ahead anyway, and Lee says Chinese intervention backfired, as the event was broadcast live on television. Around the same time, police summoned him for further questioning about his role in the protests.
Asked whether he had any experience of being arrested in the past, the veteran lawyer laughs: "Of course not—never!" It's ironic, Lee adds, that Beijing has labeled long-term advocates of the rule of law as enemies of the state. Among those detained on the last day of the Umbrella Movement protests, he recalls, were "three senior counsel [a title given to outstanding Hong Kong courtroom attorneys]—and all three of us were sometime chairman of the bar. We may have qualified for the Guinness Book of Records—three former chairmen of the bar arrested in the same police van!"
Since the protests began, some critics have called his tough stance against Beijing's reform proposals self-defeating. But Lee says his treatment by the Hong Kong and Beijing governments makes him all the more certain that he was right to oppose the plan, despite China's hints that it would be a first step toward further reforms: "Beijing has been breaking promises all along," he says. "They promised us democracy 10 years after the handover, in 2007, then they said no. So we waited to 2012, then they said no again. Then they said, 'OK, we'll have an election in 2017'—and it was a sham because they were going to choose all the candidates."
Accepting the proposal, and conferring legitimacy on Beijing's preferred candidate, would have taken away any incentive for Beijing to make further reforms, he suggests, meaning Hong Kong would "never see genuine democracy ever."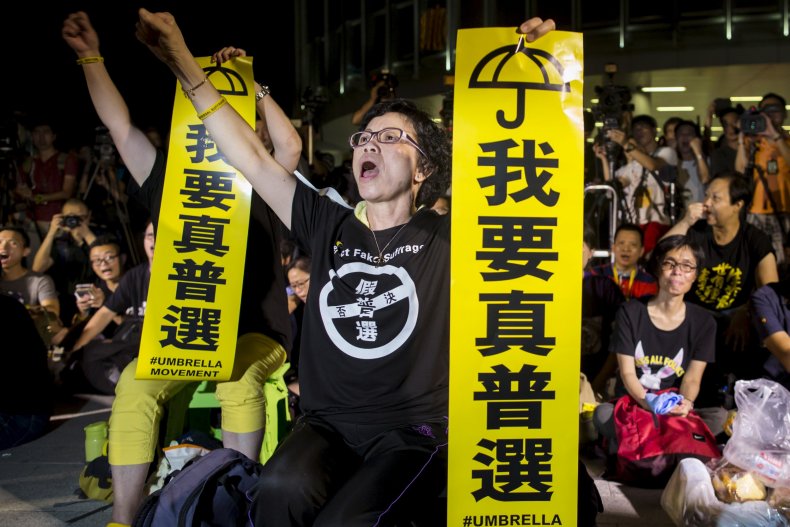 Lee argues that Beijing's approach to Hong Kong is based on poor information from the Chinese central government's Liaison Office in the city, which he says is generally seen as "running the place" and giving orders to Chief Executive C.Y. Leung. "They don't understand Hong Kong," he says.
And while some critics—and indeed some in government—warned democrats that rejecting the reforms could mean Leung, who many blame for the hard-line policing of the Umbrella protests, could get another five years in the post, Lee believes Beijing may change its mind. "Of course you want someone who will listen to you," he says of Beijing, "but C.Y. Leung is not credible at all.… Even if he comes up with a good policy people won't like it because it comes from him!"
Despite his bruising experiences with China, which has accused him of being a traitor, Lee believes there is no point giving up hope that its leadership, even under current President Xi Jinping, might accept further reforms in Hong Kong one day. "Of course I see no evidence yet that he [Xi] is a reformer," he says. "But on the other hand he's the only Chinese leader who's hit corruption so hard, so that gives me that little ray of hope."
Still, Lee acknowledges that Hong Kong is more divided than ever after last year's protests, with polls showing both sides routinely winning between 40 and 50 percent, and little middle ground—and that such "polarization" could be exactly what Beijing wants: "The Chinese Communist Party believes in divide and conquer more than anyone else." Today, tensions are such that Lee says many young people are again talking about emigrating, just as they did in the years before the handover in 1997. Yet he himself has no intention of opting for a peaceful retirement abroad, as many have encouraged him to do. As Lee puts it: "As long as there's no genuine democracy in Hong Kong I'll continue fighting for it."