Martin Luther King Day: Life and Times of MLK, the 'I Have a Dream' Civil Rights Leader, in Pictures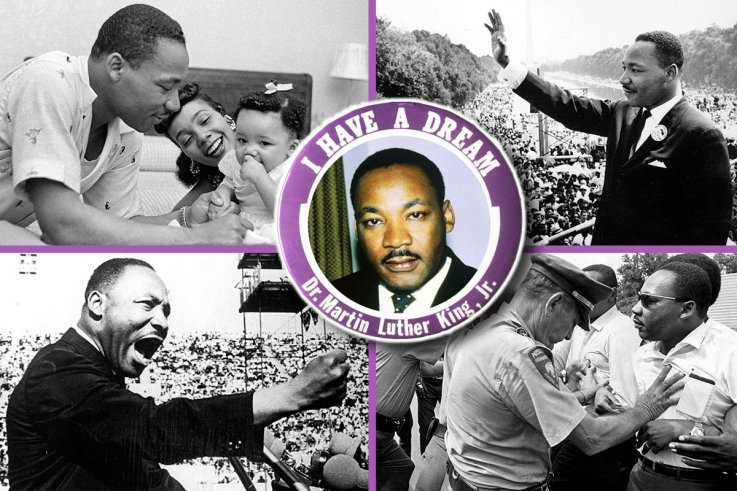 Martin Luther King was just 26 years old when he led his first political protest—the 1955 bus boycott in Montgomery, Alabama. The Baptist Minister would go on to work tirelessly for civil rights, using the peaceful message and powerful delivery learned at church, perhaps utilized most effectively during his 1963 "I Have a Dream" speech. In 1968, he was shot and killed on a motel balcony by racist prison escapee James Earl Ray. He was 39 years old.
Looking back, it's hard to imagine a time when King wasn't lauded as a national hero who worked to heal the wounds caused by slavery, segregation and racism. But the story of how Martin Luther King Day came to be a national holiday shows that even after he died, the establishment wasn't quite sure how to process his legacy.
The idea to memorialize King's birth was raised the same year he died, by Congressman John Conyers, Jr., a Michigan Democrat. It faced immediate resistance. The economic cost of a day off work was cited by some; a Republican committee said that "the establishment of a public holiday to honor a private citizen would be contrary to our country's long-standing tradition."
The push to celebrate Martin Luther King with a national holiday became a political movement in itself. Union leaders encouraged the idea—a critic of capitalism, King had always worked closely with unions and was shot while supporting a strike in Memphis. Year after year, groups of workers across the country stayed home on January 15, the day of King's birth, risking their jobs to do so.
In 1980, Stevie Wonder joined the fight, writing the song Happy Birthday about King: " Why has there never been a holiday / Where peace is celebrated / All throughout the world / The time is overdue," he sang.
In 1982, Wonder, together with King's widow Coretta Scott King, presented Congress with the largest petition in favor of an issue in U.S. history, with six million signatures supporting the national holiday. Conyers had continued to raise the bill at every Congress since 1968, and it eventually passed in a 338 to 90 vote in 1983. President Ronald Reagan finally signed off on the bill in November that year, despite having previously spoken out against the holiday.
Among the naysayers in the final vote was Senator John McCain, in a decision he openly regretted later. "We can be slow as well to give greatness its due, a mistake I myself made long ago when I voted against a federal holiday in memory of Dr. King. I was wrong," he said during a 2008 speech.
After the long struggle, Martin Luther King day was observed for the first time on January 20, 1986; since 1992 the holiday has been observed on the third Monday of January. Only three people have an American national holiday in their honor: Christopher Columbus, George Washington and Martin Luther King.
To celebrate King's legacy, Newsweek has selected key images from the remarkable life of an American icon.