Martin Luther King Jr. was a school teacher, pastor, civil rights leader and winner of the Nobel Peace Prize. After his untimely assassination in 1968 at the age of 39, cities across the country began hosting parades in his honor long before the U.S. declared the third Monday of January a federal holiday in 1986.
Each year, participants including step crews, trucks, bikers, floats, politicians, activists and high school bands remember King and the chain of events he set in place that led to the Civil Rights and Voting Rights acts—two landmark pieces of legislation that recognized black people's right to vote and outlawed discrimination based on race.
Here are a few such parades across the country marking the holiday on Monday.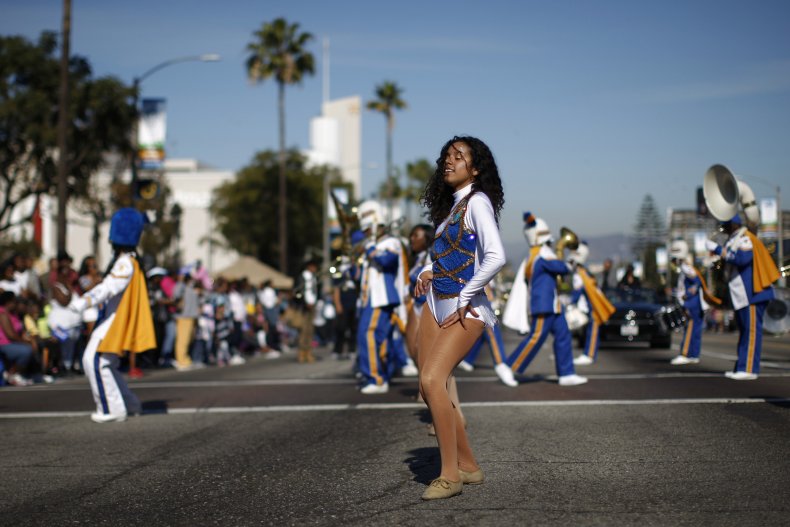 Washington, D.C.
The backdrop of King's historic "I Have a Dream" speech, Washington, D.C. is one of the nation's first jurisdictions to hold a parade in his honor. Beginning 11 years after his death, the annual parade helped lead the effort to establish a national holiday holiday commemorating the civil rights leader, according to the official site for the capital's MLK celebrations.
In addition to the parade, which starts at the intersection of Anacostia Drive and Good Hope Road SE at 11:30 a.m., there will be a peace walk, panel discussions on food insecurity, and a fair with health care providers offering on-site blood pressure screenings and other services. Registration is preferred, and check-in starts at 10:00 a.m., at the Anacostia Park Registration Tent.
Miami
The oldest and largest parade for King, according to its organizers, is set to begin at 11 a.m. on W. 54th Street and 10th Avenue. Boasting a record 500,000 participants, the route follows eight miles of "sacred" ground King once traveled when he visited the city, and airs annually on PBS.
In addition to floats, government officials, high school and college marching bands, horses, exotic cars, veteran groups and trade unions, the commemoration includes a "family festival" from 12 to 5 p.m. at the MLK Memorial Park. Meant to engender a social justice ethos and pride in "vibrant African and Caribbean heritage," it features entertainment, food and cultural programs.
Atlanta
As King's hometown, Atlanta's devotion to honoring the civil rights leader is observable in the diversity of celebrations it offers each year on the third weekend of January. Besides a parade, there's an annual black-tie ball and 5-kilometer run, as well as park clean-ups and tours of King's childhood home.
The city's Annual Freedom March Parade, hosted by the Henry County branch of the NAACP, starts at 10 a.m. outside the Henry County Performance Art Center at 37 Lemon St. After the parade, participants can return to the art center for a history program.
Another noteworthy event in King's hometown is hosted by the King Center, the largest repository of primary source materials about his life. On Monday, the center—which was established in 1968 by King's wife and civil rights activist Coretta Scott King—will end its week-long celebration of MLK with varied celebrations at the Ebenezer Baptist Church.
Other parades
Dallas is hosting its 38th annual parade honoring King at 10 a.m., starting from Holmes Street and MLK Jr. Boulevard. It will feature about 250 entries from community organizations, church groups, youth groups, nonprofits, bands and drill teams, floats and more.
King's 35th annual parade in Los Angeles has a theme this year: "Our Work Is Not Yet Done." It starts at 10 a.m. at the corner of Arlington Avenue and West Martin Luther King Jr. Boulevard, and is scheduled to air live on ABC 7.
The Dr. Martin Luther King Jr. Committee will host its 38th annual parade in Las Vegas, beginning at 10 a.m. It will take off from Fourth Street and Gass Avenue before heading north on Fourth Street, and features marchers and vehicles alike.