Martin Luther King Jr. Day 2021: What Have King's Children Said About His Legacy for This Year's Holiday?
In celebration of Martin Luther King Jr.'s birthday—and in anticipation of this year's Martin Luther King Jr. Day—two of King's children have shared messages on social media honoring their father's legacy and imparting some of his words.
On Friday, which would have been her father's 92nd birthday, Bernice King tweeted, "Dear politicians/political influencers: When you tweet about my father's birthday, remember that he was resolute about eradicating racism, poverty & militarism. Encourage & enact policies that reflect your birthday sentiments."
Also included in the tweet was video from a 1967 interview that Martin Luther King Jr. did with NBC, in which he addressed specific and daunting challenges that Black Americans face that many white, European immigrants don't have to overcome.
"White America must see that no other ethnic group has been a slave on American soil. That is the one thing that other immigrant groups haven't had to face. The other thing is that the color became a stigma. American society made the negroes' color a stigma," Martin Luther King Jr. says in the video. "When white Americans tell the negro to lift himself by his own bootstraps, they don't look over the legacy of slavery and segregation."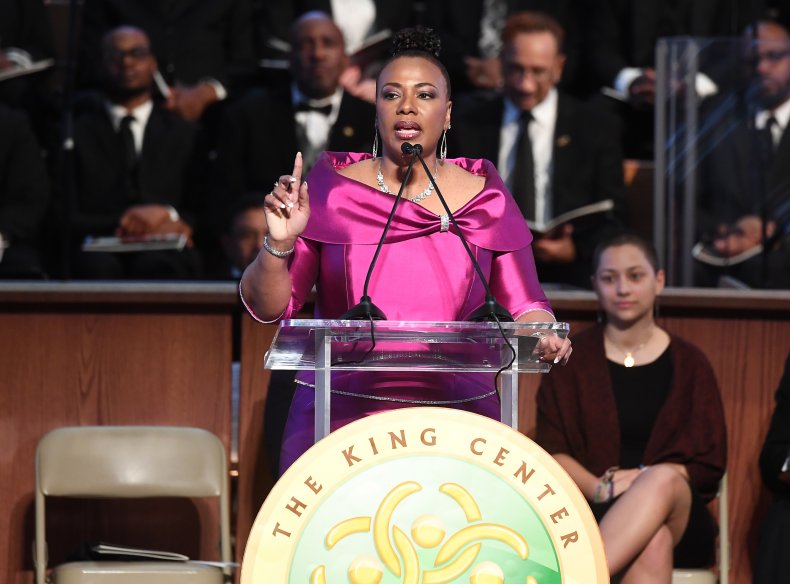 Bernice King echoed her message to politicians in a tweet aimed at religious leaders (specifically pastors and preachers), urging them to take a leadership role in the fight for equality.
Meanwhile, Martin Luther King III noted how moved his father likely would have been to witness the rise of so many young activists—including his own granddaughter—who are continuing the spirit of the Civil Rights movement.
"My dad knew that in the fight against injustice, there are no permanent victories. I know my father would be proud of his granddaughter and the millions of other young people who are dedicated to eradicating the triple evils," he wrote on Twitter on Friday.
Martin Luther King III also shared a more personal note, recognizing his father for giving him and his siblings "a childhood full of joy, even in the face of hatred and violence."
The day before, Martin Luther King III encouraged people to continue demonstrating and campaigning for social justice and racial equality, to build on the momentum of the 2020 protests.
"We cannot and will not allow the events of 2020 to stay in 2020 -- we are walking into 2021 dedicated to dismantling systemic racism. We won't go back to 'normal' -- we will create a better world," he wrote.
In another tweet shared later on Thursday, Martin Luther King III invoked the words of his late sister, Yolanda King. "The events of 2020—the COVID-19 pandemic, blatant injustice of police brutality, rampant voter suppression—showed that we have yet to realize my father's dream," he wrote. "In the words of Yolanda, 'We know the Dream alright but some of us haven't realized the significance of it.'"