Martin Luther King Jr. Day Google Doodle Honors MLK With Illustration By Dr. Fahamu Pecou
Today's Google Doodle celebrates Martin Luther King Jr. Day, or MLK Day as it is also known, a federal holiday commemorating the civil rights hero on January 20, 2020.
Google has marked his birthday with a doodle depicting a group of seven people with their arms around each other, with one person wearing a T-shirt with Reverend Doctor Martin Luther King Jr.'s face on it.
The doodle was designed by Dr. Fahamu Pecou, a guest artist, who is creating a series of expressionist drawings that highlight individuals' impact on society.
Dr. Pecou told Google: "Dr. King is remembered as one of the most important human beings in history. In some ways, his level of achievement, compassion, and significance can be daunting.
"But Dr. King, in his own words, reminded us that what he did and stood for was no extraordinary feat—we must rise to our own greatness for the betterment of all mankind.
"He reminded us that no man was ever granted a right that he didn't fight for. And that when we come together—we as a country, as a people, as human beings—we can overcome anything and make this world a better place."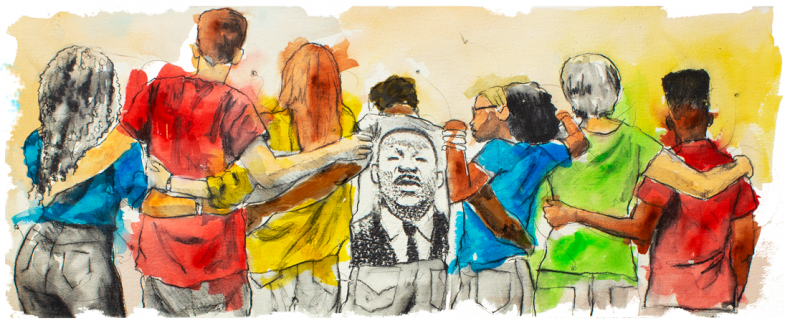 Martin Luther King Jr.
Dr. King was born in Atlanta, Georgia, on January 15, 1929. He traveled across the U.S. speaking out against inequality and delivered more than 2,500 speeches during his lifetime.
In 1955, he helped organize the Montgomery Bus Boycott, which was one of the first major protests of the African American civil rights movement. As a result, in 1956, the Supreme Court declared segregation on buses unconstitutional.
Dr. King also organized demonstrations including the 1963 March on Washington and helped pass the Civil Rights act of 1964 and the Voting Rights Act of 1965.
Martin Luther King Jr. Day is the first national holiday named for a private citizen and it was made a federal holiday in 1986. The holiday is celebrated on the third Monday in January and is now observed in 50 states.
MLK Day of Service
Martin Luther King Jr. Day has been celebrated as a day of service for 25 years. The National Service has encouraged Americans to "make it a day on, not a day off" by volunteering in their communities on MLK Day.
Dr. Pecou said that he hopes his Doodle inspires personal activism. He said: "I hope every person that sees it, sees themself. I hope they see that any and every individual has the capacity to make our world better.
"I hope they see that Dr. King's words are a call to action and that we collectively play our parts in performing that action until the 'dream' is manifest."