Martin Luther King Jr. Day Google Doodle Shows Legacy of MLK's Activism
Martin Luther King Jr. is honored in today's Google Doodle which marks the 26th anniversary of the federal American holiday and day of service.
The Rev. Dr. Martin Luther King Jr. was born on January 15, 1929, in Atlanta, Georgia. Martin Luther King Jr. Day, or MLK Day, is celebrated on the third Monday of January annually.
Dr. King dedicated his life to pursuing racial equality and pioneered some of the most revolutionary demonstrations in the name of racial justice in the U.S. King emerged as a lead figure during the Montgomery Bus Boycotts from 1955 to 1956, which were considered the first mass demonstration against segregation in the U.S.
Dr. King also participated in the Selma to Montgomery March across the Edmund Pettus Bridge in 1965, which saw protesters demand an end to voter registration discrimination, and the March on Washington in 1963 where he delivered his "I have a dream" speech to around 250,000 people.
Dr. King played a crucial part in transforming American legislation, including the 1964 Civil Rights Act, which made public segregation and employment discrimination illegal, and the 1965 Voting Rights Act, which helped combat the disenfranchisement of voters based on race.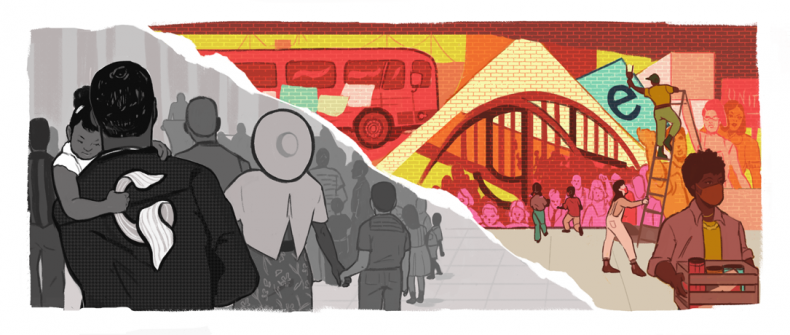 The civil rights activist was awarded the Nobel Peace Prize in 1964, at the age of 35, making him the youngest person to ever receive the honor, at the time.
The Google Doodle, by Pittsburgh-based guest artist Noa Denmon, features a black and white 1960s rally scene side by side with a brightly colored modern-day scene of people painting a mural, depicting a bus and the Edmund Pettus Bridge, referring to the Montgomery Bus Boycotts and the Selma to Montgomery March, respectively.
Today's Google Doodle says that Martin Luther King Jr.'s dream of racial equality "inspired children, teenagers, and young adults to join the movement, with many of them attending meetings, marches, and demonstrations from an early age."
And of the art itself, Google says: "Today's Doodle aims to depict this cross-generation activism in the parallel scenes from rallies of the 1960s on the left and modern-day murals for social justice on the right."
Martin Luther King Jr. Day has been observed since 1986, following campaigns for a holiday to be established in King's name since shortly after his death in 1968. However, Google is celebrating the 26th anniversary of MLK Day as a day of service, as it was designated by Congress in 1994 as a national day of service, or a "day on, not a day off."
On this day, Americans are encouraged to volunteer in their communities in honor of Dr. Martin Luther King Jr. AmeriCorps, which helps lead the effort, says that: "This day of service helps to empower individuals, strengthen communities, bridge barriers, address social problems, and move us closer to Dr. King's vision of a 'Beloved Community.'"