Fifty years after the assassination of Dr. Martin Luther King Jr., justice movements such as Black Lives Matter, #MeToo and March for Our Lives are continuing to spread his message of nonviolence and equality, Martin Luther King III said.
In an interview with Newsweek, the son of the revered civil rights leader noted the similarities between his father's message and the groups' continued efforts to push for equality and nonviolence.
"I think we see [my father's message] continued by three movements as we speak—Black Lives Matter, the #MeToo movement and March for Our Lives," said King III. "I see my father's movement and legacy manifesting itself through these movements that are occurring today."
King Jr., a reverend and one of the most prominent leaders of the civil rights movement in the 1960s, was killed by James Earl Ray in Lorraine Motel in Memphis, Tennessee, on April 4, 1968. King pursued racial equality, voting rights and a nonviolent approach to activism, once saying that "nonviolence recognizes that evildoers are also victims and are not evil people."
"I think his whole position was that we must always embrace a nonviolent approach," said King III. "Violence is the language of the unheard. He would appeal to a higher consciousness in our society, I believe."
Like his father, King III is a human rights advocate. He's the founding president and CEO of Realizing the Dream, Inc., a nonprofit that carries out the legacies of his parents through leadership summits, coalition organization and fellowship programs.
As a human rights advocate and activist, King III has seen and participated in Black Lives Matter and March for Our Lives. King is confident that the high school students who participated in the March for Our Lives rally on March 24 will continue to make an impact in the U.S. in their nonviolent push for gun reform.
He compared the young activists to the students who helped lead The Birmingham Campaign, a crusade in which hundreds of black students participated in nonviolent protests to fight against the Alabama city's segregation laws.
"These young people are leading the movement, [I] haven't seen a high school movement since 1963 in Birmingham when they were arrested. It's 2018, and now we have students around the country of protesting the issue of guns and gun safety," said King III.
King III also credited the BLM organization, a global movement that campaigns against violence and racism toward black people. BLM co-founder Patrisse Cullors said the organization follows Dr. King's message of nonviolence through civil disobedience—which has included walking on highways during protests and organizing peacefully at malls and airports.
"I think Martin Luther King [Jr.] is just one hero of a movement of people, of brilliant black folks, who are fighting for their lives. He is a part of our legacy," Cullors told Newsweek.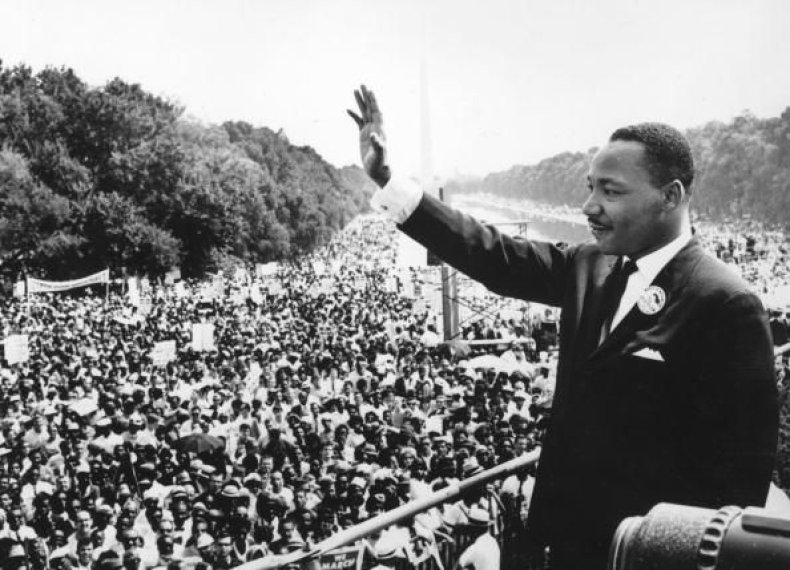 Despite multiple movements fighting for equal rights, there is still a long road ahead. King III referenced the recent death of Stephon Clark—a 22-year-old unarmed black man who was shot eight times by police in Sacramento, California—and the two officers who were not charged in the death of Alton Sterling.
"Human life is important and it feels like there is not a concern in communities of color. Very frustrated, but we will never give up and lose hope and change our system," said King III.
Congressman John Lewis, the Democrat from Georgia, a prominent civil rights leader who was president of the Student Nonviolent Coordinating Committee during the 1960s, agreed that it is important to remain optimistic in the face of continued racism and injustice.
"The struggle is ongoing. It is not a struggle that lasts for a few days, it is a struggle of a lifetime," Lewis told Newsweek. "You must be committed to long, hard work. There are setbacks, disappointments and delays. You have to be optimistic and not get lost in the sea of despair."
Although his parents and other civil rights leaders paved the way for other social justice activists, King III agreed that the work is far from complete.
"My mom and dad understood that every generation has to earn its freedom over and over again," said King III. "We still have a lot of work to do."