Martin Luther King III, son of Martin Luther King Jr., has called the inauguration threats in the wake of the Capitol riot "tragic" and 'frightening" as the U.S. honors his father on Martin Luther King Jr. Day.
Speaking with 7 Action News journalist Keenan Smith on January 15, which would have been his father's 92nd birthday, King said: "The foolishness that's happening is very tragic, very frightening at this very moment because 50 state governments are potentially under threat.
"But we can't allow the threats of some to overcome the freedom and justices for all."
The "foolishness" King spoke of was the potential threat to state capitols across the U.S. ahead of President-elect Joe Biden's inauguration on Wednesday. The threat follows a riot at the Capitol on January 6, which involved supporters of President Donald Trump storming the Capitol building while government leaders were inside.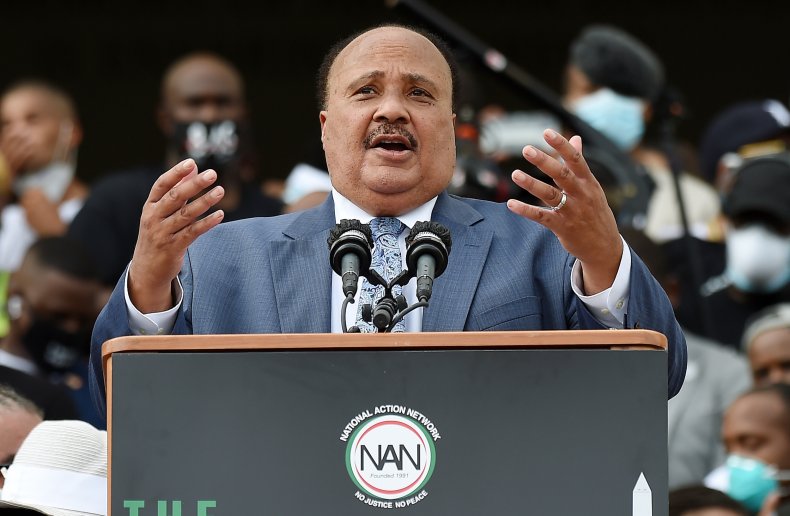 There have been protests taking place over the weekend at government buildings across the U.S., including at statehouses in Ohio, Texas, Oregon, and Michigan.
Some protesters said they were attending gun-rights rallies while others were protesting the results of the 2020 election. A group gathered in Washington, D.C. on Sunday but were met by an increased security presence.
Security in Washington, D.C. is increasing in the days leading up to Biden's inauguration, with those who rioted at the Capitol banned from the city, public access prohibited, and the National Mall closed through January 21. Additionally, 20,000 National Guard troops will patrol the area.
On the day of the riots at the U.S. Capitol nearly two weeks ago, King condemned how the police response to the riots differed from the response to the Black Lives Matter protests over the summer. He said on Twitter: "The peaceful protests in the summer were met with armed military police, tear gas, and rubber bullets.
"Today's insurrection in the Capitol shows a clear example of the two very different justice systems our country upholds."
With just two days to go until inauguration day, King also said that he hopes that the Biden-Harris administration will continue to represent diversity and issues that often go ignored.
Biden and Vice President-elect Kamala Harris have called on Americans to take part in the National Day of Service in honor of Martin Luther King Jr. today.
On Twitter, Harris said: "My mother taught me that service to others not only gives life purpose and meaning, it's part of the duty each of us has as members of a community," while Biden said: "Service is a fitting way to start to heal, unite, and rebuild this country we love.
"I hope you'll join us in honoring the legacy of Dr. Martin Luther King, Jr. by participating in the National Day of Service."