Martin Luther Playmobil Toy is Fastest-Selling of All Time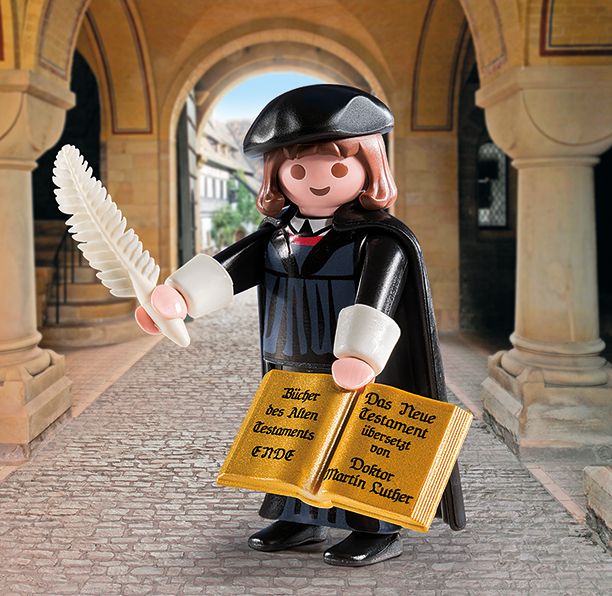 Astronomical sales of a tiny figurine of the Protestant Reformation figure Martin Luther, have confounded its maker, Playmobil, by becoming the fastest-selling Playmobil figure of all time.
The German toy manufacturer announced this week that the first edition of 34,000 pieces sold out in less than 72 hours, forcing the company to urgently request its factory in Malta to produce more of the so-called "little Luthers". Fans have been warned that the next batch will not be available until the end of April.
The plastic toy, complete with a quill, German-language bible and cheery grin, was produced for the German and Nuremberg tourist boards and the Evangelical Lutheran Church in Bavaria, as Germany gears up to celebrate the 500th anniversary of the Protestant Reformation in 2017.
The tourist board says they have sold 95% of the toy within Germany, although there has been interest overseas, including prospective buyers from Spain, Italy and Sweden.
Luther was the founding father of the Protestant Reformation in Germany - he challenged the authority of the Catholic pope and translated the Bible from Latin into German for the first time.
The intense demand for the toy has confounded Playmobil, with a spokesperson describing the success as "a big mystery [and] a huge surprise."
The only other German figure which matches Luther's strong sales is the German painter and artist Albrecht Düreranother, whose toy sold 80,000 pieces over three years.
Astid Mühlmann, director of the governmental office preparing for the 500th anniversary of the start of the Reformation, thinks that education might be behind the toy's popularity. "There's quite an interest in looking back to our history. Parents want to make sure their children grow up knowing who he is because he had such an impact on how society evolved in Europe.
"I'm very happy with the news", she continued, "because it shows people are interested in history. On the one hand, Martin Luther was a totally normal person in the 16th century who believed in demons and witches and was afraid of them. He shared the belief of the majority of the people of the time.
"On the other hand he had very modern ideas. He believed every person had the right to an education, including women and girls. In this aspect, he was a very 21st century man."