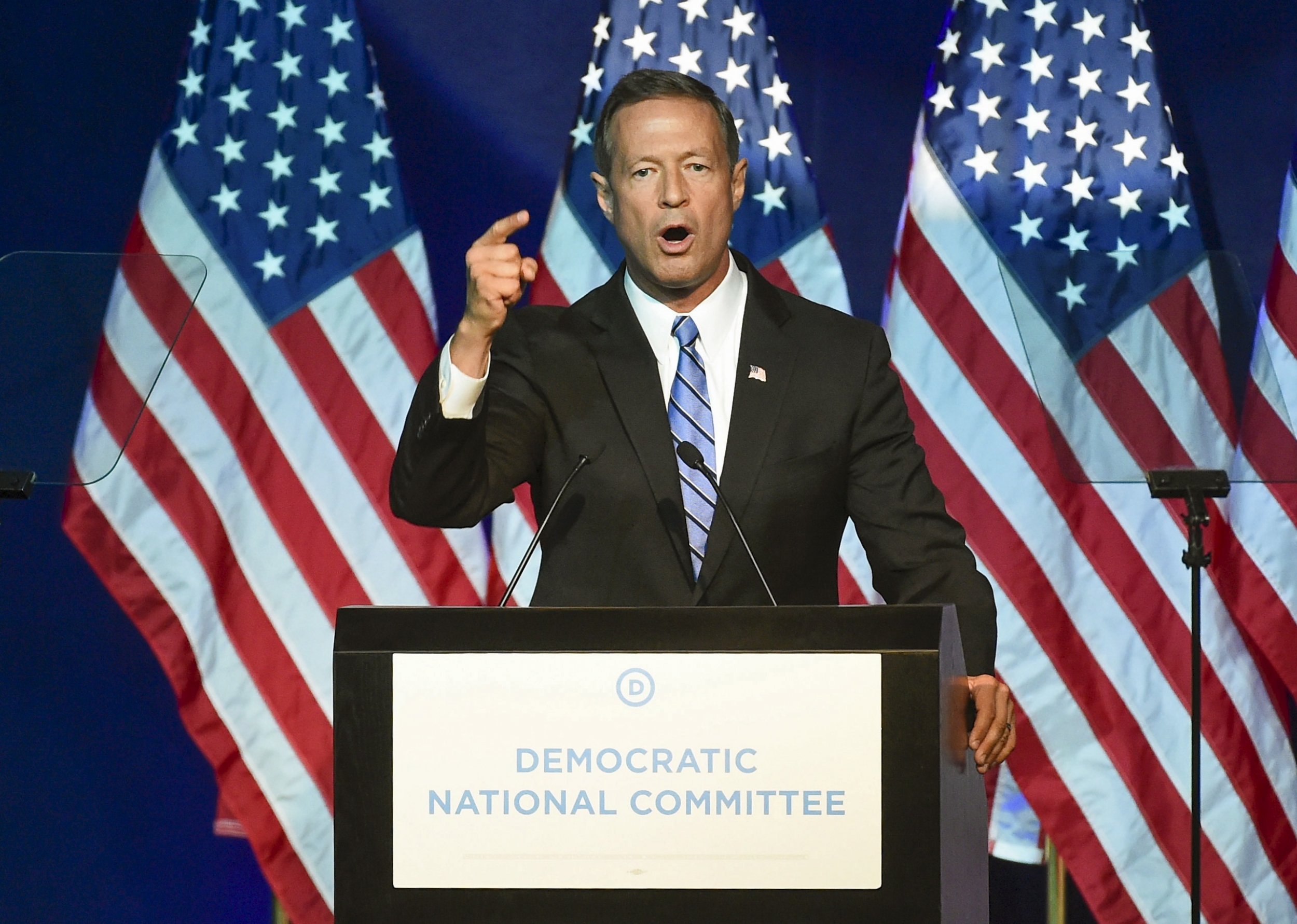 Updated | Democratic presidential candidate Martin O'Malley called for universal background checks on gun purchases and a national age requirement for handgun possession as part of a gun control proposal announced on Monday afternoon.
During a roundtable discussion in New York City, O'Malley called gun violence in this country an "epidemic" and a "sickness."
"What we need in order to save lives is not words, but actions," O'Malley said at the Boys & Girls Harbor Inc. in the East Harlem neighborhood.
This isn't the first time the former Maryland governor has demanded action on guns. As a presidential contender, he has set a national goal of cutting in half deaths from gun violence by 2025. The proposal is part of his "15 Goals to Rebuild the American Dream" initiative.
O'Malley is calling on the federal government to require background checks on all gun sales, including at gun shows and on the Internet. Currently, federal law only requires background checks on firearm sales through licensed dealers, thus allowing for easier purchases and transfers of guns than under his proposal. He also wants to raise the minimum national age to 21 from 18 for handgun possession.
O'Malley declared his presidential campaign on May 30, and since has advocated for reducing gun violence at the federal level. Just weeks after the deadly shooting of nine African-American worshippers in June at a church in Charleston, South Carolina, O'Malley emailed his supporters with the subject line, "I'm pissed." In the message, he explained his anger about Congress continuing to "drop the ball" on passing gun-control measures.
As a two-term governor of Maryland, O'Malley passed some of the country's strongest gun laws, including licensing, fingerprinting, background checks and safety training requirements for all buyers. He signed legislation that banned assault weapons and high-capacity magazines (those that can hold up to 100 rounds of ammunition, and have been used by mass shooters) in the wake of the 2012 massacre at Sandy Hook Elementary School in Newtown, Connecticut, that left 26 people dead.
"Week after week, more images of horrific gun violence flash across our TV and computer screens. These tragedies aren't isolated incidents; they are part of a full-blown—and entirely preventable—epidemic. We cannot afford to sit by and let this constant heartbreak become the norm," O'Malley wrote in a paper outlining his proposals ahead of Monday's announcement.
Asked if he plans to make tighter gun laws a main part of his presidential campaign, O'Malley said Monday, "I sure do." Aside from a few scattered comments, gun policy hasn't been a main issue on the campaign trail for most of the other candidates.
Three mothers of gun-violence victims joined O'Malley at his roundtable. Jackie Rowe-Adams, whose two sons were fatally shot in separate incidents, said, "Enough is enough."
"I'm sick and tired of being sick and tired of other mothers and fathers losing their kids to guns," she added. As a co-founder of Harlem Mothers S.A.V.E., Rowe-Adams said she works to spread awareness about gun prevention and education.
Maryland ranked fourth in the nation and received an "A-" grade on an annual scorecard published last December by the Law Center to Prevent Gun Violence that grades states on their gun laws. Among other measures, the Old Line State prohibits any person from purchasing more than one handgun or assault weapon within a 30-day period and requires owners to report the loss or theft of their firearms.
O'Malley will travel to Denver later this week to listen to policy makers and business owners about marijuana legalization, another hot-button issue.
In the presidential primary polls, O'Malley trails U.S. Senator Bernie Sanders of Vermont and former Secretary of State Hillary Clinton. He ranked fourth in the early primary states of Iowa and New Hampshire, and in South Carolina tied for fourth with former Virginia Senator Jim Webb, according to a CBS/YouGov poll released Sunday. Vice President Joe Biden, who has not declared his intention to run, placed third in those three primary states.
This article has been updated with details from the roundtable discussion.