Federal Prosecutors Target Martin Shkreli in a Criminal Investigation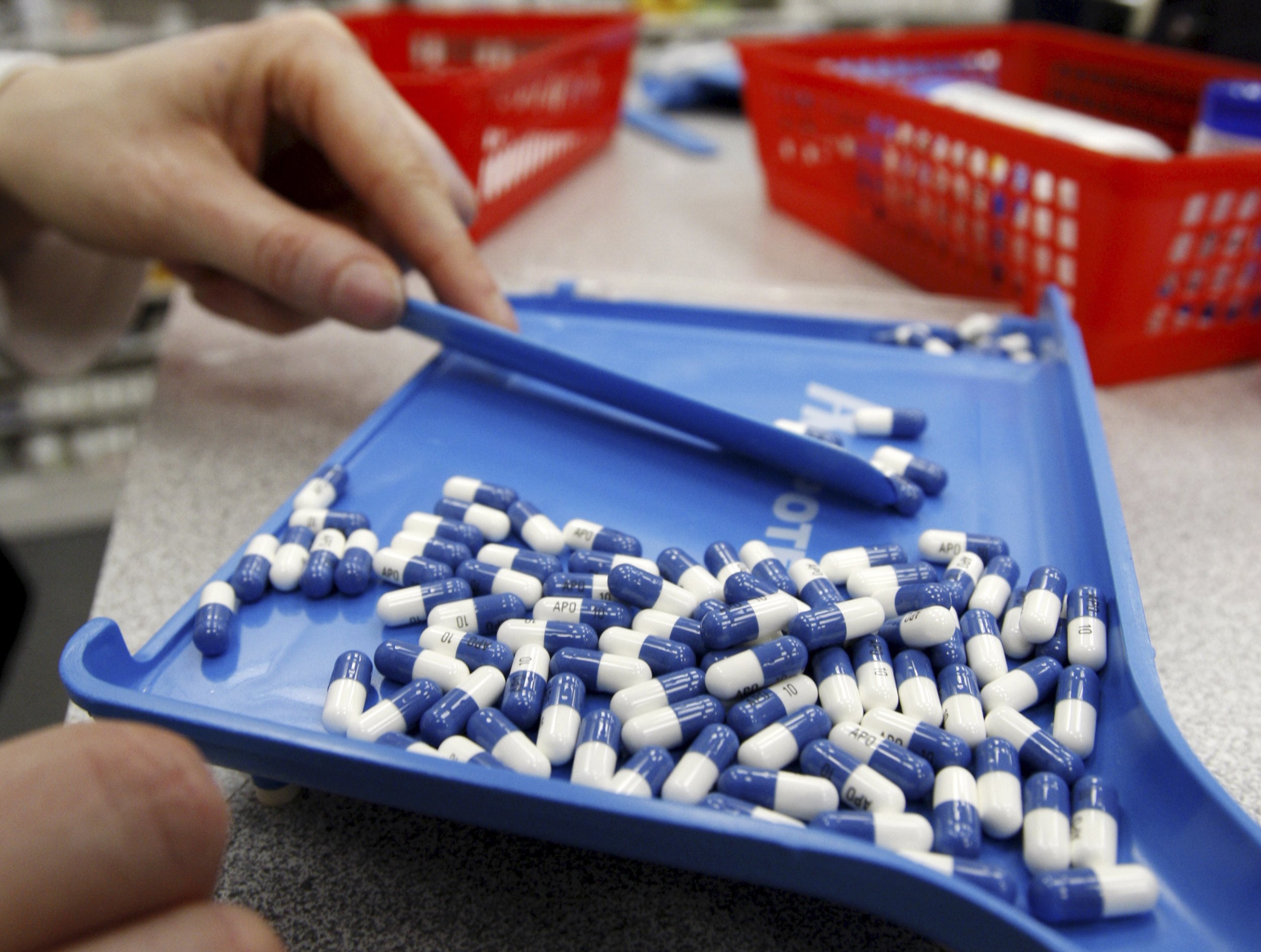 The world's most hated man this week could well be Martin Shkreli, whose pharmaceutical company inexplicably raised the price last month of a decades-old drug needed to treat a complex parasitic infection by more than 5,400 percent. But there is a group of folks who are probably delighted that Shkreli thrust himself into the public eye in such a negative way: Federal prosecutors.
Since at least in January, Shkreli has been under criminal investigation by the United States Attorney's Office for the Eastern District of New York, court records show. And Shkreli is not alone—some of his business associates have also received grand jury subpoenas in the case.
After being notified of the investigation that month, Shkreli—a former hedge fund manager turned drug company entrepreneur—has invoked his Fifth Amendment right against self-incrimination because of the criminal case whenever his testimony has been sought in the many civil lawsuits filed against him about his business dealings.
Shkreli's lawyer, Elisa Preheim, did not return a telephone call seeking comment on the federal case. And of course, the fact that Shkreli is under investigation does not establish he has committed any crimes; rather, it shows that the government has obtained sufficient evidence to conclude illegal activities may have occurred.
The criminal investigation involves Retrophin, a public company where Shkreli served as an officer, director, and 10-percent owner of the outstanding stock before being ousted amid multiple allegations of misconduct. Retrophin focuses on the development, acquisition and commercialization of therapies for the treatment of catastrophic or rare diseases, and was founded by in 2011 by Shkreli.
The inquiry, according to court records and people with knowledge of the inquiry, involves such a vast number of suspected crimes it is difficult to know where to start. A quick summary of the government's theory: If there was money, Shkreli took it. If there were facts to be revealed, Shkreli hid them. If there were securities laws, Shkreli broke them.
And that's why Shkreli's decision to dramatically raise the price of a decades-old life-saving drug—and then appearing on television, smiling broadly as he justified actions that put lives at risk—was such a bad move. Overnight, he transformed himself from a relatively obscure corporate executive to a boldfaced, widely vilified name, known by presidential contenders and lawmakers alike. It is a truism that prosecutors pursue public figures with the greatest vigor, not only because the publicity set off by their indictment serves as a broader deterrent against wrongdoing, but also because such cases can boost a prosecutor's career.Public disgust of the type raining down on Shkreli now make the cases even more attractive to bring.
Shkreli's price-gouging involves Daraprim, a 62-year-old generic drug used to treat malaria and toxoplasmosis, a parasitic disease often found in HIV-positive individuals and others with weak immune systems. The drug is on the World Health Organization's List of Essential Medicines, which are the most important medications needed in a basic health system. Shkreli's company, Turing Pharmaceuticals, acquired Daraprim in August, and boosted the price shortly afterward from $13.50 a pill to $750. The Infectious Diseases Society of America, composed of the top medical doctors who work with conditions like toxoplasmosis, sent a letter on September 8 to top officials at Turing, stating that the cost was "unjustifiable" and was putting patients at risk. Moreover, the doctors said that, since Turing's acquisition of the drug, hospitals around the country were reporting they could no longer obtain it because of Turing's significant distribution problems.
The controversy burst into public view this week after the New York Times wrote about the price change. A firestorm ensued, and Shkreli was lambasted by news organizations as "skeezy,'' a "pharmaceutical greed villain," "the Donald Trump of drug development'' and other names that are more graphic than I'm willing to repeat. Social media was more relentless. Even Hillary Clinton jumped into the mix, tweeting that "Price-gouging like this in the specialty drug market is outrageous."
By the time the day was out, Shkreli's name was so well-known that it began to appear in headlines. And no doubt, prosecutors began licking their chops.
While Shkreli took a step back on Tuesday, saying he planned to drop Daraprim's price to some undisclosed amount in response to the controversy, it was too late. His infamy is indelible; he will forever be known as the man who tried – and perhaps still will – gouge the most vulnerable. He remains as prominent a target for prosecutors as he was on Monday. If indicted, his name will still hit the headlines, a reality that was almost impossible to imagine a week ago when he was still a relative nobody.
According to the court records and people with knowledge of the case, the allegations against Shkreli that are under investigation involve insider trading, disguising the purpose of corporate payments for his benefit, defrauding shareholders by snatching business opportunities for himself, destruction of evidence, failure to disclose material facts to shareholders and other potential crimes.
One of the key elements of the investigation involves allegations that Shkreli appropriated cash from Retrophin and used it to settle litigation from institutions and individuals who were investors in his hedge fund, MSMB Capital Management, and then illegally classified them in the company's books as consulting payments. In essence, if the allegations are true, Shkreli stole money from the company to resolve lawsuits that had nothing to do with Retrophin, then lied about what he did in filings to the Securities and Exchange Commission by misrepresenting how and why the cash was spent.
Government investigators have obtained data showing more than 612,000 shares of Retrophin and a total of $400,000 from the corporate coffers were distributed to former investors who had sued both MSMB and Shkreli personally. All of those payments were reported as compensation under consulting agreements.
An array of other payments also went from Retrophin to litigants suing Shkreli, MSMB or both through assorted mechanisms, the data obtained by the government shows. Some of these were so complex that they would put to shame the financial magicians at Enron—the once mighty energy company that collapsed in 2001 amid allegations of accounting fraud and cooking of the books.
For example, MSMB made a $900,000 investment in Retrophin. Afterward, on February 1, 2012, the investment was reclassified as a loan. That would be as if an investor purchased a share in Microsoft and then later demanded full repayment of the purchase price plus interest, regardless of the market price for the stock.
The $900,000 plus interest was returned to MSMB on March 31, 2013. That same day, another $575,000 was paid to Shkreli as a purported performance bonus; all of that money, in fact, allegedly went directly to pay for settlement of arbitration against MSMB and Shkreli. Then, according to the data obtained by the government, the company paid or forgave another $1.2 million of obligations primarily for the benefit of MSMB, none of which was disclosed.
Some of the transactions are just outright weird. In the second quarter of 2014, for example, Retrophin settled two lawsuits brought against the company. However, the data obtained by the government shows about $200,000 in cash from these settlements went to individuals who then immediately transferred 176,388 shares of Retrophin stock to Shkreli personally. The theory on this transaction, people involved in the case said, is that the settlement disguised a stock purchase for Shkreli's benefit, using corporate cash. Adding to the many problems with that, none of these transactions were properly disclosed in the company's S.E.C. filings.
Under Shkreli, Retrophin was highly dysfunctional; in fact, it was informed by its accountants, Marcum LLP, that it had not established appropriate procedures for ensuring its filings to the S.E.C. were accurate, a fact that could easily lead to misreporting of the company's true financial dealings with its own executives. In a government filing on November 2013, Retrophin reported, "our independent auditors advised management that a material weakness existed in internal control over financial reporting and our disclosure controls."
That only grew worse. On March 31, 2014, Retrophin reported in a government filing that its controls were not enough to ensure that information required to be disclosed was properly reported and had experienced difficulty in following generally accepted accounting principles (GAAP). Moreover, it reported, its controls were weakened by the fact that there was not sufficient segregation of duties among its senior officers.
Throughout the time that the data obtained by the government suggests Shkreli was engaging in significant and undisclosed self-dealing, he was aggressively selling Retrophin stock. For example, on May 29, 2014, Shkreli posted extremely bullish messages on the Internet, which he called "non-non-non-GAAP guidance," and proclaimed on Twitter, without explanation, "this is one of the best days of my life." The next day, he unloaded 292,400 shares of Retrophin, earning about $4.5 million in profits. Then, the day after, Retrophin revealed the magnitude of its problem with its internal controls and accounting, a fact that, as an insider and the top executive, Shkreli would almost certainly have known when he sold his stock 24-hours before. Around that time, Retrophin terminated its accounting firm that kept delivering the bad news about the company's controls.
Even Turing is wrapped up in the case. While working as Retrophin's CEO, Shkreli had a legal duty to act solely in the interest of the company shareholders, but he raised money from investors for Turing. Shkreli was tossed out of Retrophin in September 2014 amid allegations of a variety of wrongdoings. The next month, he was running Turing—the company he had financed while running Retrophin—and began raiding his former company for employees.
But the connections between Retrophin and Turing didn't end there. On February 13 of this year, Retrophin sold product rights for a drug called Vecamyl to Waldun Pharmaceuticals, which then immediately sold the rights to Turing. In other words, Shkreli used money raised while he was working as the chief executive at Retrophin to purchase, through a two-step process, a Retrophin drug for his new company.
According to former company executives, Shkreli demonstrated what one person described as "extremely erratic" behavior while working at Retrophin. He tweeted complaints about his board of directors and made other comments that, for the CEO of a public company, struck some investors as odd.
Then his actions veered into the bizarre. At a biotech industry convention in June 2014, Shkreli—again, the chief executive of a public company—tweeted that there were lots of "BIObabes" at the meeting and invited them to drop by the Retrophin booth. About the same time, three Twitter accounts began sending out messages praising Retrophin using language mimicking rappers, with sort-of-words like "sukka ass fooos." The IP address for those accounts traced back to Retrophil, according to a person connected to the company. An article in thestreet.com, which first reported the existence of the bogus twitter accounts, said that they had been controlled by more than one Retrophil employee.
At least one other executive sued Shkreli in a complaint that portrayed equally strange behavior. Chun Yi Huang, a senior vice president of scientific affairs at Retrophin, filed the lawsuit on March 23, 2013. Huang complained that Shkreli refused to pay him his salary and other benefits for three months.
Weeks later, Shkreli pushed Retrophin to sue Timothy Pierotti in New York state court. According to the complaint, Retrophin helped Pierotti purchase 350,000 shares in the company—which were then trading at between $8.00 and $8.80—for 1/1000 of a penny each. Retrophin claimed it arranged for the wacky transaction as a pre-payment for what it said was a promise Pierotti would identify acquisition targets. (Such a payment runs completely counter to standard corporate procedures; consultants or bankers are supposed to find acquisition targets and then seek a company to hire them to consummate a deal, not the other way around.) But Shkeli decided that Pierotti didn't live up to his end of the agreement and not only filed the lawsuit, but launched an unseemly war. In an affidavit, Pierotti claims Shkreli threatened him and his family for months and broke into his accounts with AOL, Gmail, Twitter and LinkedIn.
Among the harassments spelled out in the case is a letter sent by Shkreli to Pierotti's wife, which stated "Having frozen your husband's stock account once, I will do so repeatedly until I get what is mine…I hope to see you and your four children homeless and will do whatever I can to assure this." Then, the records show, Shkreli friended one of Pierotti's sons on Facebook and sent the boy a message saying "I want you to know about your dad…He betrayed me."
Remember, this is not a high school kid or an arbitrary Internet lunatic sending these messages. This is a man who, at the time of these communications, was the chief executive of a public corporation.
Suffice to say, Shkreli not only has engendered public contempt, he has left a very troubling and strange trail in his career that has won him plenty of enemies, including members of his former company's board of directors. Now, with Shkreli the latest corporate executive condemned as a villain, he has an enormous target on his back. And federal prosecutors are holding a loaded gun.
Update: This article has been updated to include more information about Twitter accounts associated with Retrophil.