Will 'Pharma Bro' Martin Shkreli Get a Fair Trial?
Jury selection in the trial of Martin Shkreli is proving tricky, as the notoriety of "Pharma Bro" precedes him.
On Monday, potential jurors in the trial ruled themselves out, saying they would be unable to be impartial when reaching a decision regarding the innocence or guilt of the former pharmaceutical executive in a fraud case. Shkreli earned notoriety in 2015 after raising the cost of a life-saving HIV drug 5,000 percent while running a drugs company.
At the jury selection in a Brooklyn courtroom, more than 100 potential jurors were dismissed.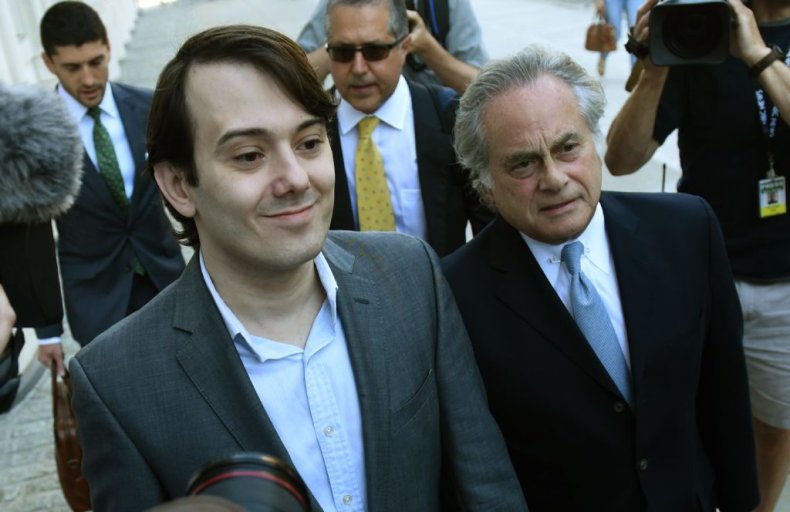 One called Shkreli "the face of corporate greed"; another labeled him "the most hated man in America" and a third gestured as if wringing his neck, reported the Associated Press.
Another was sent home after confiding that when she saw Shkreli sitting at the defense table, "I said in my head, 'That's a snake.'"
When asked by the judge if he could remain neutral, another prospective juror replied in the negative, adding, "Honestly? Because [Shkreli] looks like a dick," before he shrugged his shoulders and added, "Sorry," reported Buzzfeed.
On Tuesday, the trial moves into its second day.
Shkreli, who on social media has labeled lawmakers investigating his business practices "imbeciles," is charged with securities fraud, and is on bail following his 2015 arrest.
At a congressional hearing on the drugs pricing scandal, he smirked and refused to answer questions.
Essentially, Shkreli is accused of running a Ponzi scheme, using money from new investors in the drugs company he headed, Retrophin, to pay off mounting debts from his failed hedge fund, MSMB Capital.
He is accused of cheating investors out of $11 million.
Shkreli was notorious before his arrest, after hiking prices in 2015 for Daraprim, which is used by many AIDS patients, to $750 per pill from $13.50 after obtaining the license for its manufacture. At the time, he was head of Turing Pharmaceuticals. He has since resigned from the position.
Details also emerged of his lavish spending, and in 2015 he claimed he spent $2 million on the only known copy of the Wu Tang clan's Once Upon a Time in Shaolin. He was banned from Twitter after harassing a female journalist.
Shkreli faces up to 20 years in prison if found guilty.