Martin Shkreli: Prosecutors Want 'Pharma Bro' to Stop Talking so He Can Get a Fair Trial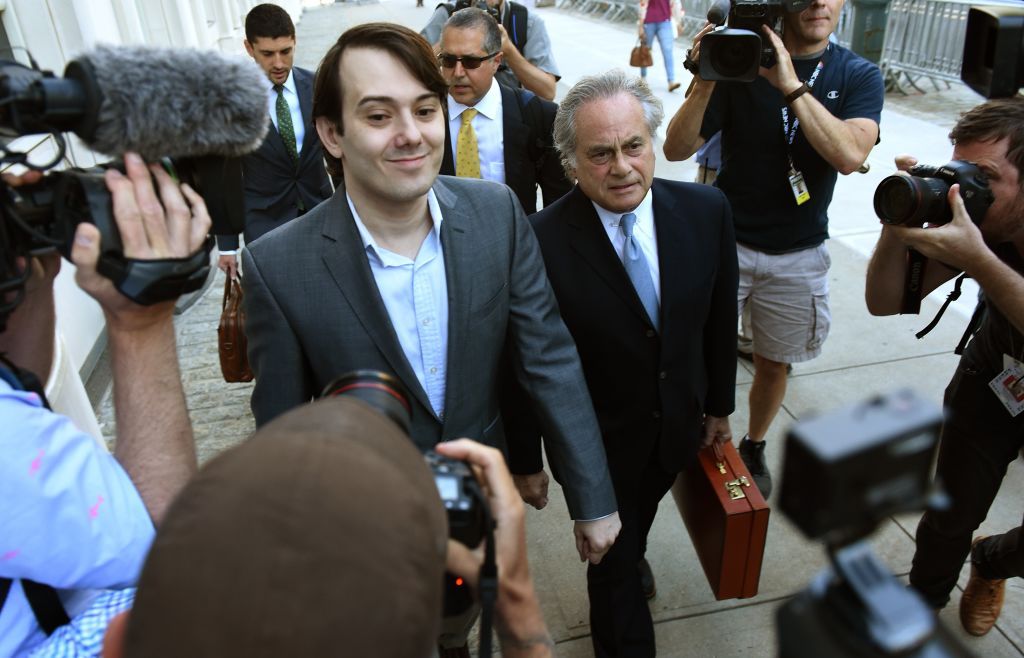 Prosecutors have asked a judge to impose a gagging order on "Pharma Bro" Martin Shkreli after the former pharmaceutical company executive criticized lawyers and witnesses involved in his trial during impromptu press conferences and in social media outbursts.
The prosecutors claim that Shkreli's behavior "risks tainting the jury," according to a motion filed in Brooklyn, New York federal court, and requested that Shkreli is barred from making any statements outside court, the Associated Press reported.
Shkreli notoriously increased the price of an Aids drug 5,000 percent while CEO of Turing Pharmaceuticals in 2015. He is currently on trial for securities fraud in an unrelated case.
In the motion, prosecutors claim that Shkreli has made off-the-cuff remarks about the trial to reporters in the courtroom, outside it and on social media. They argue that Shkreli risks prejudicing the jury in his trial.
"Since the empanelment of the jury, Shkreli has engaged with the press—in apparent contravention of the instructions of his lawyers—in the courthouse itself, directly outside the courthouse and on digital media in a manner that risks tainting the jury," the motion says, as reported by CNBC.
The prosecutors continue: "In addition to his comments on the evidence and witnesses, Shkreli also made inappropriate personal attacks on current and former prosecutors in this case."
Among the incidents cited in the filing are tweets made by the @BLMBro Twitter account, which contains tweets critical of media coverage of the trial, and one in which those who attack Shkreli's drug pricing are branded "morons."
Shkreli was banned from Twitter after sending abusive messages to a female journalist on the platform in January.
He also stunned reporters and members of his legal team by holding an impromptu press briefing down the hall from the courtroom where his trial is being conducted, where he described the District Attorney's office prosecuting him as "junior varsity," complained about news headlines and criticized a witness in the case.
His lawyer, Benjamin Brafman, objected to the motion. According to the AP, he said that sections of the media had attempted to "bait" Shkreli, who he said is "under enormous pressure that is compounded by his clearly frail emotional state."
Hundreds of potential jurors have been ruled out in the case, with many saying that they would be unable to impartially assess the case because of their opinions about Shkreli, and others excused for consideration because they falsely believed Shkreli was involved in another drug price hike scandal.
Shkreli achieved notoreity in 2015 after increasing the price of lifesaving AIDS drug Daraprim from $13.50 to $750 per pill. Later that year he was charged with securities fraud, accused of covering losses by a hedge fund he ran with assets from another company.