Marty McFly's Original Hoverboard from 'Back to the Future' Is for Sale
Movie lovers have the chance to own some of the most iconic props from movie history, including Marty McFly's hoverboard, Neo's coat and Thor's hammer.
The Entertainment Memorabilia Live Auction is being held in Los Angeles later this month, but fans from around the world will be able to Zoom into the event to bid on more than 1,800 different items relating to movie history. Rare movie posters, original scripts, prop weapons, concept artwork, famous clothing and much much more will be available to buy at the four-day event.
Fans are able to bid on items in person, over the phone, or over Zoom from anywhere in the world, meaning everyone, regardless of location, can be the proud owner of their own piece of cinema history. Items from Star Wars, Star Trek, Indiana Jones, Marvel movies, The Terminator, The Matrix and more will be up for auction.
In total there are 1,876 different items available to bid on, with every individual lot available to browse in the auction catalog, available to read online now.
Casual bidders could potentially get their hands on items from as little as $100. with the lowest estimated value coming in at $100, while the most expensive could rake in up to $1 million. Star Wars lots bookend the entire price range of the auction with a Star Wars jigsaw puzzle valued at a hundred dollars, while a Star Wars Screen-Matched ILM Red Leader X-wing Model Miniature, has an estimated value of between $500,000 and $1 million.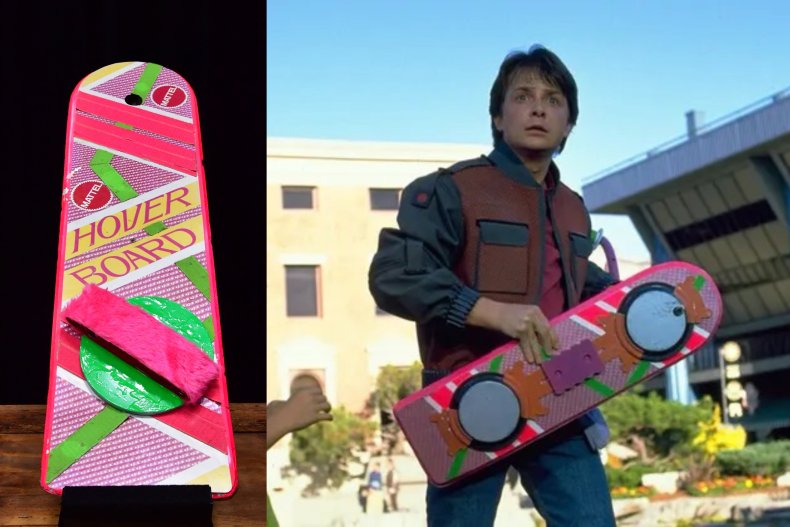 Other high-valued items include a full-sized DeLorean time machine from Back to the Future ($200,000), an M56 Smartgun replica from Aliens ($150,000), and Batman's Speargun as used by Michael Keaton in Batman Returns ($150,000).
A stunt Mjonlir, Thor's hammer from the MCU movies is estimated to be valued at $100,000 to $150,000 with the bids starting at $50,000.
Marty McFly's pink hoverboard, as seen in Back to the Future Part II will be put up for auction from $40,000 and is estimated to go for between $80,000 to $120,000.
Other items expected to be bought for tens of thousands of dollars include the Wilson volleyball from Castaway, an animatronic Gizmo puppet from Gremlins 2, Ewan McGregor's lightsaber from Star Wars: Revenge of the Sith, Indiana Jones' diary and pistol, and a Smoking Ghost Trap from Ghostbusters II.
Some of the lower-valued items include original Star Wars figurines, Indiana Jones caps and posters, a Stanley Kubrick book collection, comic book collections, and Tarzan artwork signed by Phil Collins, Minnie Driver and Tony Goldwyn.
Other selected items up for auction include a Star Trek Medical Tricorder, a Fleet Buggy from Mad Max: Fury Road, an exoskeleton from the Terminator movies and the knowledge crystal held by Christopher Reeve in Superman and Superman II.
Those interested in bidding can take part in the Entertainment Memorabilia Live Auction: Los Angeles 2022 later this month. The auction begins on June 21 and will run until June 24. Read through the full catalog of items here or find out how you could take part by clicking here.