Marty Scurll Makes Surprise Appearance at NWA 'Into the Fire' Pay-Per-View
One of the biggest behind-the-scenes stories in wrestling is where Marty Scurll will appear in next after his Ring of Honor contract expired. And to the surprise of many, "The Villain" arrived at NWA's Into the Fire pay-per-view on Saturday.
In the main event, Nick Aldis defeated James Storm in a 2 out of 3 falls match to retain his NWA World Title. After the match, Aldis told the crowd that there is no one who can take his championship from him.
Scurll's music played as the umbrella-wielding wrestler appeared from the crowd.
The two had a staredown in the ring as Aldis left, and the show went off the air.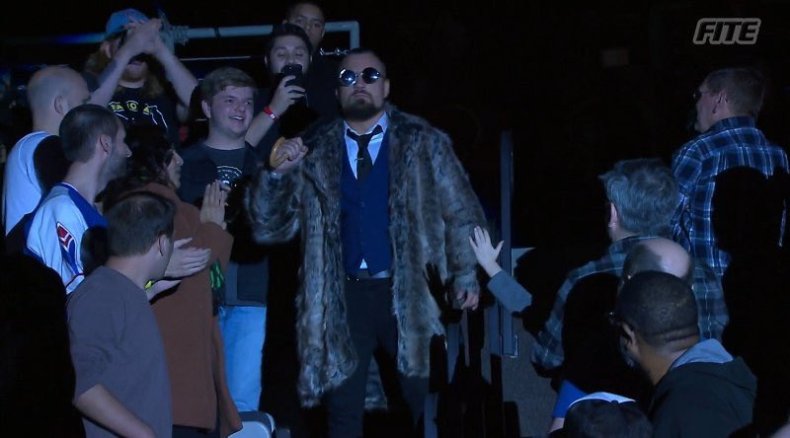 Prior to his appearance at NWA Into the Fire, Scurll wrestled at Ring of Honor's Final Battle show on Friday. Scurll teamed with Flip Gordon in a losing effort against Bandito and Flamita.
Scurll wrestled for Ring of Honor since 2016, but his contract reportedly ended with the Maryland-based promotion on November 30 with both sides agreeing for Scurll to work the Final Battle show.
Dave Meltzer of The Wrestling Observer reported that Scurll signed up for one date with an independent company, but it was being kept a secret. It would seem that Marty's surprise appearance at Into the Fire was that surprise.
Marty Scurll and Nick Aldis faced off for the NWA World Title during the Crockett Cup back in April with Aldis getting the better of "The Villain." Scurll's intentions to take the prestigious championship from Aldis is clear, but fans will want to turn in to NWA's weekly show Powerrr on Tuesday to see the direction the promotion is going.
Fans can rewatch NWA Into the Fire on Fite TV.
Scurll's appearance in NWA comes as a surprise considering his ties to All Elite Wrestling (AEW). He, Matt and Nick Jackson (the Young Bucks), and Cody were all part of the Bullet Club faction in New Japan Pro Wrestling and Ring of Honor in the self-proclaimed group, The Elite.
Cody and the Young Bucks jumped from Ring of Honor when their contracts were up to create their own promotion called All Elite Wrestling. Many wrestling fans believed that when Scurll's Ring of Honor contract was up, he would join his friends at AEW.
While Marty is set to start a program with Nick Aldis at NWA, there's still a chance that Scurll can join AEW as the new promotion allows for its wrestlers to appear in other companies.
What did you think of Scurll's appearance at Into the Fire? Do you think Marty will join AEW in the near future? Let us know in the comments section.