How Marvel Are Portraying the Experience of Young Black Women
With Marvel's new animated series Moon Girl and Devil Dinosaur, the superhero juggernaut felt "a responsibility" to realistically represent the African American experience, and that of Black women and young girls in particular, through its lead character, Lunella Lafayette.
The animation's cast and creative team told Newsweek about the importance of depicting not only Lunella's superhero journey as Moon Girl but also the issues she faces in her everyday life, like being criticized for her hair.
Marvel's Moon Girl and Devil Dinosaur, which premieres on the Disney Channel on February 10 and on Disney+ on February 15, follows the titular 13-year-old genius as she embarks on saving the Lower East Side of New York City alongside her new side-kick, Devil Dinosaur, after accidentally transporting him into the Big Apple.
How Marvel Is Portraying the Experience of Young Black Women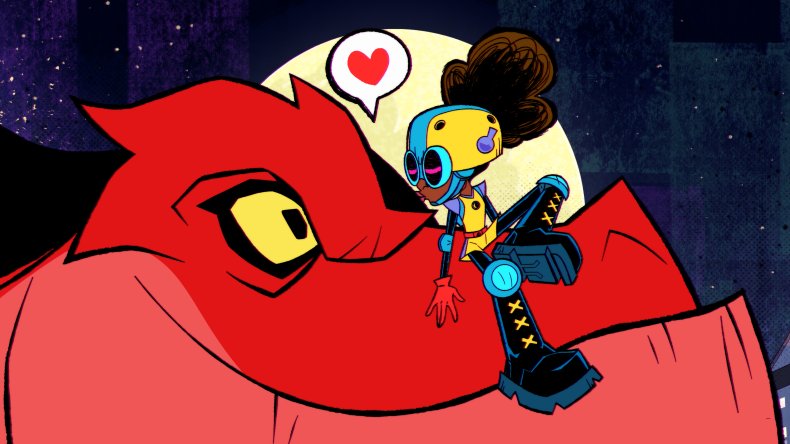 Steve Loter, who is an executive producer for the series alongside Laurence Fishburne, shared that having a diverse, all-female writer's room for the series helped ensure the animation was able to do this accurately.
"Lunella Lafayette is the first teenage female African American superhero in the animated Marvel Universe, and we realized that there's a level of responsibility that comes along with that," Loter told Newsweek.
"We wanted to make sure that we told stories of authenticity, and that involved having what we currently have [which] is an all-female writing room. It's a very diverse room, and they're telling their truth, they're telling their stories.
"That was really, really important to us—to make sure that it was accurate—because we wanted to have a show that was relatable, [a] show that people can understand [and] they felt they've been through.
"Or, if a 13-year-old's watching and hasn't been through it yet, it can actually spark a conversation between the parent and the child—to talk about this very subject. So that was something that was really, really important to us—to make sure that we did tackle some social issues and some heavier subjects that are just a part of life."
Diamond White, who voices Lunella, was appreciative of the writers' efforts to make representation an important part of the process.
"I think that it's important for this show to be showing a real Black girl's experience because that's something that I've never seen before in a cartoon, ever. I've literally just never seen it," White said, adding: "So I'm happy to be part of the show that shows the representation that's needed in the world."
Devil Dinosaur voice actor Fred Tatasciore concurred with his co-star, stating: "Wasn't it great that there's something being really tackled, other than just what we think of superherodom?
"This is a Black girl who is the most brilliant, or one of the most brilliant, people in the Marvel Universe and what we're looking at is family stuff. She brings [the] 100 lbs Devil Dinosaur in, who's like a lovable dog but he's a force of nature. He's destructive in fact, that's what he was doing on that other side.
"And now he's come in, he doesn't want to go back because she shows him love, and shows him respect and learns his language, and hotdogs.
"The struggles that happen in the stories are about the three of them, with Casey [voiced by Libe Barer], and then the family and just saving the Lower East Side, and so I think that brings it into a whole other focus. I really do think that's the excitement."
Gary Anthony Williams, who voices Lunella's grandfather Pops, was also full of praise when discussing the way Marvel has focused on portraying the experience of young Black women.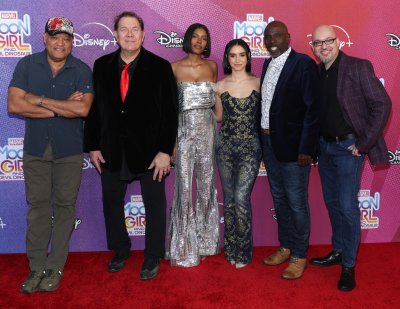 Williams shared: "At the core of this show is friendship and family, and community, so when you can add all of that into the incredible look of the show and the action of it, when you can add that realness in there, then it adds a whole other texture, a whole other facet that you're not just getting from something else—it feels amazing.
Barer, who plays Lunella's best friend Casey, applauded the writers of the episode "Hair Today, Gone Tomorrow". The episode tackles the hero's struggle with being criticized for her hair by a white student and the lengths to which she goes to try and "fit in," only to learn why she shouldn't have to change to fit others' expectations of her.
"That's such a great episode," Barer remarked. "You'll see there's a lot more taking on all sorts of different issues [in the show]. It's a show that takes on a lot of important issues but doesn't preach at you—it just tells good stories, and I think that that is really important.
"There [are] trans[gender] characters and Casey having two dads—and it's reclaiming a lot and it's really important and just genuinely an entertaining show."
She added: "I think it's something that we've learned over these years: people don't want to be preached at, but if they can just come on this ride and enjoy this story, they will empathize with people a little bit more. The show is doing a really beautiful job of that."
Marvel's Moon Girl and Devil Dinosaur premieres on the Disney Channel on Friday, February 10, and it will be released on Disney+ on Wednesday, February 15.