Who Stars in the Voice Cast of 'Marvel's Moon Girl and Devil Dinosaur'?
Marvel's Moon Girl and Devil Dinosaur is set to introduce the world to a brand new superhero, and her pet dinosaur (yes, really).
The animated series, which premieres on the Disney Channel on February 10 and on Disney+ on February 15, follows titular hero Lunella Lafayette after she accidentally teleports Devil Dinosaur into present day New York City.
Rather than panic, the character realizes that she and the prehistoric creature can work together to save the Lower East Side from nefarious individuals, and together they become the crime-fighting duo Moon Girl and Devil Dinosaur.
The show, which was executive produced by Laurence Fishburne, features a star-studded cast, who lend their voices to the animated heroes. Here is everything you need to know.
Who Stars in the Voice Cast of 'Marvel's Moon Girl and Devil Dinosaur'?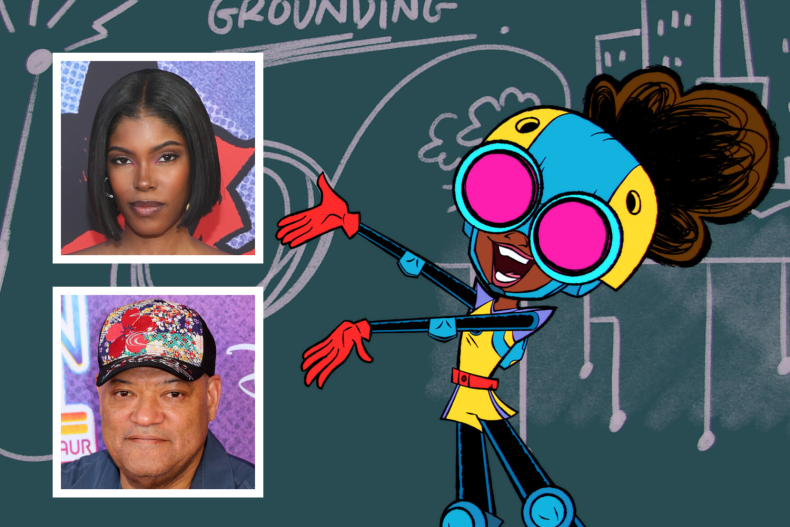 Diamond White takes on the role of 13-year-old genius Lunella, and she is joined in the cast by Fred Tatasciore as Devil Dinosaur.
Lunella may be a superhero, but she still needs help from her loved ones. The characters include her best friend and social media manager Casey, played by Libe Barer, her mother Adria (Sasheer Zamata), father James Jr. (Jermaine Fowler), grandmother Mimi (Alfre Woodard) and grandfather Pops (Gary Anthony Williams).
The series also has an array of big-name guest stars, who portray adversaries to Lunella, fellow students at her school, or other individuals that help her on her superhero journey.
Fishburne makes a cameo in the show as The Beyonder, an alien in charge with observing Earth who tasks Lunella with persuading him of the planet's worthiness, or else he'll destroy it.
The Matrix star told Newsweek what it was like to portray the character, joking that it "was the only character available" while he was working behind-the-scenes.
"They came to me, Steve [Loter, his fellow executive producer] and the team came to me and said, 'Hey, we're thinking about this' and I was like, 'oh, yeah, that could be fun,'" Fishburne said.
"It's always fun to play a trickster, it's always fun to play a guy who you're not really sure what his motives are, what he's about, what his intentions are and so, yeah, I was like, 'Alright, let's go.'"
"I haven't done anything quite like it before, so that's the other exciting part for me as an actor was like, 'Oh, I'm in a body of water I've never swum in. Let's figure it out.' So, we spent some time and over however many recording sessions it was we found something that was fun for me to do, and it was fun for the animators to work with, and yeah it's worked out beautifully."
Barer also spoke to Newsweek about bringing Casey and Lunella's friendship to life onscreen with White, saying that their immediate friendship ensured that life imitated art, so to speak.
"I love [Casey and Lunella's friendship], I think it's so sweet and special and there's so much heart there," Barer said. "And one of the things early on, when we first got cast, the creators were like, 'We want to make a real friendship, we want to emulate [Hulu comedy] PEN15,' and I was like, 'yes, absolutely. I had my PEN15 best friend when I was in middle school.'
"Diamond and I record most of our episodes together, in separate booths so that we can also overlap and stuff, and they're like, 'we just want like a really real dynamic' and that was one of their priorities.
"It's been really fun to bring to life and I think that it really comes across on the screen. Also Diamond and I just get along and there's a lot of real love there."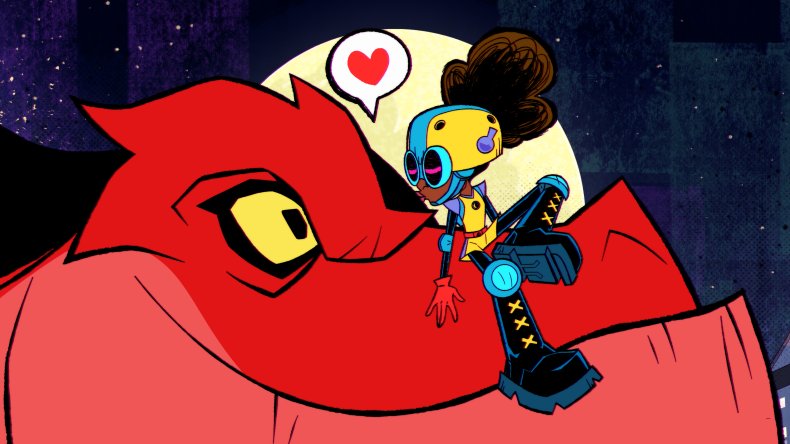 Here is the Full Voice Cast of 'Marvel's Moon Girl and Devil Dinosaur':
Regular Voice Cast:
Diamond White plays Lunella/Moon Girl
Fred Tatasciore plays Devil Dinosaur
Libe Barer plays Casey
Alfre Woodard plays Mimi
Sasheer Zamata plays Adria
Jermaine Fowler plays James Jr.
Gary Anthony Williams plays Pops
Recurring Voice Cast:
Laurence Fishburne plays The Beyonder
Utkarsh Ambudkar plays Anand
Michael Cimino plays Eduardo
Craig Robinson plays Principal Nelson
Omid Abtahi
Indya Moore
Guest Voice Cast:
Alison Brie plays Aftershock
Jennifer Hudson plays Mane
Andy Cohen
Daveed Diggs
Maya Hawke
Cliff "Method Man" Smith
Cobie Smulders
Wesley Snipes
Marvel's Moon Girl and Devil Dinosaur premieres on Friday, February 10, on the Disney Channel, and will air on Disney+ from Wednesday, February 15.