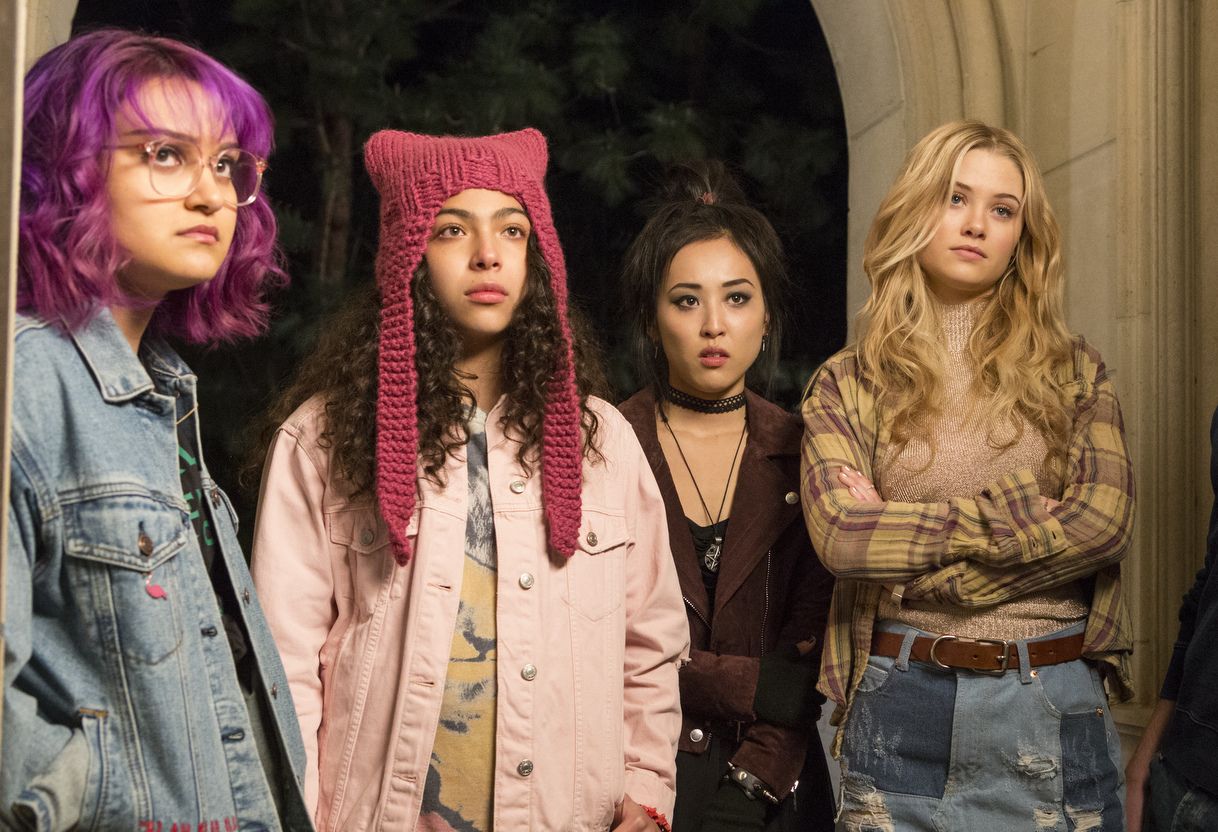 The Punisher injected a dose of violent, gritty antihero into Netflix queues last weekend, but Marvel has a very different kind of show premiering on Hulu: Runaways (or, as the streaming platform prefers we call it, "Hulu presents Marvel's Runaways") has no interest in tortured masculinity—except as a topic for Gert Yorkes, self-proclaimed social justice high school warrior, to rail against.
Based on the 2003 comic series of the same name and adapted by Josh Schwartz and Stephanie Savage, creators of The OC, the series follows six wealthy teenagers who discover they've inherited special abilities from their parents. Unfortunately, they also learn their parents form an evil, murderous cult (you win some, you lose some), and they are the only ones who can stop them.
The first three episodes premiered on Tuesday. The plot gets off to a slow start, but stick with it: The racially diverse main characters are complex and inspiring. Also, in an appreciated switch for the superhero universe, four of the six are female: Nico Minoru (Lyrica Okano) an alternative Wiccan who is grieving for her dead sister; Karolina Dean (Virginia Gardner), an optimistic good girl; Gert Yorkes (Ariela Barer), the purple-haired, outspoken activist; and the youngest, Molly Hernandez (Allegra Acosta), adopted by Gert's family when her parents died.
"This is the first time I've felt represented on TV," Okano, 23, told Newsweek. "Nico isn't just the edgy Asian kid with a chip on her shoulder. Growing up, I've always wished that I had a female superhero that I could look up to. There were some, but not in the way that I could relate to personally."
In the first episode, Nico floats through high school, seemingly content to speak to no one. Far from true. "There's a lot of kids that can relate to that outsider feeling," said Okano, who describes herself as one such former teen. "Nico does a beautiful job pulling through that and learning that she needs to work with others."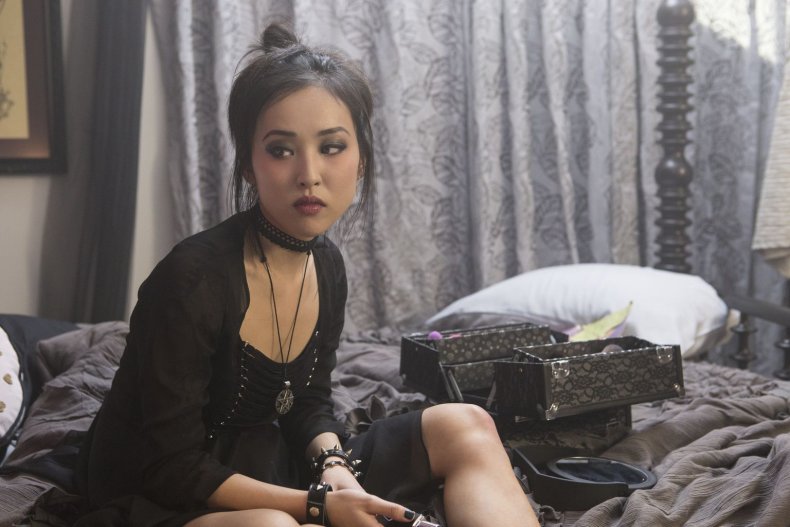 For Acosta, who plays Molly, the pluses of the show are diversity in race and age. Like her character, the actress is 14, but unlike Molly she's bubbling with things to say, and at breakneck speed. "It's so important to be playing a young Latina character," Acosta said. "Fourteen is this critical stage in my life—I'm pressured to fit into a certain category. Suddenly my body is getting labeled. Molly looks like me, and other Latina girls can relate to our struggle. Like, when I was younger I used to think I had to straighten my curly hair for boys to like me. But that's total BS!"
Molly might be the least socially adept, but by the end of the pilot it's clear she is the strongest—literally, super strong. (At first she thought her dramatic body changes were another thrilling side effect of puberty.)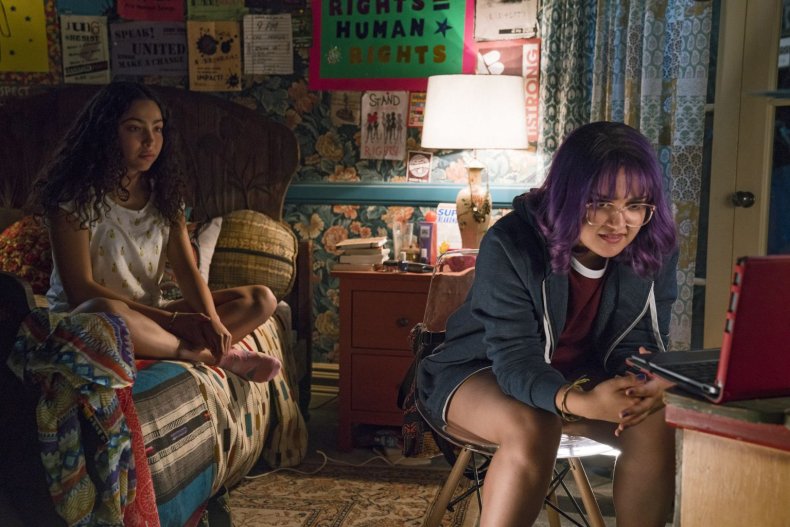 Acosta's closest friend on set was her on-screen adoptive sister, 19-year-old Barer, who originally auditioned for Molly, the only listed Latina role. Barer is Mexican American, but showrunners Schwartz and Savage steered her towards Gert. "The thing I love about her is that she's the trope of an angry feminist that's been around and turning it on its head," Barer said. "She's a human person with rational emotions. You sympathize with her, rather than with the male character who is calling her crazy."
In the pilot, Gert's rousing pitch for her anti-patriarchy club is full of valid ideas, but her overuse of abstract jargon is met with blank stares from her peers. "She's genuinely trying to help people at every turn, and she's getting shut down left and right," Barer said.
Though Gert is accused of being a feminist who "tears down other women," she doesn't hesitate to help the very person who says that, Karolina Dean, when the latter is nearly sexually assaulted at a party by a group of jocks. Barer appreciates that Runaways, despite some tired TV tropes, illuminates the shared female experience. "Women are truly there for each other, and Gert puts her beef with Karolina aside to do that."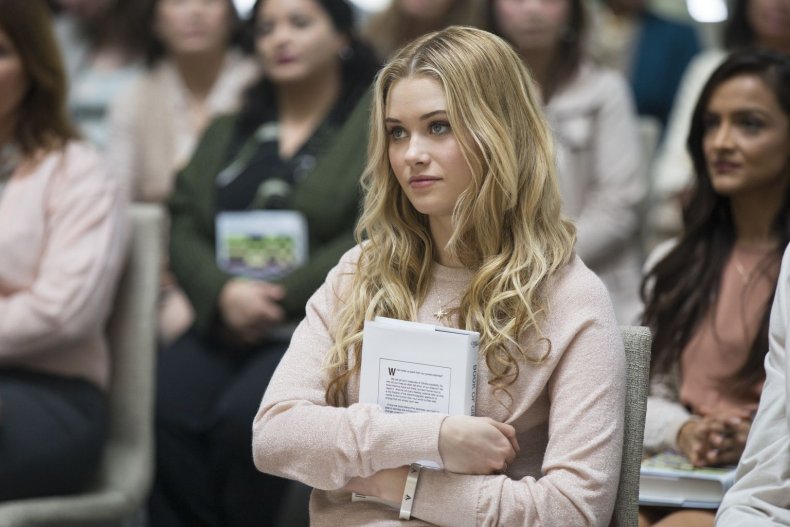 Fans of the comics know Karolina, the group's peacekeeper, is headed for an emotional rollercoaster. But before all that drama, 22-year-old Gardner, as Karolina, takes the good girl's first step towards rebellion. In the pilot, she symbolically rejects her mom's church (essentially Scientology, though the name is never used). "Karolina takes off the church bracelet she's worn her whole life, this religion she's been forced into, and that's forcing her to act in an expected way," Gardner said.
The show, says Barer, "is a wonderful metaphor about rebelling and resisting," particularly at a time when the harassment and abuse of women makes daily (hourly) headlines. Acosta takes it one step further: Runaways is also a form of resistance to President Trump's sexist rhetoric. "We're contradicting him," she said. "It's a coincidence, but that's what happened. We're showing that we relish our race and our gender, that we can be our own superheroes."
"It's never us sitting around talking about Trump," said Barer, despite her character's frequent politicized rants. But, as Gardner added, for the message, the timing is fortuitous. "His presidency is forcing women to stand up and be heard," she said, "and that's what the show is about. I think it resonates more strongly because of him."
A new episode of Runaways will premiere on Hulu next Tuesday.