'Marvel Ultimate Alliance 3' Announced as Nintendo Switch Exclusive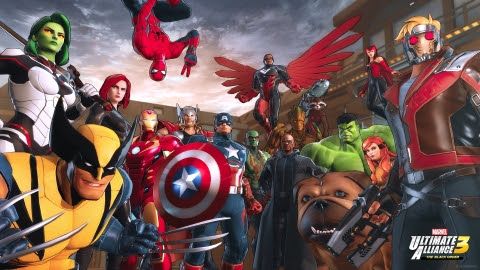 One of the biggest surprise world premieres of the 2018 Game Awards was a Nintendo Switch exclusive, and it wasn't Metroid or another one of their recognizable first-party IPs, but Marvel Ultimate Alliance 3.
Marvel Ultimate Alliance 3: The Black Order is being developerd by Koei Tecmo and Team Ninja to bring fans the co-operative action-RPG they loved in the first two titles. Up to four players can drop in for co-op battles via online or offline local wireless. You can even use a Joy-Con controller to have a friend join the team.
This new entry in the Ultimate Alliance series comes 10 years after the last one and will bring a dynamic zoomed-in heroic view, allowing for a more immersive play style for single-player or multiplayer.
Check out the trailer below.
"As longtime fans of the franchise, we could not be prouder and more excited to bring back ULTIMATE ALLIANCE with its biggest game yet," Mike Jones, Vice President & Executive Producer, Marvel Games said in a press release." MARVEL ULTIMATE ALLIANCE is all about teaming up with your friends and creating your own 'dream team' of Super Heroes to go on adventures across the Marvel Universe, and Nintendo Switch is perfect for delivering on that promise of cooperative gameplay and shared experiences."
"The MARVEL ULTIMATE ALLIANCE games have been beloved by fans for more than a decade, and this new installment on Nintendo Switch will deliver even more of the thrills and heroics that the franchise is known for," said Doug Bowser, Nintendo of America's Senior Vice President of Sales and Marketing. "Thanks to our partnership with Marvel, the fate of the Marvel Universe will literally be in the hands of Nintendo Switch players, whether they're at home or on the go."
From the trailer, confirmed characters include: Wolverine, Groot, Rocket Racoon, Star-Lord, Drax the Destroyer, Gamora, Iron Man, Spider-Man, Crystal, Lockjaw, Falcon, Captain America, Thor, Hulk, Scarlet Witch, and Black Widow.
Marvel Ultimate Alliance 3 is set to launch on Nintendo Switch in 2019.
What do you think of the announcement? Are you surprised by the Switch exclusivity? Let us know in the comments section below.