Marvel's What If...? explores how key events in the Marvel Cinematic Universe (MCU) could have happened in slightly different ways, and how that would change everything fans know about the films.
Set in the multiverse, the animated show has so far shown what would have happened had Agent Peggy Carter taken the Super Soldier Serum instead of Steve Rogers, and how things would have been different if T'Challa had been taken as a child by Yondu instead of Peter Quill.
And the third episode will now explore how things would have been different if Loki had presented himself as the king of Asgard to the various authorities on Earth, instead of invading the way he did in the first Avengers.
The show will see a number of actors return to reprise their characters in animated form, but not everyone will be back so Newsweek has all you need to know about the voice cast for the episode.
Tom Hiddleston will be back once again as the God of Mischief, having last played the character in his solo spin-off show Loki.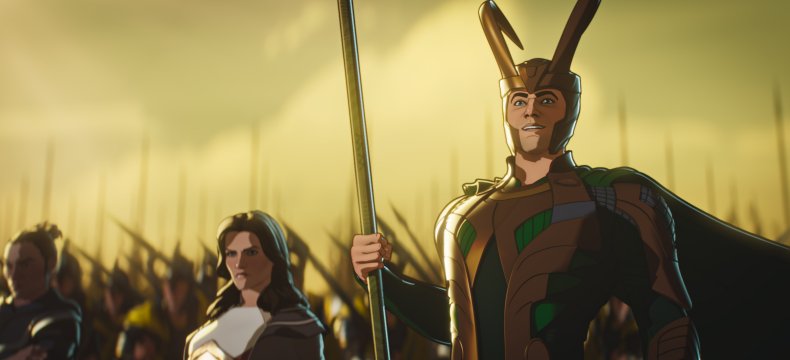 Like he did in episode one, Samuel L. Jackson will once again portray Nick Fury, the former director of S.H.I.E.L.D, while Jeremy Renner also returns as Clint Barton aka Hawkeye for the story.
Robert Downey Jr. will not return to his role as Tony Stark, aka Iron Man, and his character is instead voiced by Mick Wingert.
The voice actor portrays the character because Downey Jr. completed his contract for Marvel following the release of Avengers: Endgame, and he has no plans to reprise the role after playing the part for 10 years.
Another voice to be replaced is that of Natasha Romanoff, aka Black Widow, who is voiced by Lake Bell instead of Scarlett Johansson.
Other familiar faces set to voice their animated counterparts include Mark Ruffalo as Bruce Banner, aka Hulk, and Clark Gregg as Phil Coulson.
Frank Grillo will also be back to portray his character Brock Rumlow, Jaimie Alexander will also return to voice Sif, and Jeffrey Wright will once again be the voice of the show's narrator The Watcher.
While a number of original cast members came back, the show's executive producer Brad Winderbaum recently revealed they didn't want the show to be defined by the actors that would be able to return.
Speaking to ComicBook.com, Winderbaum said: "Part of the fun of What If...? is being able to tell stories in any corner of the universe you want to and that means that you need that infinite canvas, you need that infinite potential.
"Also, I was afraid we wouldn't get any actors to come back. The fact that we got as many as we did, 85 percent of the actors came back or something like that. It's incredible and it's a real honor and privilege to work with all of them."
He added that when other voice actors stepped in to take the roles of famous characters, they focused on making sure their performance was spot-on, rather than casting a "soundalike."
"You might be able to achieve a perfect Tony Stark voice, but if the depth of the character wasn't there and the acting, the performance didn't have dimensionality to it, it wouldn't matter. You'd be taken out. That would take you out," Winderbaum explained.
Marvel's What If...? airs weekly on Disney+ every Wednesday.