'Marvelous Mrs. Maisel' 30-Cent Gas Promo Proves So Popular Police Had to Get Involved
To promote the third season of The Marvelous Mrs. Maisel, Amazon launched #MaiselDay on Thursday, when nearly 30 businesses in Santa Monica put up pink drapery and dropped prices to 1950s levels.
This included 99-cent corned beef sandwiches, cupcakes for a quarter and a burger-fries-and-milkshake combo for a little over a dollar.
A happy customer getting her hair done tweeted, "Me walking out of my $2 Drybar appointment today because...#MaiselDay."
An area Chevron was selling gas for 30 cents a gallon—particularly notworthy considering modern-day gas prices in California are about $3.60 per gallon.
The Chevron promotion got out of hand, though, and caused traffic tie-ups. The Santa Monica Police briefly shut it down due to delays caused by eager motorists, and, according to ABC 7,.
A video of police on the scene captured one man's crying "Noooo!"
"#Maiselday chevron gas was a mistake," one driver tweeted,. I showed up at 8:30am to get in line. Was told to move my car and then got stuck in a log jam that prevented me from leaving or any car moving. Yikes!"
Police decided to end the promo at 1:30pm— nearly four hours early — Lt. Candice Cobarrubias, a spokesperson with the department, confirmed to BuzzFeed News on Thursday.
The promotion later resumed, with Amazon working with the city to limit the number of cars in line in order to keep traffic running.
An Amazon spokesperson said to Newsweek on Friday, "Our first ever Maisel Day was a huge hit, with fans coming out all over the city to more than 30 locations. We worked closely with the police in the Santa Monica area, and the number of cars waiting in line at any given time was limited to help maintain the flow of traffic, until the promotion ended around 2:30pm PT."
The price drop was a marketing stunt by Amazon as part of its attempt to highlight the show ahead of the Emmys next month. (Mrs. Maisel has 20 Emmy nominations). The online giant partnered with local Santa Monica businesses to roll back prices to what they would have cost in 1959, when the popular show is set.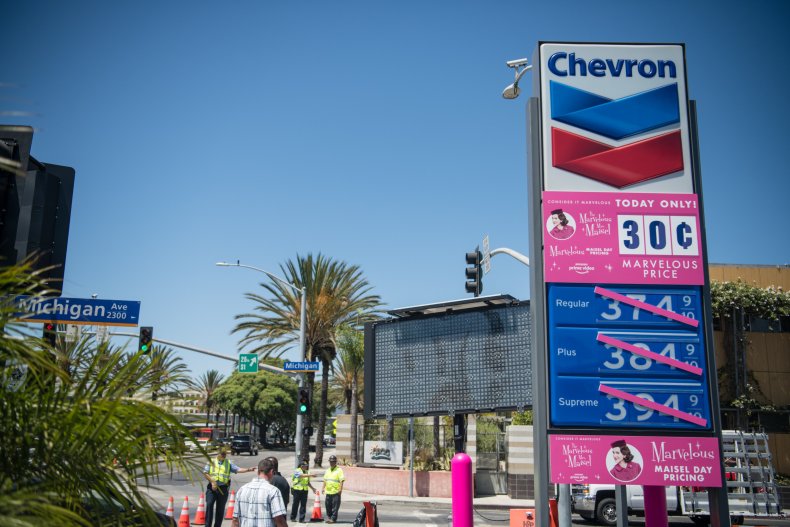 It's not the first time Amazon has offered 1950s-era pricing to promote the series, either: Last winter, it teamed up with the Carnegie Deli in New York to offer discounted sandwiches ahead of the Season 2 premiere. That promotion was much less disruptive.
A release date for Season 3 has yet to be announced, although it has been teased that it will—at least partially—take place in Miami: On August 7, the Marvelous Mrs. Maisel Instagram account posted, "Pack your swimsuits because #MrsMaisel is heading to Miami!"
Update Friday, August 16 at 1:33 p.m. ET: This story was updated to include a statement from Amazon.