'Marvelous Mrs. Maisel' Stars Tony Shalhoub and Marin Hinkle on What Makes the Show a Hit
If you had to ask The Marvelous Mrs. Maisel star Tony Shalhoub what makes the show successful, he'd say at its core it's a contemporary show.
"At its heart, it's really a very contemporary show. It takes place in a time period but it lives in the present," Shalhoub told Newsweek Conversations on a recent visit with co-star Marin Hinkle. The two play Abe and Rose Weissman, the parents of the show's lead Miriam 'Midge' Maisel, played by Rachel Brosnahan.
"Our chemistry comes out of just enjoying each other," said Marin Hinkle.
"I just delight in everything Marin does," Shalhoub went on to say. "I could not have imagined a better partner, a better foil, a better spouse on this show. It just clicked from the first moment."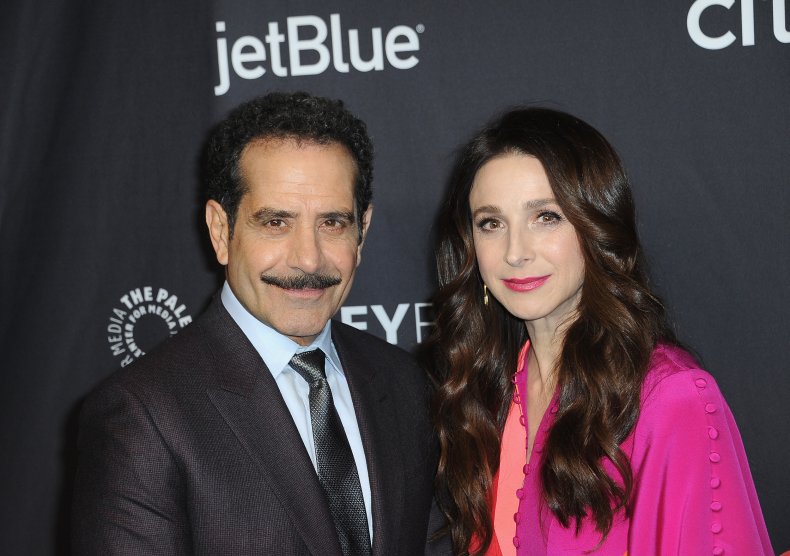 Clicked it did, and not just with the actors. The Marvelous Mrs. Maisel, currently in its third season on Amazon Prime Video, has been a massive hit for the streaming platform. The first two seasons of the show won so many Emmys—including Outstanding Comedy Series in 2018—it's almost embarrassing to say the number (16 in total, including awards for the show's lead, Brosnahan, and Shalhoub).
"Apparently it's big in India," Shalhoub said. "You wouldn't think that a show that basically takes place on the Upper West Side of New York would be. I actually, in the beginning, thought that's our demographic, the people that live within four blocks of Zabars," referring to the popular New York City deli.
The two came to The Marvelous Mrs. Maisel after long careers in television and theater. Shalhoub starred in the wildly successful show Monk for eight seasons, winning three Emmys for his performance. For Hinkle, before she became a successful actress on shows like Two and a Half Men and Maisel, she originally studied ballet until an ankle injury sidelined that career—which secretly pleased her academic parents who had hoped Hinkle would go in a less creative direction professionally.
"I'm not saying when I broke my ankle, they were like 'yay,' but there was a little bit of that," Hinkle said, laughing.
"Her father actually broke her ankle," Shalhoub joked.
Even though Shalhoub clearly has a natural ability with comedy, there's one thing he cannot do: stand-up.
"I was asked to do a routine, I can't remember what the event was, but I got up in a club and it was terrifying. Terrifying. I think I bombed pretty badly," Shalhoub said.
Fortunately for Shalhoub and Hinkle, they have the words of Emmy-winning writer Amy Sherman-Palladino, who created The Marvelous Mrs. Maisel, to say every week instead of having to come up with their own routines.
Watch the full interview with Tony Shalhoub and Marin Hinkle on Newsweek Conversations.