Hawkeye Joins 'Marvel's Avengers' in First Look at Post-Launch Content
During Wednesday's Marvel's Avengers War Table stream, Crystal Dynamics revealed Hawkeye as one of the first characters that will be added to the upcoming Square Enix game post-launch.
It was the final announcement during July's War Table stream, and according to the Crystal Dynamics team, Hawkeye was highly requested following last month's presentation. The stream ended with a teaser of Clint Barton taking out AIM robots, which you can watch below.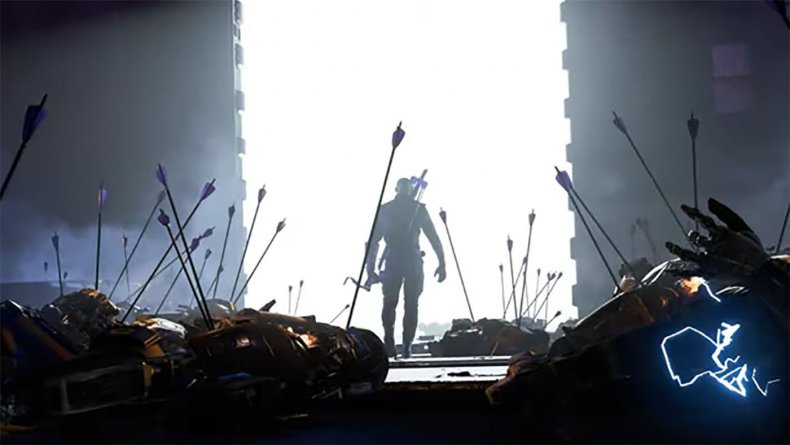 Marvel's Avengers, while having Captain America, Thor and several other famous Avengers in it, exists within a continuity all its own, and will tell an original story in which the team faces off against the villain MODOK.
According to Crystal Dynamics, however, the game's Hawkeye will be influenced by the critically acclaimed story "My Life as a Weapon," from writer Matt Fraction and artist David Aja.
The Hawkeye series that the two worked on ran for a total of 22 issues from 2012 to 2015, and focused on Barton and his protege, Kate Bishop. Their "everyman" approach to Barton resonated with readers and critics, who appreciated the unexpected spotlight on the archer.
There were issues that tugged at the heartstrings, fleshed out Barton and Bishop as characters in the larger Marvel universe, and even had stories told from the perspective of a dog. Fraction and Aja's Hawkeye run, just five years after its final issue, continues to be a must-read for fans of the Avenger. Thankfully, a new version of the character, based on those stories, is coming to Marvel's Avengers game. (And if you're not familiar with Fraction and Aja's Hawkeye run, it's currently available to read digitally on Comixology and the Marvel Unlimited apps.)
As for what fans can expect from Hawkeye in terms of combat in Marvel's Avengers, it's a bit hard to say. But going off of the teaser, we see shock arrows and it's hard to believe that those will be the only type of weapon in Barton's arsenal. He'll likely have some close-combat attacks to go along with his long-range capabilities.
With just over a month from launch, players will learn more about Hawkeye and other post-launch characters in the weeks to come.
While the main story will have six characters to play with, Hawkeye is one of four characters planned for post-launch at no extra cost with their own stories and missions to enjoy.
Marvel's Avengers is set to release September 4 for PS4, Xbox One and PC.
What do you think of Hawkeye joining Marvel's Avengers? What do you think some of his abilities and attacks will be? Let us know in the comments section.