'Marvel's Avengers' Kate Bishop DLC Delayed, Next-Gen Release Pushed to 2021
Marvel's Avengers was one of the most anticipated games of 2020, but its September release has been met with mixed reviews and criticism from players.
As Crystal Dynamics continue to update and fix many of the bugs plaguing the game, Scot Amos, the head of the studio, has posted a lengthy update on the status of the game and its planned content, as well as the unfortunate delays of the Kate Bishop DLC and next-gen releases.
The post starts by apologizing to the Marvel's Avengers community for the issues the game had at launch. Crystal Dynamics is giving players a bundle of in-game currency to spend on upgrades and other doo-dads that will be available until November 5 at 1 p.m. EDT.
The bundle includes:
Credits: 1,500 – Enough for a Legendary Skin and Nameplate from the Marketplace
Units: 7,000
Upgrade Modules: 250
DNA Keys: 20
A Sarah Garza-Inspired Nameplate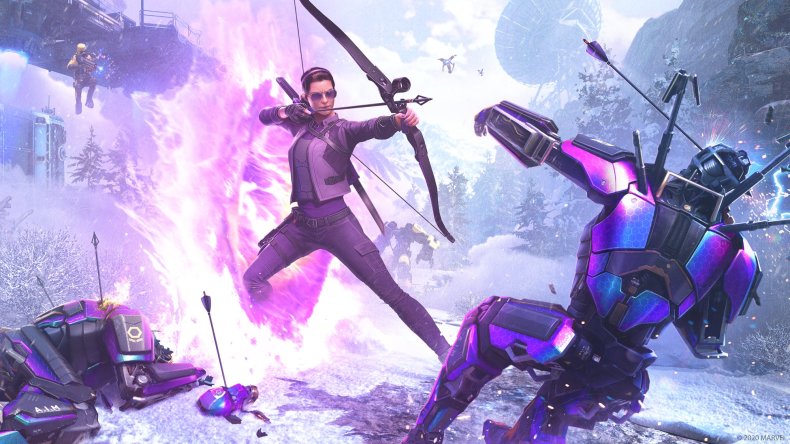 Scot Amos then went into what the Crystal Dynamics team has in store for the immediate future and beyond.
For now, the team is hard at work putting out an update in the coming months that addresses these issues from the community feedback they received:
Avengers Initiative Ping System: A system that will allow players to mark objectives, resources, health crates and enemies, allowing players to command AI companions to hack/smash doors or prioritize specific enemies.
Reassemble Campaign Replay: An option to reset the Reassemble campaign and replay it with your Super Hero's level and gear intact.
High Contrast Mode: An accessibility feature that will allow the player to apply solid darken veils behind text to improve readability.
Hero Icon Visibility: An option to adjust the display of identifying icons above a Super Hero's head to be on by default or dynamic.
Mission Reward Clarity: Improved clarity around mission-specific rewards when viewed on the WAR TABLE. This will allow players to more strategically take on missions to meet their current goals and seek out specific gear and resources.
Offscreen & Ranged Enemy Attack Indicators: Better feedback for players to avoid offscreen and ranged enemy attacks.
Crystal Dynamics is also working to improve four areas of the game that will make the game a more enjoyable experience. They hope to spruce up the matchmaking, performance & stability, rewards and late-game content.
On the last point, Amos detailed some of the new content that they added for late-game content, including the recently added Mega Hive and Tachyon Missions. They are also working on "Omega-Level Threats" that will test the most experienced and battle-hardened players.
However, this roadmap—of sorts—for upcoming updates is not without its bad news.
Amos confirmed that the free Kate Bishop DLC that includes the character and her hero-specific missions will be delayed. No new release date was given, but Amos described it as a "slight delay," so it's possible it'll be out before the end of 2020.
What's not arriving in 2020 are the next-gen versions of Marvel's Avengers. The superhero game is slated to still release on the PS5 and Xbox Series X, but it won't be ready for the consoles' launch in November as originally intended. It will release sometime in 2021 so that the team can make sure that release is as smooth as possible.
You can still play the PS4/Xbox One Marvel's Avengers on a PS5 and Xbox Series X, it just won't have the upgrades of the upcoming next-gen releases.
Amos assured players that those who play on next-gen consoles can still play online with those on the current-gen platforms, and that an upgrade to PS5 or Xbox Series X will be free when it's ready.
What do you think of the updates to Marvel's Avengers? Let us know in the comments section.