Don't Fall For Israel's Character Assassination—Marwan Barghouti Is a Man of Peace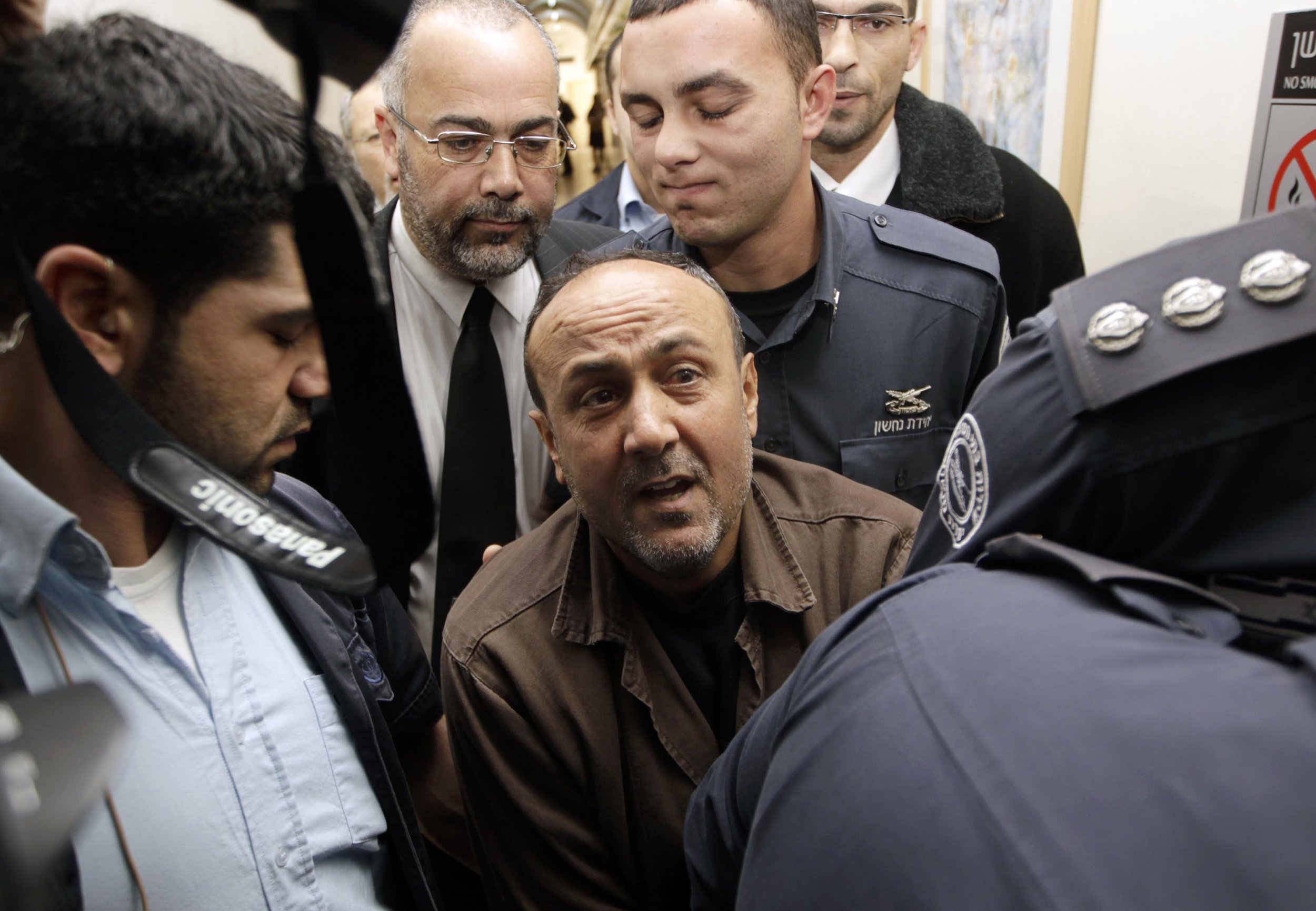 On South Africa's Freedom day, I am reminded of a time in which our friends in the African National Congress (ANC) told us: "Once Palestine is free, do not forget South Africa."
In our long struggle, we have seen many countries win independence and many liberation movements find their way to freedom. But Palestine remains occupied. Here, colonialism and apartheid have become more entrenched just as they disappear elsewhere in the world. History, therefore, offers many valuable lessons.
Members of liberation movements either end up in jail or in the grave. That is why Palestinians call themselves "prison graduates." When you are a Palestinian nationalist, Israeli jails are where you end up. When you belong to an occupied people, the occupying power's judicial system condemns and convicts you. It is therefore no surprise that the conviction rate of Israeli military courts has in recent years ranged from 90 to 99 percent.
We are guilty of being Palestinians, of aspiring to freedom, of refusing to surrender to a military and colonial occupation. While the oppressor may not want to acknowledge that injustice and oppression are the cause of provocation and conflict — and that freedom and dignity would pave the way to peace — it is the moral duty of the international community to remind and compel Israel to accept this undeniable truth.
When 1,500 Palestinian prisoners go on hunger strike to struggle for their rights, the jailer will use every diversionary tactic in the book to ensure that nobody asks the only relevant question: are their demands just and justified? Let me be the voice of the hunger strikers now, since many of them are in solitary confinement as punishment for having protested their detention conditions peacefully.
They are asking for the end of arbitrary and punitive measures against them, the end of torture and ill-treatment, of medical negligence, of the transfer of prisoners in cruel conditions, especially women, the end of the severe restrictions on their family visit rights and contacts with their loved ones, and respect of their right to education. These demands are not only legitimate; they are grounded in international law.
In a blatant attempt at distortion and misdirection, Israel claims that they "are all terrorists,'' all 6,500 prisoners including 300 children, 56 women, 13 parliamentarians, 28 journalists and the 500 administrative detainees held without charge or trial for indefinite periods of time, the worst form of arbitrary detention.
It claims all 800,000 Palestinian prisoners it has arrested since 1967 are ''terrorists'', the equivalent of 40% of our male population in the Occupied Palestinian Territory. And certainly, all the Palestinian people are ''terrorists'' by virtue of their identity.
Israel is resorting to character assassination against the leader of the hunger strike, my friend and colleague Marwan Barghouti. He was the head of the student council at Birzeit University when I was dean and member of the university council. He is also my colleague at the Palestinian Legislative Council since 1996, where he has proved to be a strong advocate of good governance and human rights, including women's rights.
Even after he was deported by the Israeli occupation in 1987, he frequently met with the negotiations delegation and expressed his full support for a peaceful negotiated settlement. While Barghouti believes in the Palestinian people's right to resist occupation by all available means under international law, he always opposed attacks against civilians. In recent years, he advocated peaceful means and civil disobedience to achieve our freedom.
Barghouti is a Palestinian political leader who was abducted from Ramallah by Israeli occupation army and illegally tried in an Israeli court in Tel Aviv in 2002. It doesn't take a great deal of imagination to see that his conviction and condemnation to five life sentences and 40 years in prison is unjustified and unwarranted. It is a conviction that says nothing about him and everything about the Israeli judicial system, just as the conviction of Mandela and his sentence to lifetime imprisonment said more about the apartheid regime then about those fighting it.
Israeli courts remain the instrument of a colonial military occupation and its policy of enslavement, intimidation and subjugation. International observers have characterized Barghouti's trial as a travesty of justice, a political show trial in breach of international law.
Eight Nobel Peace Prize Laureates, parliaments around the world, the Non-Aligned Movement composed of 120 states, and European countries including France have called for his release, and highlighted the significance of his role in the pursuit of peace. Last year, Barghouti was nominated multiple times for the Nobel Peace Prize. So what should we believe, the slanderous fabrications of the occupation as a self-proclaimed prosecutor and judge, or people of conscience around the world?
Israel does what it has always done, it repeatedly blames the Palestinians in order to avoid any accountability for its persistent violations of our rights, including the right to self-determination. Israel claims that if prisoners have gone on hunger strike it has nothing to do with Israeli violations, and if they die it is not Israel's responsibility. It claims that if Palestinians protest against their captivity it is because they do not want peace.
Until when will Israel be given a free pass? One would think that by now humanity has determined that slavery, oppression, colonialism, occupation and apartheid are cruel, illegal and morally repugnant. There is no justification under any pretext for perpetrating such crimes. Freedom, dignity and human rights are universal and indivisible, and should be guaranteed to all without preference or discrimination.
Dr. Hanan Ashrawi is a Palestinian legislator and activist, and a PLO Executive Committee Member