Why Mary Berry Nearly Turned Down Lunch With Queen and Prince Philip
British baking legend Dame Mary Berry nearly passed up the chance to attend a private lunch with Queen Elizabeth II and Prince Philip because she had a prior engagement and thought the invitation could have been a hoax made up by one of her children.
Speaking to the BFI Radio Times Festival in London last week, Berry said she was suspicious of the invitation, which came via a phone call from the royal headquarters.
"I didn't believe it was from the Palace," she recalled, according to the Daily Mail. "I thought it was my son Thomas mucking about with his friends."
Berry, Britain's answer to Julia Child, who starred in television cooking segments throughout the 1970s before becoming a household name and breakout star of the Great British Baking Show, was made a Dame in the queen's 2020 Birthday honors list.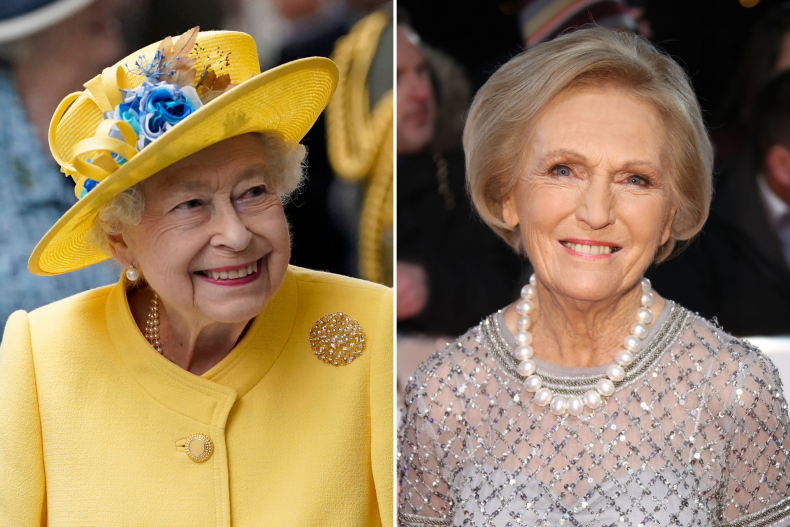 Over the past 10 years, Berry has had more than a few brushes with royalty. In 2019 for a Christmas special titled A Berry Royal Christmas, Prince William and Kate Middleton appeared in a cameo segment competing to make a chocolate roulade. During their interaction, Kate told Berry that she is a favorite among the Cambridge children, especially with the youngest, Prince Louis.
"One of Louis' first words was Mary because right at his height are all my cooking books in the kitchen bookshelf," Kate said.
"And children are really fascinated by faces, and your faces are all over your cooking books and he would say 'That's Mary Berry'... so he would definitely recognize you if he saw you today."
In 2022, to mark the queen's Platinum Jubilee, Berry chaired a committee to find Britain's Platinum Jubilee Pudding, which saw submissions entered from all around the country. The winner of the competition was Jemma Melvin whose pudding was a trifle based on the dessert served at the queen's 1947 wedding breakfast—lemon meringue. The winner was announced by Camilla, Duchess of Cornwall.
Aside from these official meetings with the royals, Berry has also been included in private get togethers—though one lunch invitation nearly went unaccepted.
The invite, which came sometime before Prince Philip's death, was to an intimate lunch for 12 people. According to the Daily Mail, the star told a London audience last week that she first of all turned the invitation down after being "double booked" and thinking it could have been her son playing a trick on her.
Eventually Berry accepted and went in search of a suitable outfit in a British department store: "I had a girl, Victoria, to look after me and I explained I wanted something with sleeves, not too décolleté, not too short," she said, "and she had a rail for me and the one at the end was in the sale, down to £54 ($68) and I bought it."
Once at the lunch party, Berry found herself in a prime seat next to Philip who was known to have a talent for cooking alfresco on the royal estates.
'It was just 12 of us and it was so clever," she said.
"Because they had an oval table and usually you have mum and dad on either end, don't you? But she and Philip sat in the middle, which was so clever, and I sat next to Prince Philip."
Cooking, of course, was a topic of conversation between Berry and the prince who she described as "very chatty."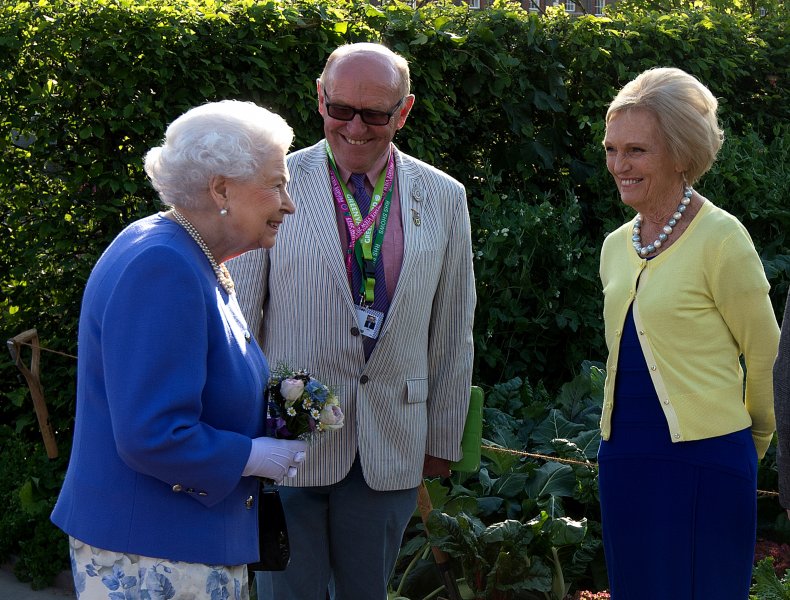 The Dame was full of praise for the prince's abilities saying that he came across as "the expert on barbecues and when he was in Sandringham, he used the game and used to put stuffing in them."
She went on to add, "He really knew what he was talking about." High praise from the author of over 80 cookery books.
Berry is a long term admirer of the queen who is being celebrated with a central weekend of commemorative events in June marking the Platinum Jubilee—the first in British history.
Members of the royal family will join the queen for select events, where the monarch, who has been experiencing what Buckingham Palace called "episodic mobility problems," feels well enough to attend.
Earlier this month a spokesperson for Prince Harry and Meghan Markle confirmed to Newsweek that the royal pair would be making their first joint public appearance in the U.K since moving to the United States in 2020 to celebrate the queen's historic milestone.