Nike Runner Mary Cain Claims Coach Alberto Salazar Emotionally, Physically Abused Her, Forced Her to Lose Weight
Former Nike runner Mary Cain pushed back against the weight-centric system coach Alberto Salazar created, which she claimed caused her to stop her period for three years and break multiple bones.
"I got caught in a system designed by and for men, which destroys the bodies of young girls. Rather than force young girls to fend for themselves, we have to protect them," Cain says.
Cain, once the fastest female runner in America, gave up a college career to join the Nike Oregon Project, a long-distance running team established by the shoe company. In a New York Times op-ed video published on Thursday, she says she joined Nike to become the "best female athlete ever" but instead was emotionally and physically abused.
Cain left the Nike Oregon Project in 2016, and three years later, in October 2019, it shut down after the U.S. Anti-Doping Agency banned Salazar from the sport for four years. Nike Chief Executive Officer Mark Parker, who will step down in January, told Reuters that "unsubstantiated assertions" and the situation with Salazar created a "distraction" for athletes that compromised their ability to focus on training and competing.
Cain criticized the reforms, which she says in the video are a "direct result" of the doping scandal, for not acknowledging the "systemic crisis" in women's sports and at Nike. To change the system, she says, women need to be in power. She wonders if her life would have turned out how it did if she had worked with more female coaches, psychologists and nutritionists.
"Young girls' bodies are being ruined by an emotionally and physically abusive system," Cain says of women's sports and Nike.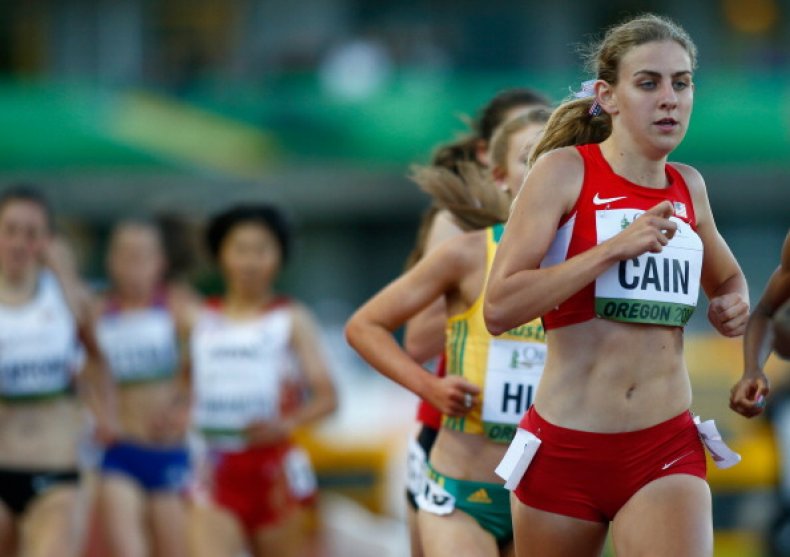 She also says in the video that the "all-male Nike staff" was convinced that to be a better runner she had to be thinner and that Salazar assigned an arbitrary weight, 114 pounds. At the time, Cain was 5 feet 7 inches, according to USA Track and Field.
To help her lose weight, Cain claims, Salazar wanted her to take diuretics, which isn't permitted in the sport.
In an email to The New York Times, Salazar said he supported Cain's "health and welfare" and denied "many of her claims."
While she acknowledged weight does matter in sports, making it the number one thing that mattered caused her body to break down. "Suddenly, you realize you've lost your period for a couple of months, and then a couple of months becomes a couple of years, and in my case, it was a total of three," Cain says. "If you're not getting your period, you're not going to be able to have the necessary levels of estrogen to maintain strong bone health, and in my case, I broke five different bones."
Relative energy deficiency in sport (RED-S) is a disorder that's most common in physically active people and is caused by intentionally or unintentionally consuming too few calories and participating in too intense exercise, according to Brown University. Along with harming the athlete's performance, it can also cause bones to break and cardiac abnormalities.
Although people were supposedly aware that she was physically harming herself, Cain says in the video, no one took any action, which made her realize "this system is sick."
"[My parents] were horrified. They bought me the first plane ride home. They were like, 'Get on that flight, get the hell out of there,'" Cain says in the video. "I wasn't even trying to make the Olympics anymore, I was just trying to survive."
During her high school years, Cain broke records and was widely considered one of the most promising female distance-running prospects in decades. In 2012, she was the youngest competitor at the U.S. Olympic Trials, according to Runner's World. Although she didn't make the Olympic team, given her youth and running times, many considered her to have a future as an Olympian.