Donald Trump's First Openly Gay Judicial Nominee Was Just Approved By the Senate. Here's Why LGBT Groups Aren't Thrilled
Last week, the Senate approved the nomination of Mary Rowland to the District Court for the Northern District f Illinois, the first LGBT judicial nominee from Donald Trump to be confirmed by the Senate.
Trump initially announced his intent to nominate Rowland, 57, back in June 2018. But the vote on her appointment stalled, along with several others, even though she sailed through her Senate Judiciary Committee hearing and got a "well qualified" rating from the American Bar Association.
She was unanimously approved by a voice vote on July 31 and now awaits her judicial commission.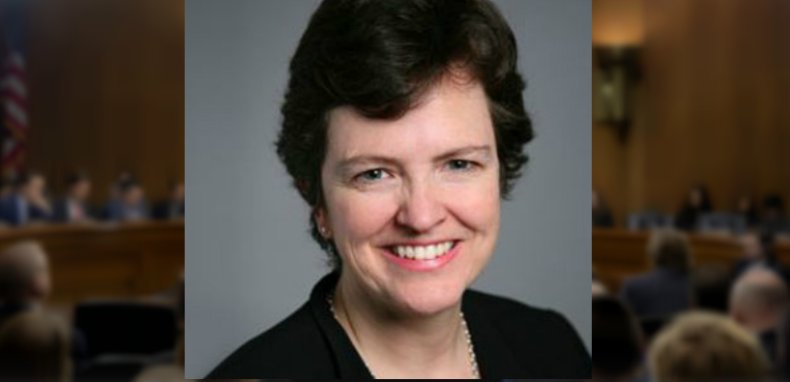 A magistrate judge since 2012, Rowland was previously a partner in a Chicago law firm and spent a decade working in the federal public defender's office. She earned her bachelor's from the University of Michigan, her law degree from the University of Chicago and clerked for U.S. District Judge Julian Abele Cook Jr.
She's a member of the Gay and Lesbian Bar Association and has done pro bono for Lambda Legal, a nonprofit LGBT legal aid group. She and her partner, Julie Justicz, have two grown children.
During her time before before the Senate Judiciary Committee, Rowland was praised by the Democratic U.S. senators representing her home state of Illinois—Sen. Richard Durbin, a member of the committee, and Sen. Tammy Duckworth, who introduced her. Duckworth called Rowland's reputation in the legal community "impeccable" and said those who know her "commend her good temperament, intelligence and fairness."
But LGBT legal groups view her confirmation as somewhat bittersweet: A spokesperson for the LGBTQ Victory Institute told the Washington Blade that she was "a rare bright spot" among Trump's many anti-LGBT judicial nominees.
"We're extremely happy for Mary Rowland—she's an able and competent nominee for a lifetime appointment in Illinois," Sasha Buchert, senior attorney with Lambda Legal, told Newsweek. "But it's impossible to praise the Trump administration in any shape or form, when one in three of their judicial nominees have a demonstrated animus to the LGBT community. Judges who say marriage equality would 'imperil civil peace,' like Kyle Duncan did. Who call us 'blob[s] of Silly Putty unconstrained by nature or biology,' like Matthew Kacsmaryk did."
Duncan now sits on the Fifth Circuit Court of Appeals while Kacsmaryk was appointed to the District Court for the Northern District of Texas in June.
In all, the Trump Administration has gotten more than 140 judges confirmed by the Senate, including 30 appellate court appointees—nearly twice the number confirmed at this point under President Obama. And while Rowland is an out lesbian, none of them been African American or Latino.
The GOP is in such a rush to put "strict constructionists, relatively young, on the courts for lifetime appointments," as Mitch McConnell described, some Trump picks have had dubious qualifications: The ABA rated Jonathan Kobes "not qualified" for the Eighth Circuit, citing his questionable "knowledge of the law" and understanding of "complex legal analysis."
Kobes was approved after a historic tie vote broken by Vice President Pence.
"Republicans have just marched lockstep with Trump's nominees, no matter who they are or how unqualified they are," said Buchert. "The blue slip [veto power] has practically been done away with. They've completely eliminated safeguard after safeguard."
So how did someone like Rowland—an out married lesbian with solid qualifications and a progressive resume—get through?
Her nomination was part of a compromise brokered between the White House and Durbin and Duckworth. As a result of the so-called "Illinois Deal," the Democrats get to name one out of every three federal district judges that the Republicans nominate.
"The threat was if the White House would not consult and just jammed it down the throat of the senators, they would exercise their blue slip prerogative and the nominees would go nowhere," University of Richmond law professor Carl Tobias told the Chicago Sun-Times.
Rowland was part of a three-person package renominated for the Northern District, along with Martha Pacold and Steven Seeger. Unlike Seeger and Pacold, who have conservative records and were contacted by the White House, Rowland applied directly to Durbin and Duckworth's screening committee.
She interviewed with Durbin in February 2018—two months before meeting with the White House and six months before Trump submitted her name.
"It speaks to the Trump Administration's assertiveness with judicial dealmaking that they proceeded with Rowland's nomination," writes legal blog The Vetting Room. "That being said, her nomination by Trump and support from Durbin and Duckworth essentially guarantees Rowland a comfortable confirmation and gives Trump his first LGBT judicial appointee."
Pacold, who clerked with Clarence Thomas and is a former member of the right-wing Federalist Society, was also confirmed on Wednesday. In a statement, Durbin and Duckworth praised both women.
"They have the qualifications, integrity and judgment to serve with distinction as district court judges in the Northern District of Illinois. We appreciate the administration's willingness to work with us and with our nonpartisan screening committee to reach consensus on nominees who will serve the people of Illinois well."
Trump put up gay conservative Patrick Bumatay for the 9th Circuit in San Francisco in 2018. But the president withdrew the nomination after California Senators Kamala Harris and Dianne Feinstein (the ranking member of the Senate Judiciary Committee) signaled their disapproval. Trump instead recommended Bumatay for a trial judge slot.
Currently there is only one openly gay federal appeals court judge in the U.S.: Todd Hughes, appointed to the U.S. Court of Appeals for the Federal Circuit by President Obama in 2013.