Mary Trump Shows No Sympathy For President, Urges People to Wear Masks
Donald Trump's niece Mary Trump has responded to today's news that the President has contracted coronavirus with a cutting remark on Twitter.
The author and psychologist didn't address her uncle directly but instead acknowledged his past downplaying the seriousness of the pandemic.
"I reserve my sympathy, empathy, and despair for those who are sick and for those who have died because they were misled, lied to, or ignored," she tweeted Friday, adding: "Wear a f****** mask."
Trump is a psychologist who made headlines this year with her book "Too Much and Never Enough," which divulged details about the Trump family and their finances.
During the first presidential election on Tuesday, Mary tweeted to say her uncle's debate performance "was a grotesque combination of lies, racism, breathtaking callousness, and threats against our democracy."
"He is being allowed, on national television, to sow uncertainty about the upcoming election, the 55-year-old added. "Everything he just said is a lie. Everything. He is the fraud."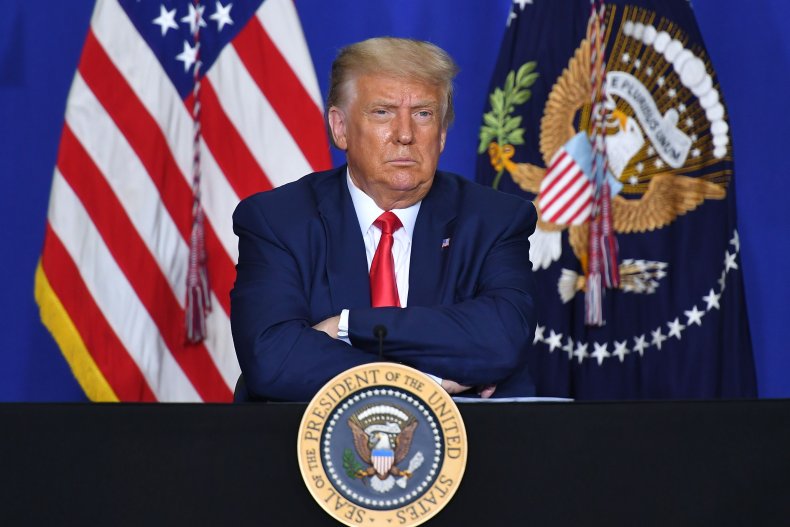 Speaker of the House Nancy Pelosi similarly had little sympathy for the President's affliction, deeming his actions a "brazen invitation" to contracting the virus.
"But it also is something that again, going into crowds, unmasked and all the rest was sort of a brazen invitation for something like this to happen," Pelosi told MSNBC's Stephanie Rule today. "Sad that it did but nonetheless hopeful that it will be a transition to a saner approach to what this virus is all about."
The President and the First Lady have both confirmed that they tested positive for COVID-19 and are isolating at the White House.
Taking to Twitter Thursday night, the President shared the news with the public, tweeting: "Tonight,@FLOTUS and I tested positive for COVID-19. We will begin our quarantine and recovery process immediately. We will get through this TOGETHER!"
The pair were tested after aide Hope Hicks tested positive after she was in close contact with the President on board Air Force One.
The First Lady tweeted early Friday morning: "As too many Americans have done this year, @potus & I are quarantining at home after testing positive for COVID-19. We are feeling good & I have postponed all upcoming engagements. Please be sure you are staying safe & we will all get through this together."
Mary Trump's tweet comes as other Trump family members—Jared Kushner, Ivanka and Barron Trump—test negative for the virus.
Ivanka Trump was one of several people not to have worn a mask while attending Tuesday's presidential debate in Cleveland, Ohio.
Vice President Mike Pence and his wife Karen have also tested negative for coronavirus.