Mary Trump Says President Calling Her a 'Mess' Is an Attack He Hurls Toward Women
President Donald Trump's niece spoke out after he called her a "mess" on Twitter, suggesting the word is one the president uses when speaking about women.
Mary Trump called her uncle's assertion that she was a mess "an attack he hurls, predominantly, I think, about women," during an appearance Friday evening on CNN's Cuomo Prime Time with Chris Cuomo.
The interview came just hours after the president made several comments about his niece on his Twitter account.
Donald Trump wrote that Mary Trump is "a seldom niece who knows little about me, says untruthful things about my wonderful parents (who couldn't stand her!) and me, and violated her [non-disclosure agreement]. She also broke the Law by giving out my Tax Returns. She's a mess!"
The president seemed to be referencing the fact that his neice was a top source for The New York Times' Pulitzer Prize-winning story about the family's tax returns.
During her appearance on CNN, Mary Trump dismissed her uncle's accusations, saying that she and her grandmother "were very close," and that she "really loved [my grandmother] and believe that she loved me."
As for the assertion that Mary Trump is a "mess," she said she thought her uncle had said the same thing about House Speaker Nancy Pelosi.
"Honestly, I'm in very good company," she said.
Newsweek contacted Mary Trump through her lawyer, but did not hear back in time for publication.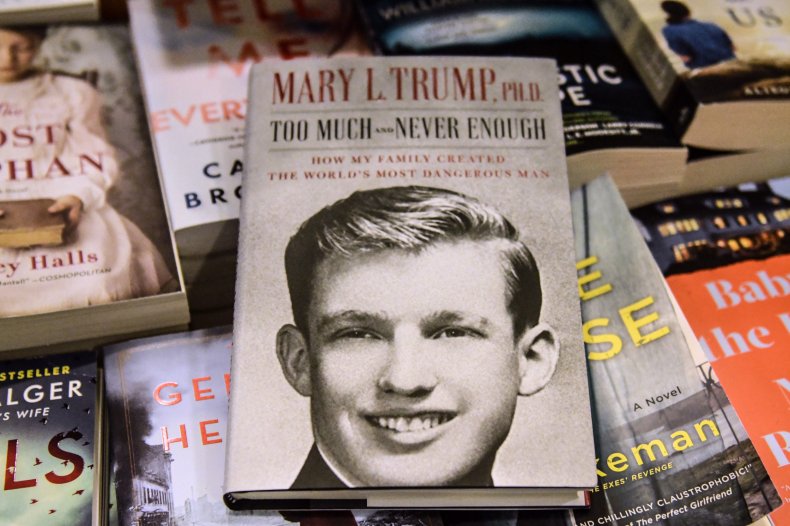 President Trump's tweets Friday mark the first time he's spoken publicly since his niece published on Tuesday a tell-all book about his life.
In the book Too Much and Never Enough: How My Family Created the World's Most Dangerous Man, Mary Trump details what she has described as a number of family secrets revolving around the president.
She has faced litigation from Robert Trump, her other uncle, who argued that the book violated a non-disclosure agreement. But a judge ruled the night before her book was officially released that the confidentiality agreement concerned disputes over her grandfather Fred Trump Sr.'s will, not any subject related to the Trumps.
The book, which sold 950,000 copies on its first day of sale, includes anecdotes about the way the president treats women, how he had received treatment for bullying, and how "cheating is a way of life" for both her uncle and most of her famous family.
The White House maintains the book is filled with "falsehoods."
Mary Trump, a clinical psychologist, asserted Friday that the president is a "psychologically deeply damaged man, based on his upbringing."
She suggested that his mental state went beyond being damaged, answering "yes" when Cuomo asked if she believed her uncle has "got sickness."
"A lot of people have diagnosed him without knowing him personally, but there is plenty of evidence to support some of those diagnoses," Mary Trump said. "And he's untreated, he's not interested in being treated."
One of the most "devastating things," she added, is that the people who claim they care about the president "aren't helping him."
"If they truly cared for him, the last place in the world they would want him to be is the Oval Office," she said.
Newsweek alsocontacted the White House for comment.