Mary Trump Says 'the Walls are Closing In' on Her Uncle After Former President Sues Her
Mary Trump, the niece of former President Donald Trump, has used one of her uncle's favorite insults as she responded to news of a lawsuit filed against her and The New York Times over a story about their family's wealth and tax practices.
The former president has accused his niece of breaching a confidentiality agreement by disclosing tax records she had received in a dispute over the estate of the family patriarch, Fred Trump.
"I think he is a loser, and he is going to throw anything against the wall he can," she said in a statement to NBC News, using the word that the former president has often used.
The lawsuit filed in Dutchess County, New York accuses the Times and three of its reporters, Susanne Craig, David Barstow and Russell Buettner, of pursuing Mary Trump as a source and convincing her to turn over documents, despite an agreement barring their disclosure.
Trump's lawsuit alleges Mary Trump, The New York Times and its reporters "were motivated by a personal vendetta" and had undertaken "an insidious plot" to get the records for the story published in 2018.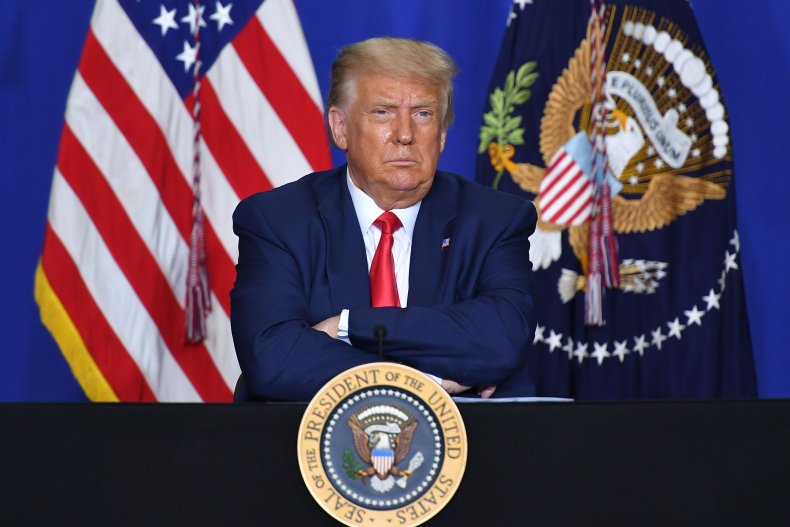 The piece reported how Fred Trump had given his son at least $413 million through the years, including via tax avoidance schemes, thus casting aspersions on the former president's claims of self-made wealth.
Mary Trump, whose books and media appearances have pulled no punches in their criticism of her uncle and her extended family, was typically dismissive of the $100 million lawsuit.
"It's desperation. The walls are closing in and he is throwing anything against the wall that he thinks will stick. As is always the case with Donald, he'll try and change the subject," she added in the statement provided to NBC News.
Her comments reported by other media outlets, including the Daily Beast, had her describing her uncle as a "f***ing loser."
When asked about Mary Trump's comments and the lawsuit, a Trump spokesperson said in an emailed statement to Newsweek: "More to come, including on other people, and Fake News media."
In a statement shared with other media outlets, a spokesperson for The Times told Newsweek that its reporting of Donald Trump's taxes "helped inform citizens through meticulous reporting on a subject of overriding public interest.
"This lawsuit is an attempt to silence independent news organizations and we plan to vigorously defend against it."
Mary Trump, 56 is the daughter of Donald Trump's brother, Fred Trump Jr., who died in 1981 at age 42. The lawsuit says that she got hold of tens of thousands of pages of confidential documents through a legal case involving Fred Trump's will.
In 2001, two years after his death, Mary Trump and other family members entered a confidentiality and non-disclosure agreement barring them from sharing information about Fred Trump's estate.
Donald Trump's brother, Robert, who died in 2020, had cited the 2001 agreement in trying to stop the publication of Mary Trump's book, Too Much and Never Enough: How My Family Created the World's Most Dangerous Man. Her latest book, The Reckoning describes the ex-president as an "instinctive fascist."
The latest lawsuit did not mention another Times story, which ran in 2020, that reported how the former president had paid no federal income taxes in 10 of the previous 15 years.
UPDATE 9/22/21 11:16 a.m. ET: This article has been updated with responses to Newsweek from The New York Times and a spokesperson for Donald Trump.