Mary Trump Wonders if Nikki Haley Has 'Back Room Deal' With Donald Trump
Mary Trump, a political analyst and niece of former President Donald Trump, on Friday floated the idea that Nikki Haley might have a "back room deal" with her uncle related to her recently launched presidential campaign.
Haley, a Republican, began her political career as a state congresswoman representing South Carolina's 87th Congressional District from 2005 to 2011, which she parlayed into two terms as her state's governor. In 2017, she went to Washington, D.C., to serve as the U.S. ambassador to the United Nations under Trump, serving until late 2018.
On Tuesday, she officially announced her presidential campaign for 2024, a move many pundits had long suspected. She is currently the only major candidate running aside from Trump seeking the GOP nomination and maintains a significant polling disadvantage against her old boss.
Trump has long dominated polls of likely Republican voters in 2024, though his support did take a hit in the wake of the 2022 midterm elections where his influence seemed to tip many races away from the GOP. A recent Remington Research Group poll found that 38 percent of likely voters plan to support Trump, with 35 percent planning to support Florida Governor Ron DeSantis, who has not officially entered the race. Only 8 percent backed Haley in the poll.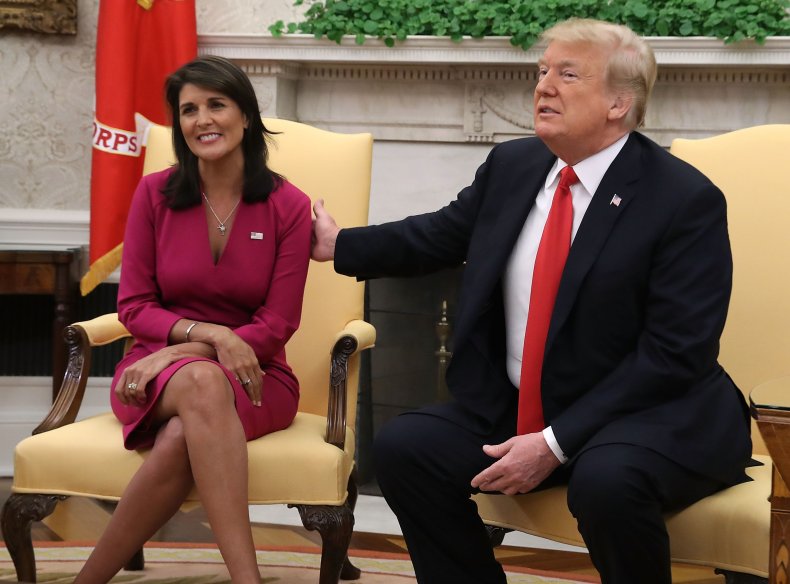 During a recent live stream discussion on The Mary Trump Show, the former president's niece touched on Haley's candidacy and wondered what her motivations might be, given her minimal polling and seeming hesitancy to explicitly differentiate herself from the former president. One of her guests, Jen Taub, asserted that Haley is aiming to be Trump's 2024 vice presidential nominee, which the host agreed with.
"That seems clear," Mary Trump said. "Although, she is going to have to engage Donald and [his supporters] the MAGA-ts, because if she can't draw a distinction, there's literally no point to what she's doing. Unless they have some secret back room deal, it's gonna piss him off anyway..."
During an interview with Fox News host Sean Hannity on Wednesday, Haley deflected when pressed about the differences between herself and Trump. When Hannity began by asking her on what matters she and the former president might differ, she instead discussed the need for "new generational leadership" and to attract voters by moving away from the status quo.
When pressed on the matter again later in the interview, Haley again deflected and focused on her opposition to President Joe Biden.
"I'm not going to kick sideways, I don't have time for that, that's not my focus," Haley said. "I am kicking forward and it is all about Joe Biden and the people in America winning again."
Newsweek reached out to Haley's campaign for comment.