How Mary Tyler Moore Saved the Sitcom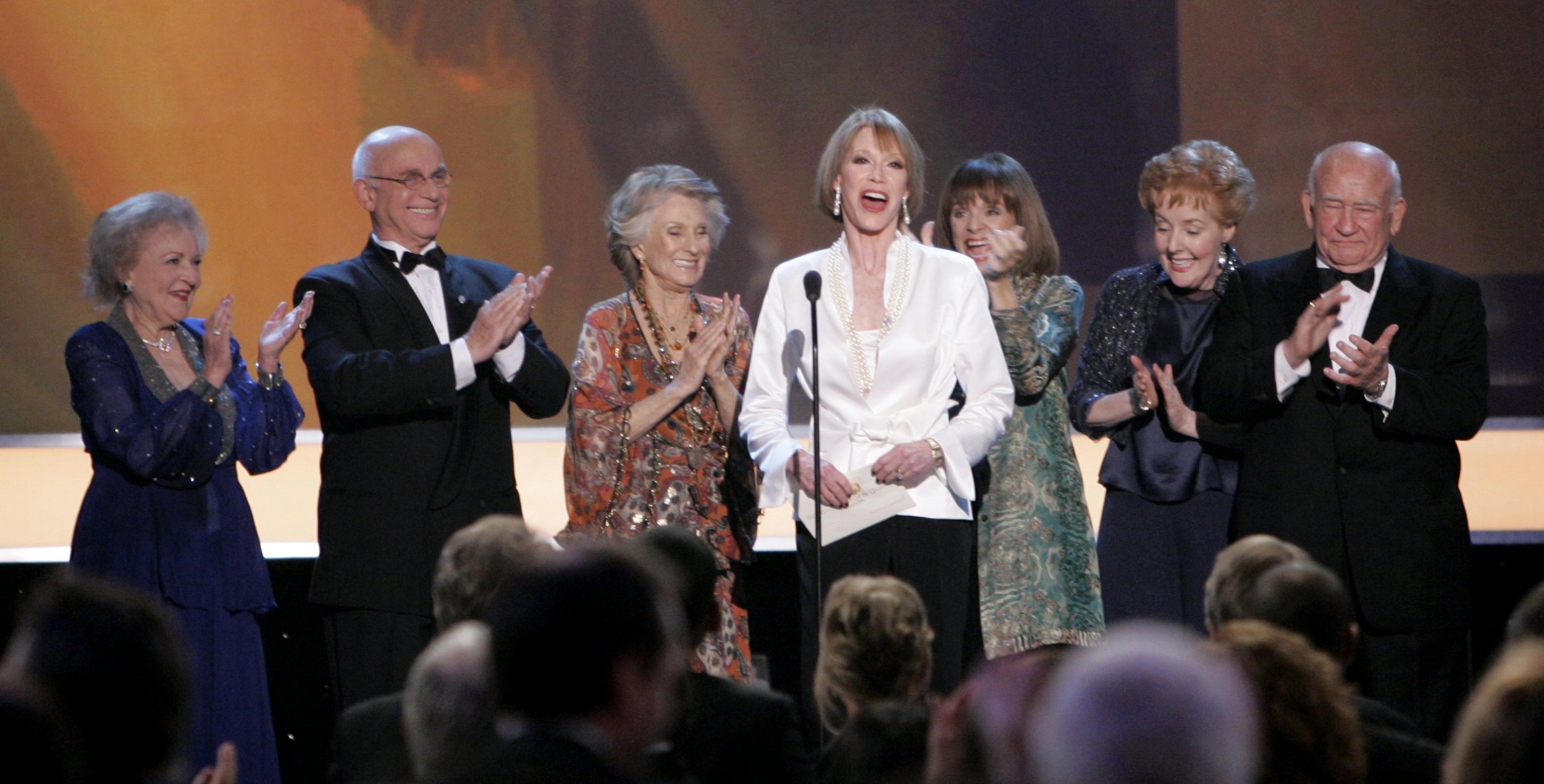 In the years before Mary Richards first crossed the frosted glass–door threshold of the WJM-TV newsroom, sitcoms were pure "unreality" television. It was a surreal era in which the closest thing to an everyman, Fred Flintstone, never wore pants and had a pet dinosaur. Sitcom premises were, to paraphrase a line from a popular contemporary sci-fi show, boldly going where no man (or woman) had gone before.
The turbulence of the mid- to late-'60s is well-documented: assassinations, an unpopular war and civil rights unrest dominated your nightly news. As a counterbalance, prime-time comedy devolved into fantastic escapism. Premises included: a stay-at-home witch, a stay-at-home genie, a World War II German POW camp where the prisoners snuck in, seven stranded castaways (among them a starlet who'd gone on a three-hour cruise alone and in an evening gown—perhaps she considered it a different type of fishing trip), a Martian neighbor, a mother-talking car, a talking horse and a spy who talked into his shoe.
You want to see a Modern Family? Do you remember the Clampetts, the Munsters and the Addamses? They were all together ooky.
The Andy Griffith Show stood alone as a sitcom that doggedly trafficked in the credible. (That and perhaps The Flintstones, which was simply The Honeymooners animated and set in B.C. Bedrock instead of Brooklyn.) Yes, Mary Tyler Moore, who passed away on Wednesday at the age of 80, had, in the early '60s, co-starred in an earlier workplace comedy, The Dick Van Dyke Show. That series, which premiered in the first year of the Kennedy presidency, lost ballast as headlines became more grim. When it left the air in 1966, no one in Hollywood attempted to emulate it. In the years immediately preceding The Mary Tyler Moore Show, the nearest thing to a realistic workplace environment on TV was Star Trek.
With its premiere in 1970, The Mary Tyler Moore Show created a tectonic shift in sitcoms, ending that extended hyper-silly season. No longer was the premise the most important aspect of the show; the relationships between the characters were primary. No episode of Gilligan's Island ever explored in depth how five unmarried adults existed year after year on a tropical island without becoming sexually entangled—or, minus that, homicidal. At WJM, single and liberated Mary Richards (Moore) eventually had a date with her boss, Lou Grant.
Still, in 1970 no one knew how or if The Mary Tyler Moore Show was would "make it on [its] own." Would a country one generation and countless protests removed from the Eisenhower-era idyll really sit at home and watch characters whose lives were as mundane as their own? Where the lead characters altered their wardrobe from week to week, as opposed to wearing the same uniform, be it military (Hogan's Heroes) or stone-age fur (The Flintstones)? Where, even though love was all around, nobody ever found it?
More than a weekly study of the eroding hairlines of middle-aged men and the fashion tastes of newly liberated women, The Mary Tyler Moore Show became a seminal success. A perennial top-10 program, it opened the door for workplace comedy, which has been a staple of the prime-time lineup ever since. M*A*S*H (a Korean War field hospital unit), the most critically acclaimed sitcom of the 1970s, premiered two years later. Then followed Barney Miller (a lower Manhattan police precinct), Alice, Taxi and WKRP in Cincinnati.
Related Content: LeBron James is spending his offseason developing TV shows
The template had been established, and it was ideal. No child actors were needed. Every character was a potential romantic or career foil. Characters could be as misanthropic (remember Taxi's Louie DePalma, played by Danny DeVito?) or self-absorbed (Charles Emerson Winchester on M*A*S*H) or batshit crazy (Rev. Jim Ignatowski on Taxi) or faux-batshit crazy (M*A*S*H's Corporal Klinger) as the writers wanted them to be, because at the end of the episode none of them were obligated to reside under the same roof (although, occasionally, the same tent canvas).
The subsequent decades have only validated the vitality of the form: Cheers, The Larry Sanders Show, NewsRadio, Murphy Brown, Scrubs, The Office (U.K. and U.S.; we prefer the former), 30 Rock, Parks & Recreation, Community, Veep and Silicon Valley. It's funny that Americans work more hours per year than anyone in the western world, and then rush home to be entertained by watching people work.
After 30 Rock ended a critically acclaimed rookie season in 2007 with a best comedy Emmy, the show's creator and star, Tina Fey, told The New York Times that she had pored through DVDs of The Mary Tyler Moore Show while developing it. "We talked about that show a lot," Fey said, "as a template, obviously, of a great show, but also a show that is all about the relationships in the workplace."
The uplifting news, for those of you who yearn for sitcoms such as My Mother, the Car and I Dream of Jeannie, is that this country appears to be sailing into choppy waters. Who wants the hyper-reality of Two Broke Girls or The Wall? A little escapist fare not involving a rose ceremony may be just what TV needs. Boko Harambe, about a terrorist group that doubles as a gorilla organization, may already be in development somewhere.