Maryland AG Claims Trump Violated Emoluments Clause on Golf Trip Where Secret Service Agents Spent $28,800 at Club
During one of President Donald Trump's golf trips in April 2017, Secret Service agents spent $28,000 in one day at a golf club Trump owned. Maryland's Attorney General claims those expenses, among others, are a violation of the Emoluments Clause.
Records obtained by the watchdog group Property of the People show that during a span of approximately six months, the Secret Service spent more than $250,000 at properties owned by Trump. In turn, those were allegedly expensed to the U.S. government, allowing the profits to return to Trump.
"Donald Trump views the American public as a bunch of marks waiting to be fleeced," Ryan Shapiro, executive director of Property of the People, told The Washington Post. "Due to his overt self-dealing and refusal to divest from his sprawling business empire, Donald Trump has turned the American presidency into a racket."
"The domestic #EmolumentsClause was written to prevent the president from shaking down the US government," tweeted Maryland Attorney General Brian Frosh. "$28,800 in one day for the Secret Service is stunning, greedy, arrogant and violative of the Constitution."
Frosh, along with District of Columbia Attorney General Karl Racine, sued Trump in 2017 for violations of the Emoluments Clause, which states that a president cannot receive money from foreign governments or affiliated entities without Congressional consent.
"Unlike previous presidents, President Trump has refused to separate himself from his businesses and OAG (Office of the Attorney General) alleges that he continues to accept money from foreign and domestic governments through transactions at the Trump International Hotel here in the District," read a statement about the lawsuit on the D.C. Attorney General's website. "The Framers designed these anti-corruption laws to ensure Americans never have to wonder whether the president is working on our behalf or in his personal financial interest."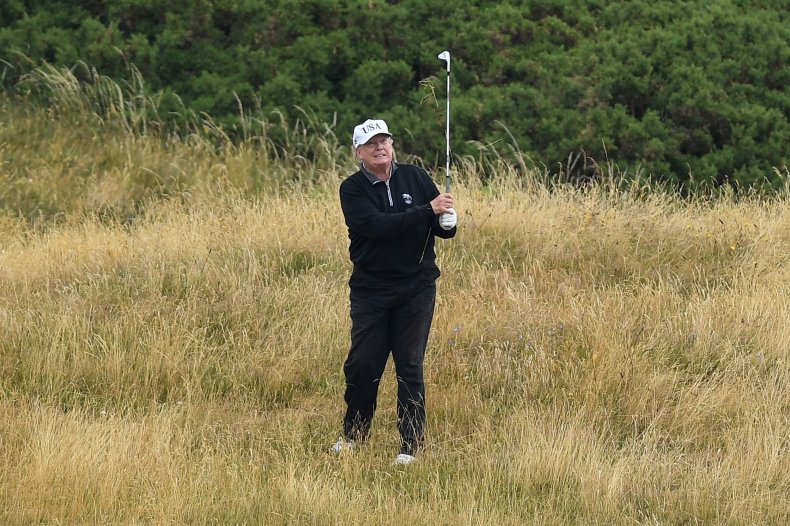 "In a historic ruling in July 2018," the statement continued, "a federal court judge agreed that the president is prohibited from accepting almost anything of value—including gifts, payments, and benefits—from foreign or domestic governments."
While judges originally dismissed the lawsuit, the U.S. Court of Appeals for the Fourth District revived the case. Arguments for the case are expected to be heard on December 12.
During a Cabinet meeting in October, Trump dismissed the Emoluments Clause as "phony" after his plan to host the G7 summit meeting at his Florida golf club, the Doral, met with tremendous public criticism and was canceled.
"George Washington they say had two desks," Trump told the press. "He had a presidential desk and a business desk. I don't think you people with this phony Emoluments Clause—and by the way, I would say that it's cost me anywhere from $2 to $5 billion to be president. And that's okay."