Maryland Allows All Businesses to Reopen Ahead of Labor Day Weekend
Maryland Governor Larry Hogan announced on Tuesday that all businesses in the state would be allowed to reopen in time for Labor Day weekend. Social mitigation protocols are expected to remain in place.
Maryland will enter stage 3 of its reopening process Friday afternoon. Cinemas and theaters that host live performances will be able to operate at 50 percent capacity or up to a maximum of 100 individuals indoors. Venues with outdoor capacity may serve a capacity of 250 people in those areas. Retail stores and places of worship will be authorized to increase their maximum capacity from 50 percent to 75 percent.
"I want to remind the people of Maryland that moving into stage 3 does not mean this crisis is behind us and remind them that we must remain vigilant so we can keep Maryland open for business," Hogan said during a Tuesday news conference.
Hogan also announced that school systems in all Maryland counties were authorized to begin reopening, although the authority to do so still resides with county boards of education.
"We continue to be in much better shape than the nation and better than most states across the country," Hogan said.
Hogan reported that statewide results indicated a 3.39 percent positivity rate for positive coronavirus cases. Positive cases in the state had been under 5 percent for 68 consecutive days and less than 4 percent for 24 days, allowing Maryland to reach statistical benchmarks set by both the World Health Organization and the Centers for Disease Control and Prevention.
In a statement sent to Newsweek on Wednesday, the Maryland Department of Health said that because of Hogan's "steadfast leadership in carefully navigating the state through the health crisis, Maryland is moving into Stage Three of our reopening. Public health officials continue to urge residents not to let their guards down and to continue practicing safe distancing, proper hand hygiene, and mask wearing to keep Maryland on the road to recovery."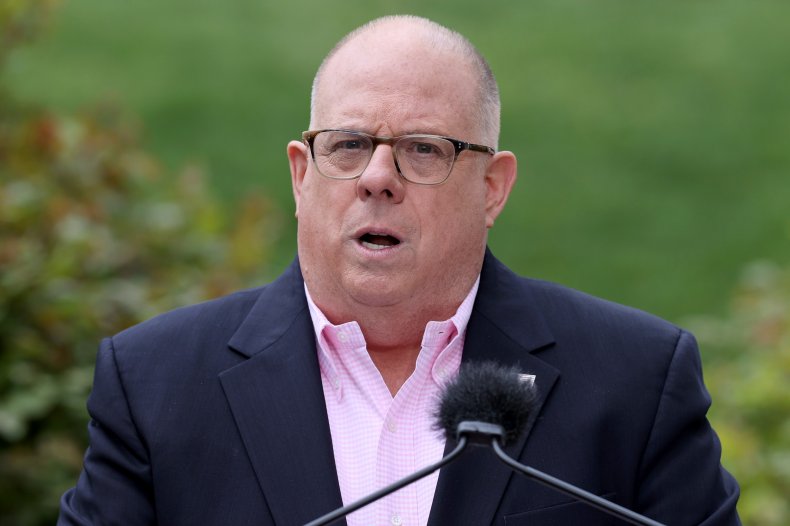 As the coronavirus pandemic worked its way across the country, many states shut down businesses in order to curb the spread of the virus. Some states reopened faster than others. In May, Alaska became the first state in the U.S. to fully reopen its business and houses of worship.
"We should have this well under control in terms of managing it," Alaska Governor Mike Dunleavy said. "If there are spikes, if there are clusters, we'll deal with that."
After an increase in cases during July, Dunleavy enacted a set of regulations for visitors to the state. Visitors to the state are expected to provide test results showing they have been tested within 72 hours of arriving in Alaska. If air passengers cannot provide documentation, then they have the option of being tested at the airport for a $250 fee.
Missouri announced its reopening in June. "Knowing what we know now, we are much better prepared to deal with COVID-19 going forward, and we are fully confident that Missouri is ready to reopen," Governor Mike Parson said at the time.
Since then, Missouri has reported a record number of fatalities attributable to the virus. Recent data from the Missouri Department of Health and Senior Services showed 85,755 positive cases of the virus statewide. On Saturday, Missouri reported 32 deaths caused by the virus within a 24-hour period, a state record.
Nationwide, 6,256,445 positive cases of the virus have been recorded with 188,869 fatalities attributed to the illness.
Updated 10:13 p.m. EST 9/2/2020: This story has been updated with a statement from the Maryland Department of Health.