Video Shows Moment Apartment Building Explodes, Leaving Several Injured
An apartment building in Maryland caught fire Wednesday, resulting in an explosion that injured 14 residents and caused "catastrophic damage."
The fire was reported at the Friendly Garden Apartments in Silver Spring around 10:30 a.m. Investigators said that at least three people suffered critical injuries. The other 11 residents had what were considered minor to moderate injuries. The blaze has since been contained, with all known residents of the building accounted for. No deaths have been reported.
Up to 18 apartments totally collapsed as a result of the fire. Three of the six buildings in the complex have been declared unsafe by Montgomery County Fire Chief Scott Goldstein.
"It is too early for me to say what initiated this. We are working through a wide range of concerns and possibilities are focus is on life safety at this time," Goldstein told reporters.
"It's kind of scary looking at the extent of the explosion and it's hard not to imagine the impact it's had on people," Montgomery County Executive Marc Elrich said. "It's definitely a tough day."
Earlier, Goldstein said that there were 125 to 150 firefighters and that it was "too early to speculate" on a cause for the fire.
However, multiple residents told local news outlets that they smelled gas in the building.
"When I left this morning, I told my grandma, 'it smells like gas,'" T.J. Hall, who lived in the complex with his grandmother, told NBC Washington. Hall said he had left the complex earlier in the day, and his grandmother was thankfully able to escape.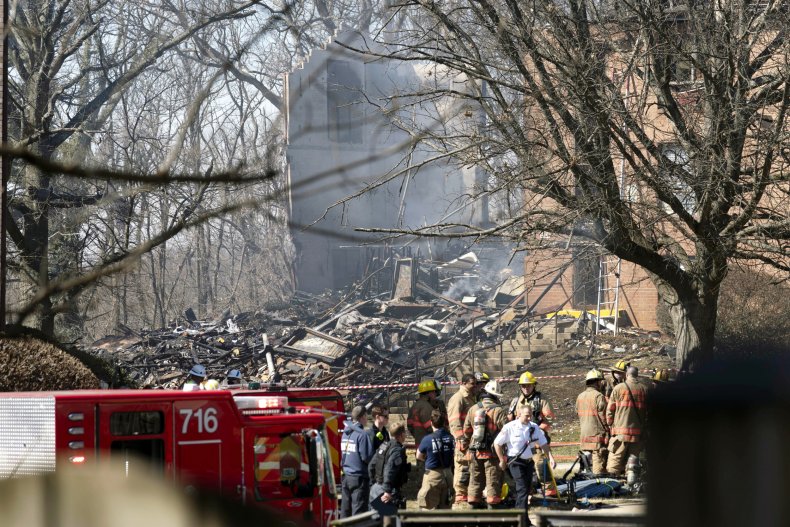 Another unnamed resident recounted a similar story to local news station WTOP, saying that he returned to the complex to find his mother uninjured.
"God relieved me right there," the resident said. "There's people we knew in that building."
Security video from Amrit Gautam, who lives in another apartment in the complex, shows the moment the building exploded. The explosion is immediately followed by the screams of people who were in a nearby parking lot.
Even in the midst of tragedy, some neighbors at the complex acted heroically to save others. Steven Inman told another local news station, WRC-TV, that the explosion happened after he came home from the gym.
"The first thing I saw was a woman and her child, screaming, saying that she can't get out," he said. "I told her, 'Try to climb out.' Then I saw the infant. So I was like, 'Just throw me the baby. Don't worry—I'll catch her.' I caught the baby."
The baby and the baby's mother were not injured.
Maryland lawmakers expressed concern and offered condolences to those affected by the explosion.
"Profoundly concerned about the ongoing fire at a Silver Spring apartment complex," U.S. Representative Jamie Raskin of Maryland said in a statement. "The first reports from our first responders are devastating. As we monitor the situation, we hope and pray for safety for tenants and first responders."
Montgomery County council member Tom Hucker said on Twitter that he would be at the Friendly Garden Apartments to provide community support. When speaking to Baltimore news station WBFF, he said that the complex has mostly elderly residents. Some took shelter in nearby buses.
"My team and I are on the scene at Friendly Garden Apartments in Silver Spring," Hucker tweeted. "Please stay tuned for updates and pray for the tenants, families and first responders."
Maryland Governor Larry Hogan also expressed his condolences online.
"Our team has been in contact with Montgomery County officials and @MarylandOSFM, @MDMEMA, and @MDSP have offered their full assistance in response to this fire and explosion in Silver Spring. Please keep all those involved, including our first responders, in your prayers," Hogan tweeted.
Newsweek reached out to Montgomery County officials for comment.
Update 3/4/22, 9:19 a.m. ET: This article was updated with a new tally of those injured.