Women Can't Free the Nipple at the Beach, but Men Can, Maryland Ag Says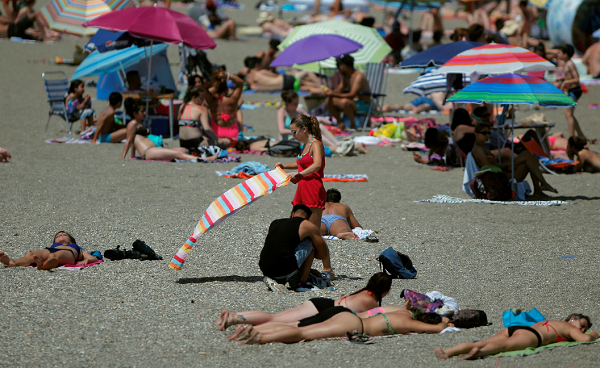 For men at the beach in Maryland, it's no big deal if they are caught frolicking in the sand without wearing a top. But women hoping to catch a tan without the lines caused by bikini tops may not get the same luxury after the state's Attorney General Brian Frosh released a statement Thursday that allows beaches to ban women from going topless, according to local reports.
It all started when a woman in Ocean City argued that it was her constitutional right to expose her breasts at the beach just as men are able to go bare-chested. Chelsea Covington, an advocate for Top Freedom, a group that aims to "normalize bare-chestedness," filed the complaint, addressed to Worcester County State's Attorney Beau Oglesby, last year. At the time, Ocean City Mayor Richard Meehan said that state laws were unclear regarding topless women and decided to pass the matter to the attorney general's office for an opinion.
After waiting nine months, Ocean City officials in early June ordered their beach patrol to stop approaching women who were sunbathing topless. But the rule sparked outrage from beachgoers concerned that the orders would give more women permission to expose their bare breasts on the beach and essentially tarnish Ocean City's family-friendly reputation.
Meehan and other Ocean City council members held an impromptu meeting Saturday that resulted in an emergency ordinance prohibiting public nudity or states of nudity. Visitors who are caught in violation of the ordinance are at risk of fines as high as $1,000.
Following the ordinance's induction, the attorney general's office finally provided an opinion regarding the matter Thursday, citing it was not a violation of equal protection to bar women from exposing their breasts in public while allowing men to do so, according to local reports.
"It is our view that Maryland courts would hold that prohibiting women from exposing their breasts in public while allowing men to do so under the same circumstances does not violate the federal or state Constitution," read the letter signed by two attorney's in Frosh's office.
Meehan's office agreed with the ruling and released a statement not long after Frosh's letter, noting that the matter has divided Ocean City.
"This issue has statewide implications and unfortunately has created division and unrest in our community during our busiest time of the year. Individuals on both sides hold passionate and sincere beliefs in their positions. However, having reviewed and considered the Advice Letter, I agree with its conclusions. My Office will continue to work with the Ocean City Police Department and the Town of Ocean City as this issue develops further," Meehan said. "We are pleased to see the Attorney General's Office has advised that prohibiting topless women sunbathing is not a violation of equal protection."
While it's commonplace to see topless swimmers at beaches in Europe and across America, most beaches require women to keep their breasts covered. There are, however, a few select secluded beaches that allow sunbathers to go topless, including Moshup Beach in Martha's Vineyard in Massachusetts, and Gunnison Beach in New Jersey.